Categories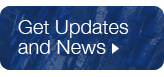 Archives
Steve Szilard
Steve Szilard is a well-known and highly respected mineral collector from Ontario, Canada. He built an excellent collection, with beautiful specimens from Canada and around the world. An active field collector, he has also contributed generously in the mineral collecting community.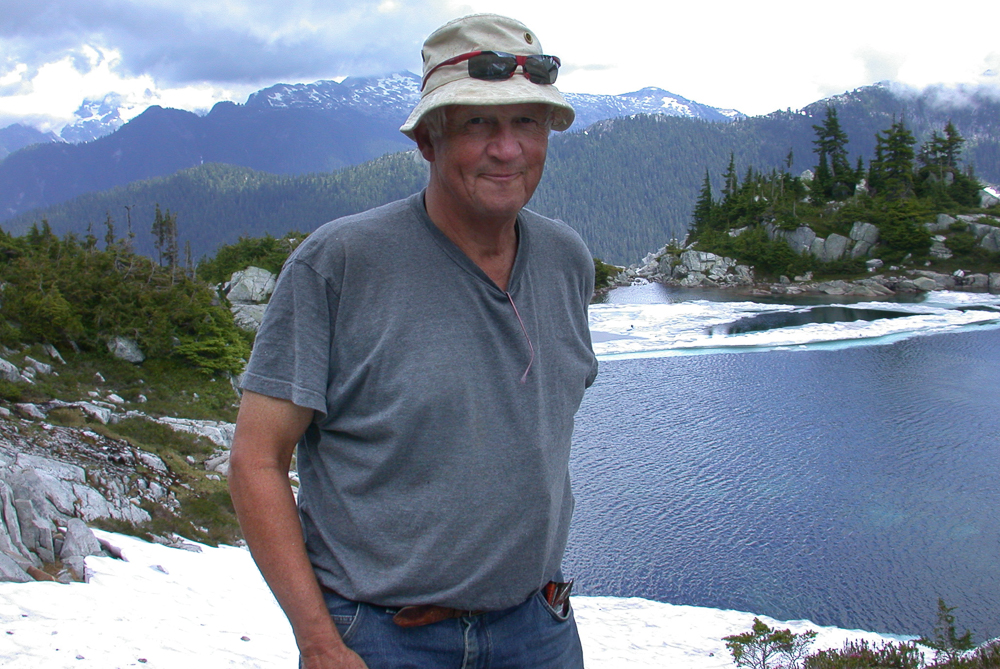 Steve was born in Budapest, Hungary in 1946. He had a successful 33-year career as an engineer (in particular with respect to gas distribution system design) with Consumers' Gas and its successor companies, through to today's Enbridge Gas. Steve began collecting minerals in 1982. It may strike a chord with many of you that one of his first two mineral books was the Peterson Field Guide to Rocks and Minerals by Fred Pough – that was certainly true for me too (and my own copy sure looks as well used as it has been!).
Steve is a skilled and accomplished field collector, having collected extensively in Ontario, as well as in almost all Canadian provinces and across the United States. He recalls that his first trip to the famous quarries at Dundas, Ontario were at the time when you could just walk in and ask the foreman for permission. (Those were the days!) These days, whenever a group manages access to any of the Ontario limestone quarries that are still accessible at all, everything is so much more formally arranged…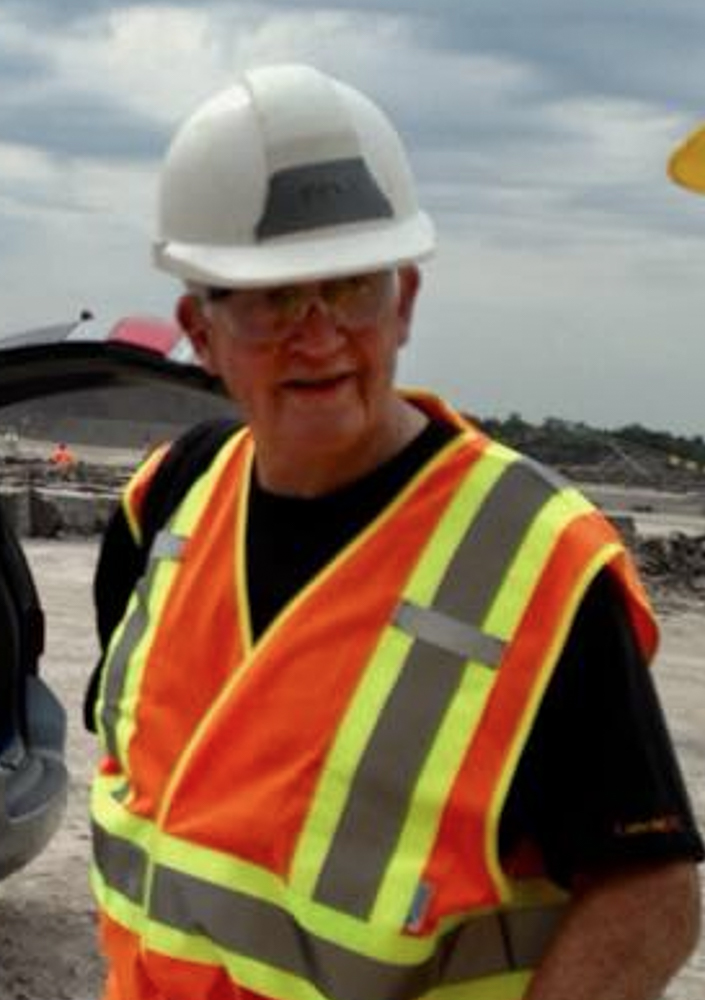 Steve at Thorold Quarry, Niagara Region, Ontario
Steve's field collecting has included many longer club trips, both in Ontario and further afield (Manitoba, Quebec, New Brunswick, Nova Scotia, Newfoundland, Vancouver Island, Michigan), and in many cases Steve was also an organizer.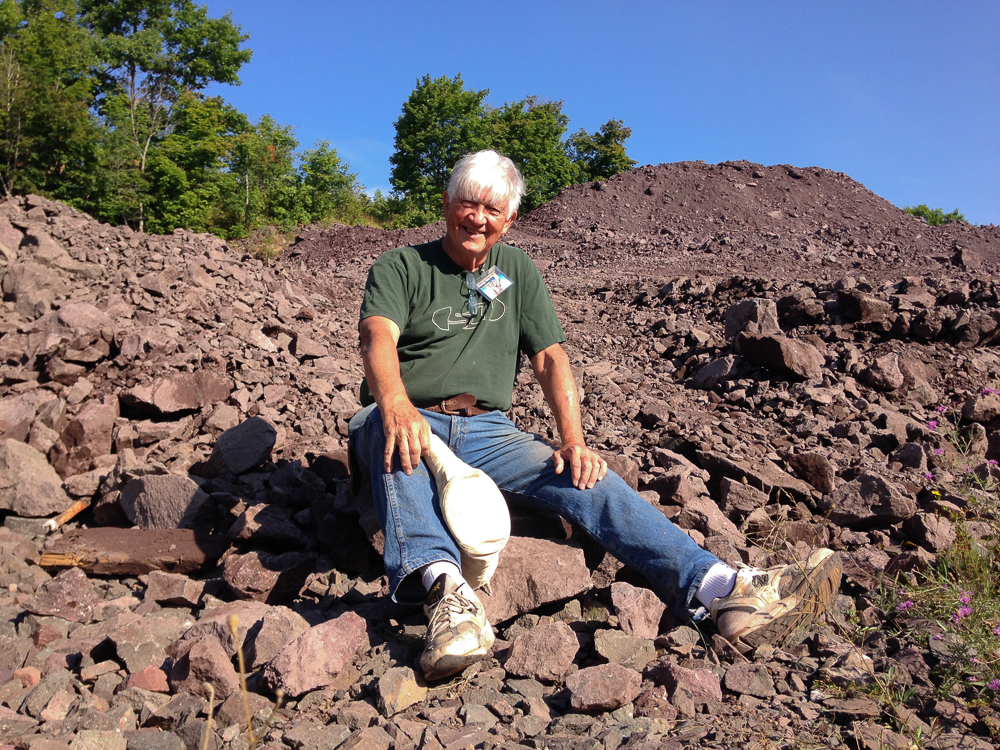 Collecting copper, Keweenaw Peninsula, Michigan
Some collecting trips have been adventurous…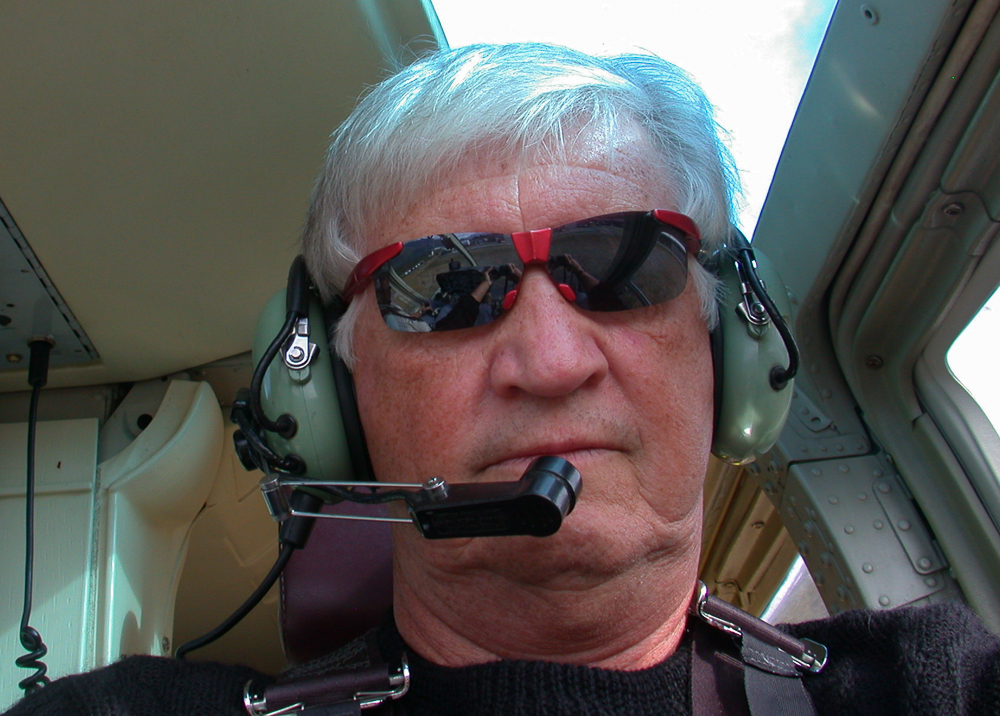 Helicopter trip to Howe Sound copper mine, British Columbia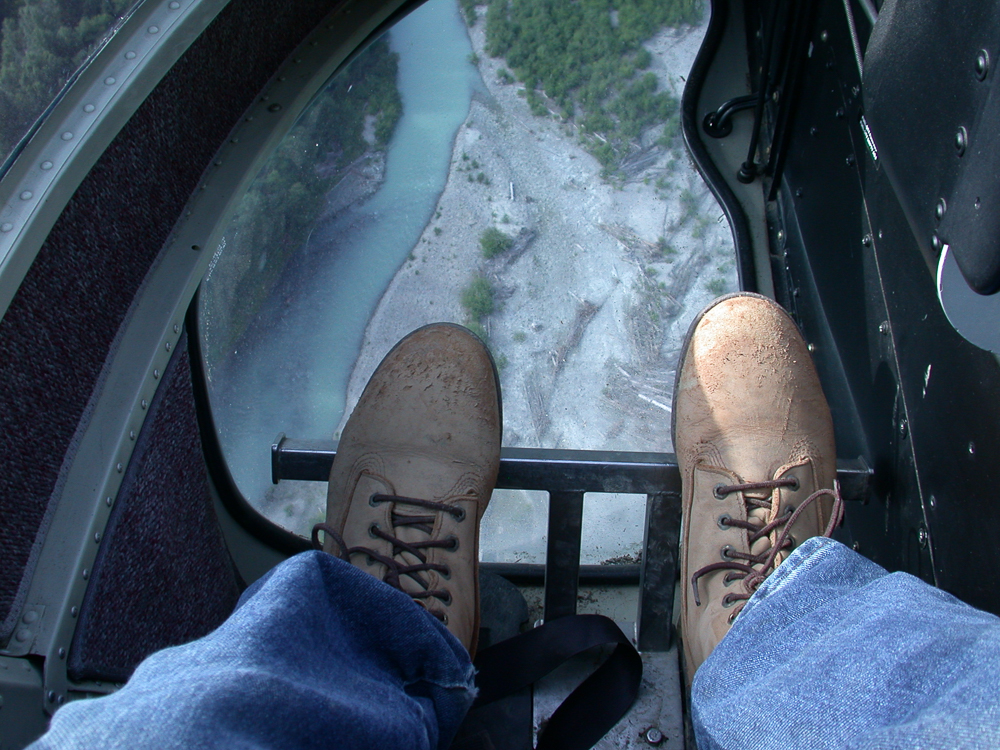 Same trip, same spot, but looking down…
Here are just a couple personally-collected specimens from Steve's collection: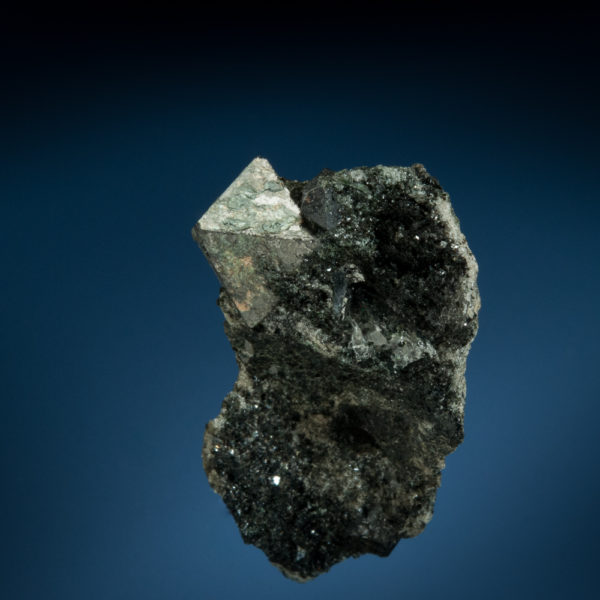 Magnetite, Leaf Rapids, Manitoba – 3.1 cm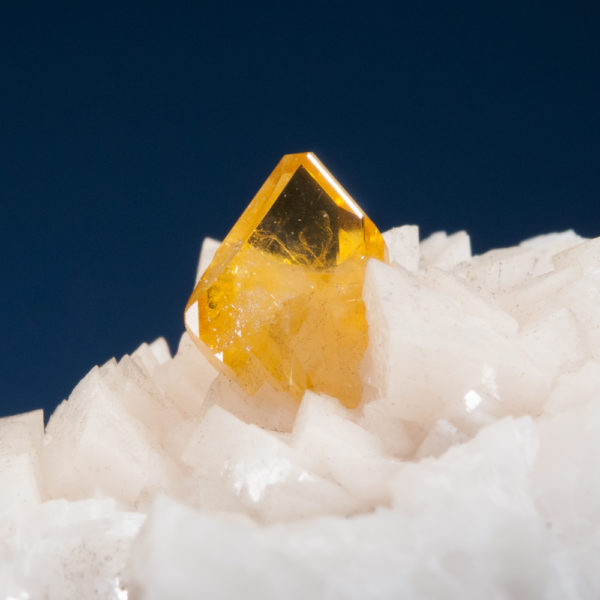 Barite on dolomite, Newfoundland Zinc Mine, Daniel's Harbour,
Newfoundland, Canada – crystal 0.6 cm
Steve remembers that he bought his first purchased specimen at Harry Ablett's rock shop in Wilberforce in 1985. (I bought some of my first from Harry too! Harry was very kind and encouraging when I was starting out.) Since then Steve has travelled the world acquiring specimens.
Here are just a few collection highlights: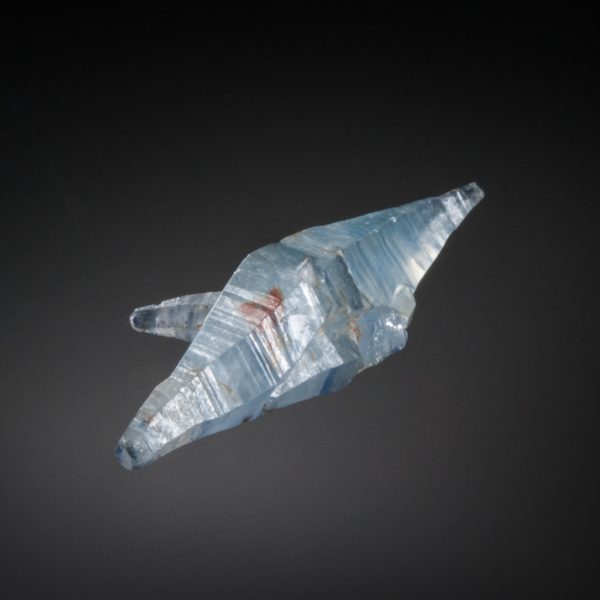 Corundum, var. Sapphire, Ratnapura, Ratnapura District,
Sabaragamuwa Province, Sri Lanka – 4.2 cm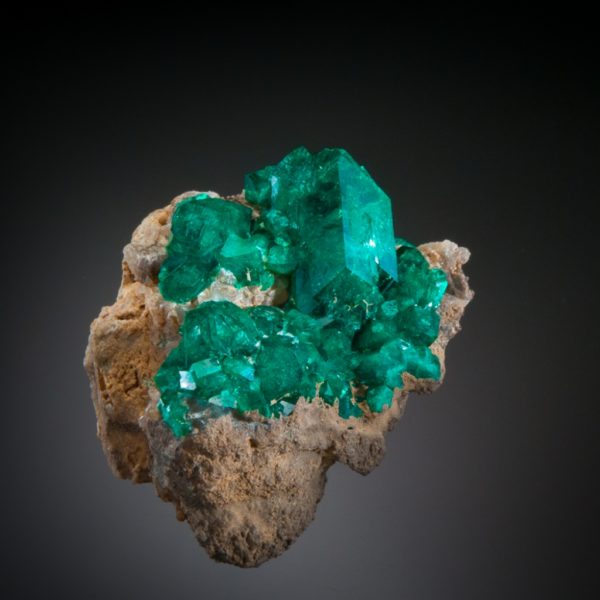 Dioptase, Altyn-Tyube Deposit, Kirghiz Steppes,
Karagandy Province, Kazakhstan – 4.8 cm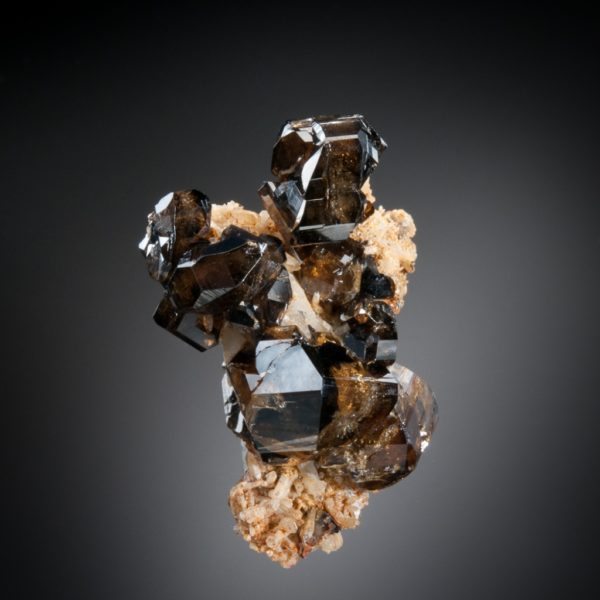 Cassiterite, Viloco Mine, Loayza Province, La Paz, Bolivia – 4.8 cm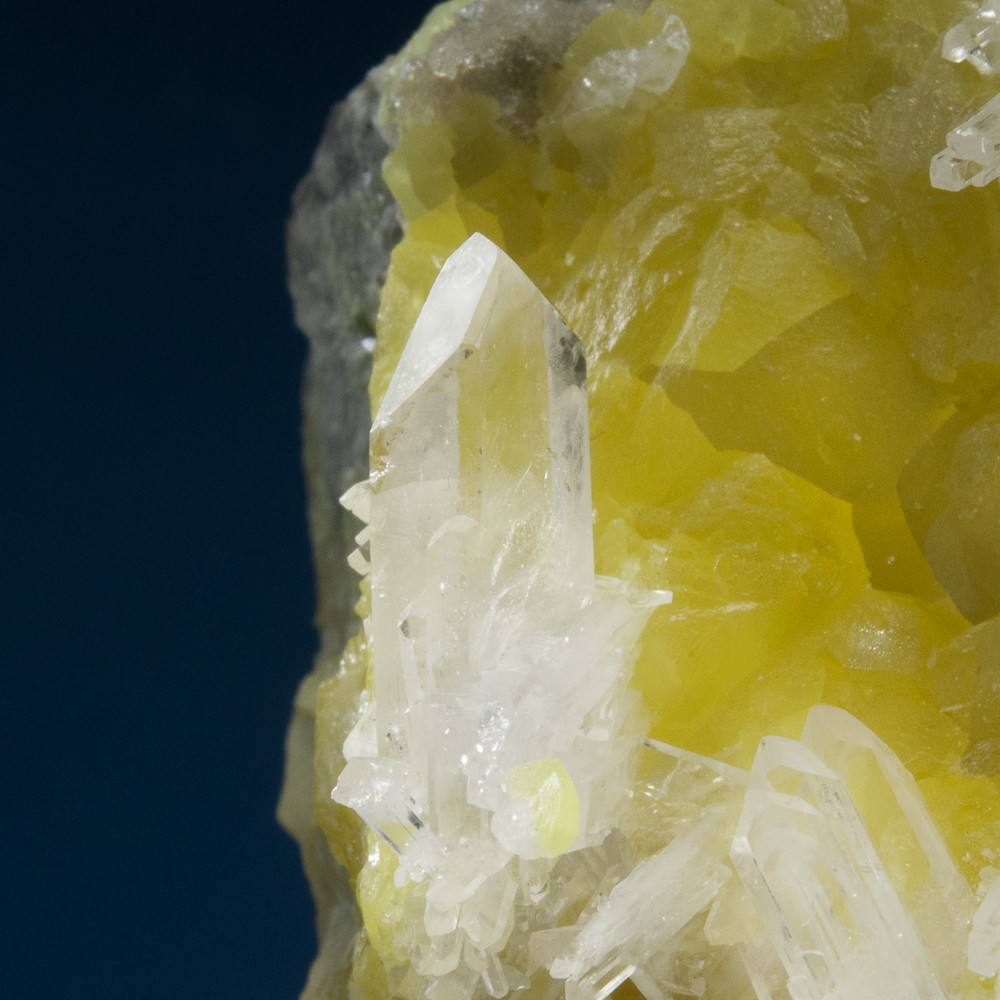 Celestine on sulphur, Machow Mine, Tarnobrzeg City Co., Poland
Field of view 3.5 cm
Steve has a long record of mineral community involvement and contribution, having been with the Walker Mineralogical Club in Toronto since 1985 (and a member of the executive for many of the years since then) – he has also been a member of the Scarborough Gem and Mineral Club, the Kawartha Rock and Fossil Club and the Canadian Micro Mineral Association.  He has attended the Rochester Mineralogical Symposium for almost 30 years. As you might expect, given his mineral collecting career, Steve is incredibly knowledgeable about minerals and many mineral-related subjects. He has always been kind and generous with his knowledge. Steve and I first met at the Walker Club in the late 1980s and it's hard to believe it's been so long! He is a good friend.
Steve has enjoyed assisting in the activities of a great organization, the Young Toronto Mineralogists Club, including talks, using binocular microscopes, and field trips.
All the above photos seem too clean for such an avid field collector as Steve – perhaps this is a little more reflective: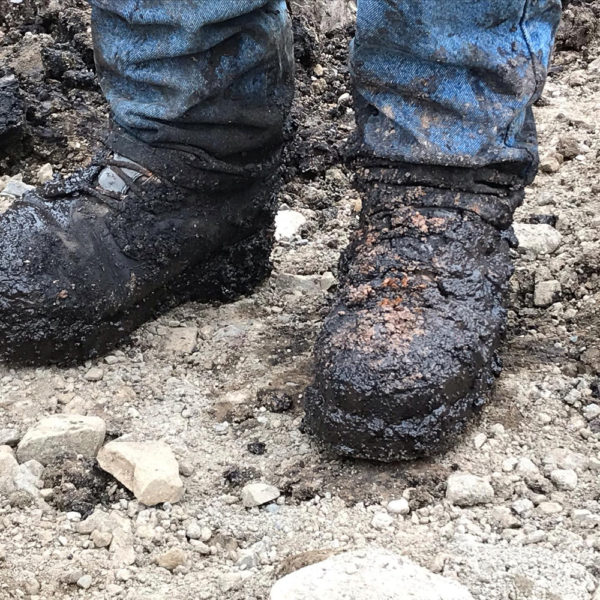 Collecting amethyst at La Manche, Avalon Peninsula, Newfoundland.
Now that's more like it!
And finally, a small tribute to Steve's love for Mont Saint-Hilaire minerals. If you've read my blog post about Pete Richards, there will be something that seems a bit familiar about this photo…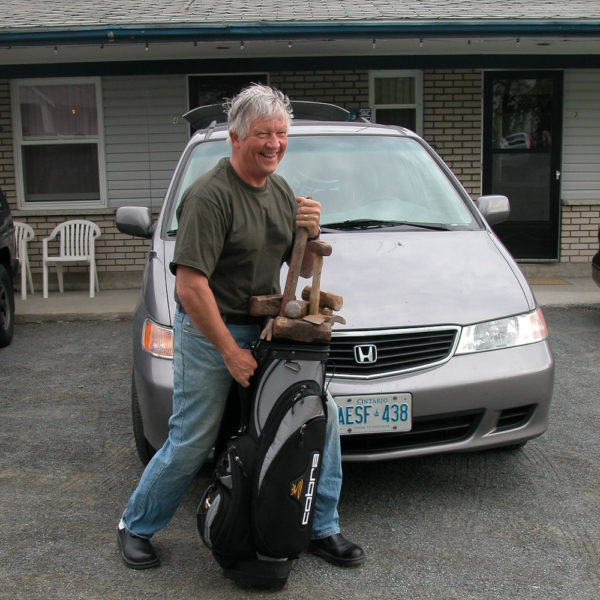 Steve with an impossibly-laden golf bag of heavy steel tools, before
a day of battle at Mont Saint-Hilaire.