We are people dedicated to helping you enjoy beauty, excellence, possibility and adventure in the world of minerals, whether you are an experienced collector, or a beginner new to minerals.
We are based near famous Bancroft, Ontario, at the heart of one of the best mineral regions in Canada. My wife Carolyn and I are the
principals of our company. Our black Labrador Retriever, Rudy, helps out (helpfulness-meter varies).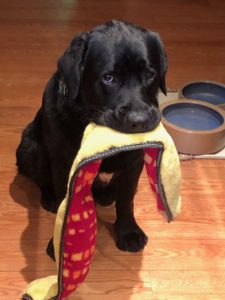 I have been deeply involved in the world of minerals and mining for the last 25 years. During that time, I have been fortunate to collect and obtain specimens at localities all over the world and have acquired and dealt in thousands of mineral specimens. When it comes to mineral specimens, I care most about three things: quality, aesthetics and the interesting-unusual.
These are the cornerstones of my approach in acquiring mineral specimens for you. (If you're interested in more about my own background, there's more at About Me).
Carolyn runs the financial and administrative side of our business and is a master of efficiency. She's really not fond of spotlights, so I am the voice on our website.
Rudy is new at all this. Our founding Labrador Retriever, Emery, supervised all operations. He  was also the Chairman of the Afternoon Snooze Committee and comprised our IT Department, although he slept through most of our business operations. It will be a while until Rudy is ready to step into Emery's higher roles, but he is a great little supervisor. For now, he is happy to a particularly active part of all packing, shipping and unpacking operations. He has delighted in founding our Playful Mayhem Department.
We are here to help you build an excellent collection of fine minerals and a finer understanding of the minerals and where they come from.
If this is your first time visiting McDougall Minerals, a warm welcome, all you need to know is at New Here?