Categories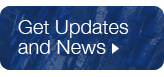 Archives
Morocco: The Northern Sahara and the Atlas Mountains (Part 2)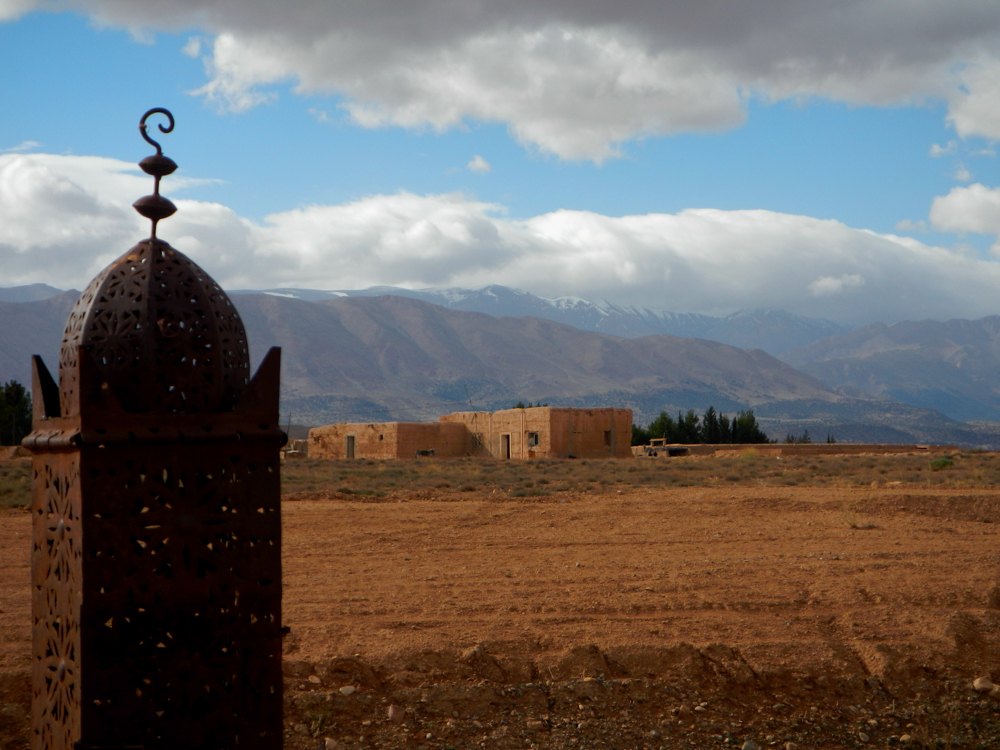 Midelt and Mibladen
Midelt and Mibladen are in a high plateau region, well north of the Sahara and in the shadow of the Atlas Mountains. Midelt is a regional capital with a population of approximately 45,000 people, and primarily it is an agricultural market centre.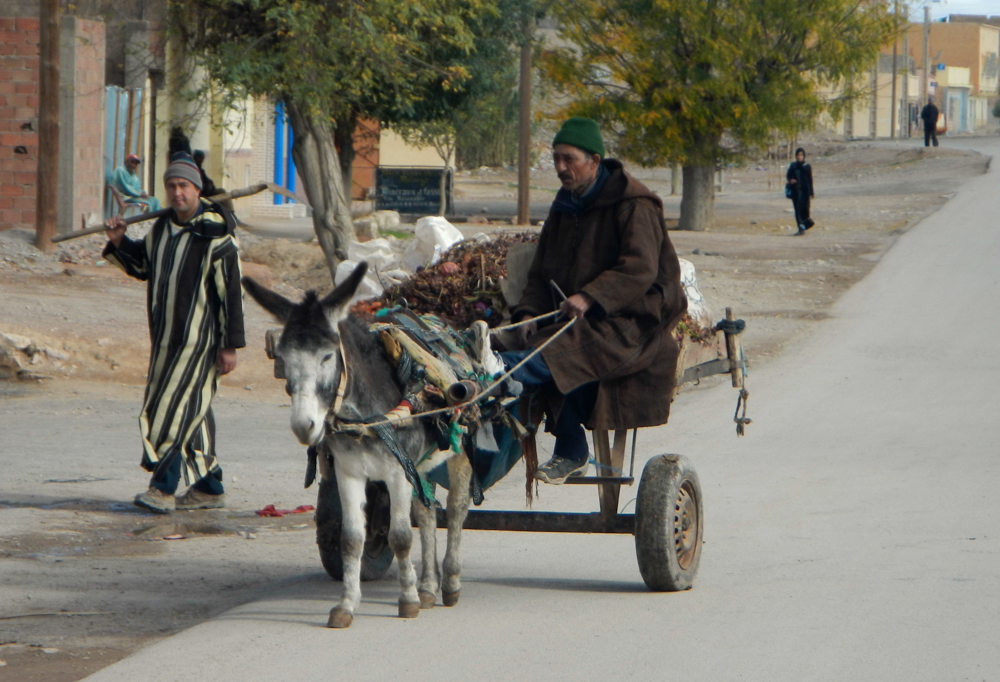 Farmer on the way to morning market with a load of vegetables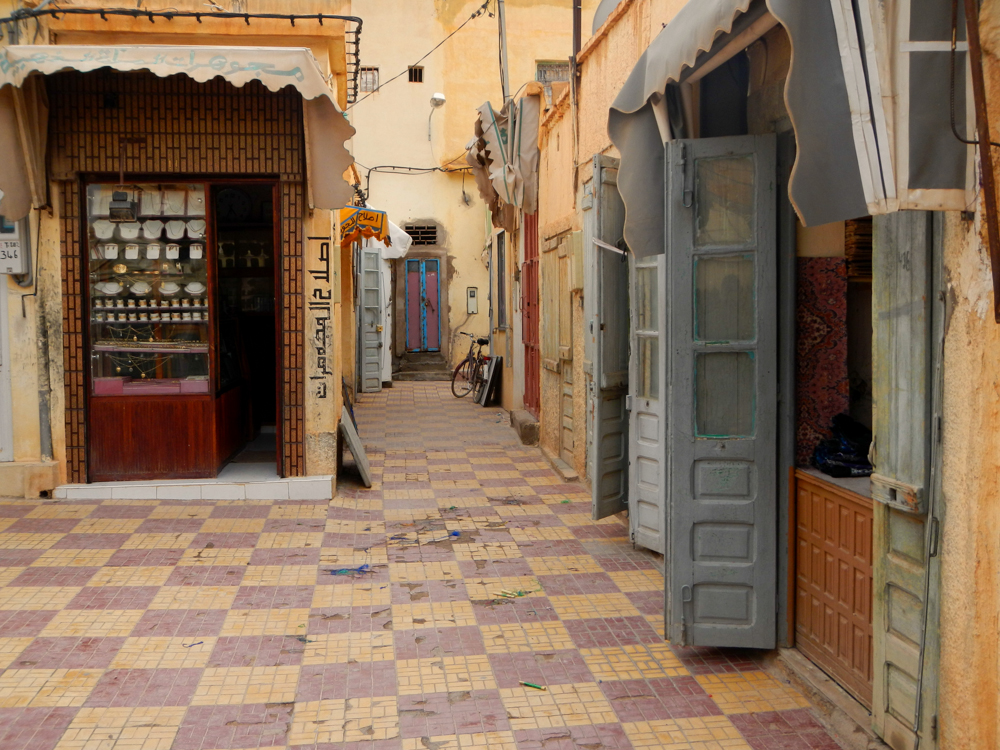 Promenade with shops in central Midelt
However, there is an interesting fact about Midelt: it was estimated to me (by local government officials and also by local mineral dealers) that approximately 10% of Midelt's annual GDP derives from sales of collector mineral specimens and mineral/fossil products, and related businesses. Whether or not this is exactly accurate, it is clear when you drive through Midelt and look at the storefronts that minerals are an important component of the local economy.
We attended the Second Annual Mindat Conference at the Taddart Hotel in Midelt and it was a super event, with speakers from all over the world. We also had the chance to buy specimens from mineral dealers at the museum/store attached to the hotel, and also generally, in and around Midelt.
However the true trip highlights in this region were out at Mibladen!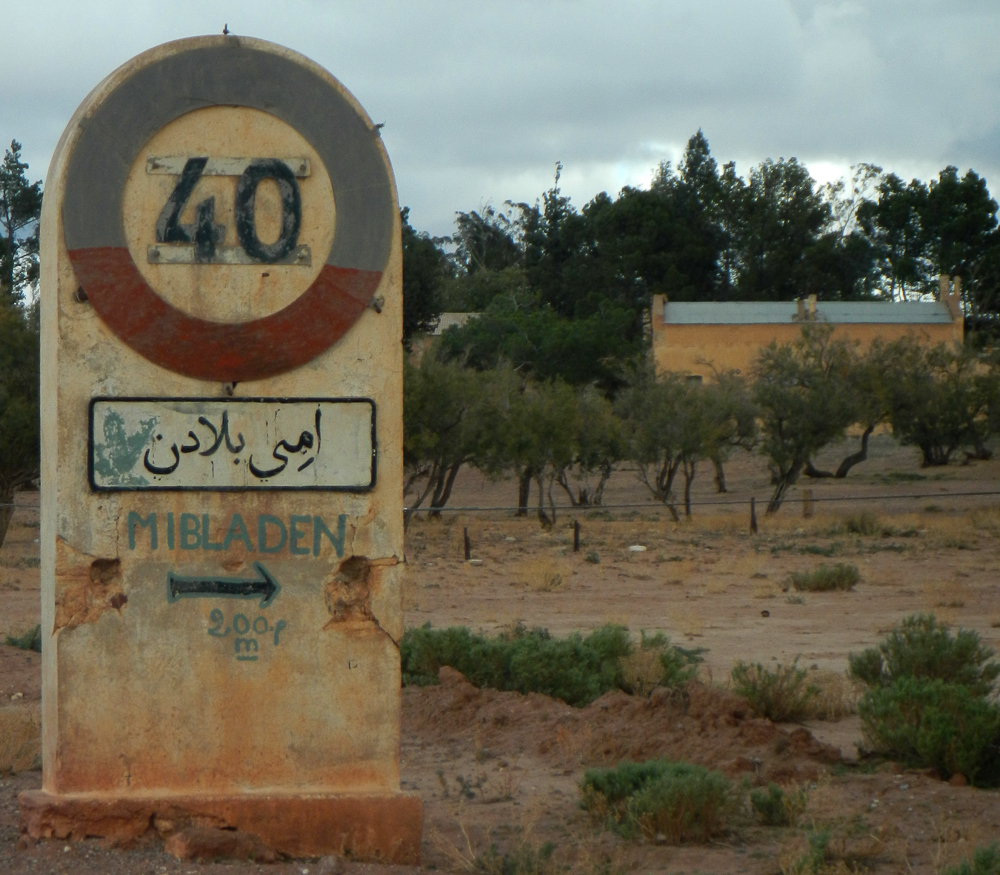 Mibladen was a mining centre where the French mined for lead in the first half of the 20th century, and the mines continued to produce until commercial operations ceased in the mid-1970s.
While the small village of Mibladen iteself is located about 18km east of Midelt, a large area about 10km in length comprises the "Mibladen" referred to by mineral collectors.  This Mibladen mining district hosts mining workings that access two important and distinctly different mineral assemblages, and we spent time exploring both.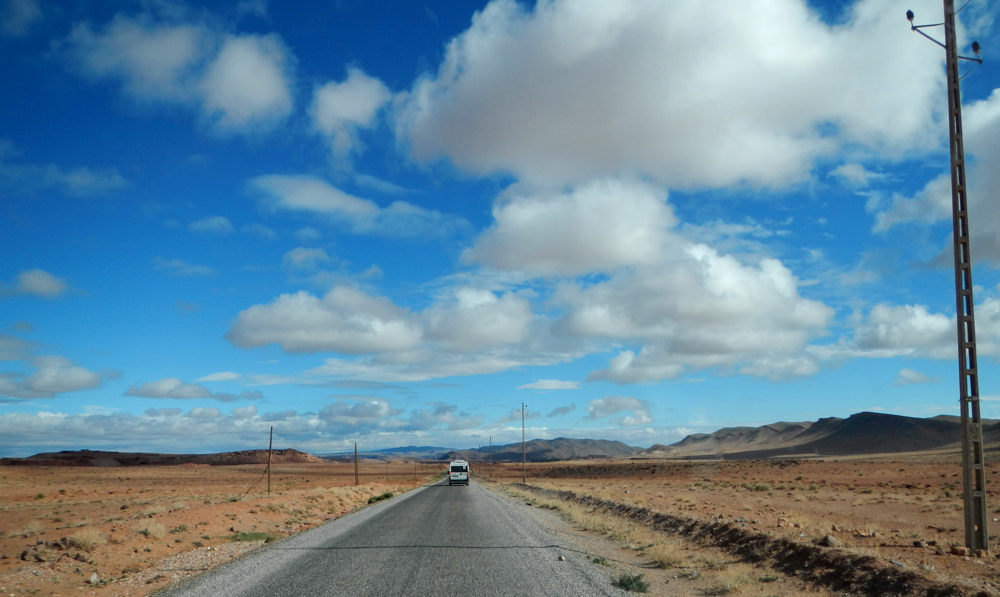 Open lands and skies on the way to Mibladen
(1) Vanadinite and Barite: Coud'a and the ACF Mine
Mibladen is famous for its spectacular vanadinite crystals – the world's best.  They occur in all hues of red through brown, often associated with wonderful bladed barite, which occurs in beautiful specimens with and without vanadinite. This is the one mineral assemblage – where there are vanadinites, you will not find the famous Mibladen cerussites or wulfenites – these are in the second mineral assemblage, discussed in the next section below.
The two main vanadinite producing localities at Mibladen are the ACF Mine workings and the Coud'a workings. The vanadinite and barite crystals occur in mineralized zones that occur at various depths from the surface – some can be accessed by vertical shafts about 20-30 feet deep, and some are deeper. In the case of the ACF Mine, the vanadinite-bearing zones are accessed by workings that have been extended underground from the mine workings buy miners in search of specimens. In the case of the Coud'a workings, they are narrow shafts excavated by hand tools from the surface.
We were able to visit the Coud'a workings, and our guide Abdellah took us down two shafts where he had mined beautiful specimens of vanadinite and barite.  A visit to these deposits is a bad idea for anyone who doesn't like small closed spaces…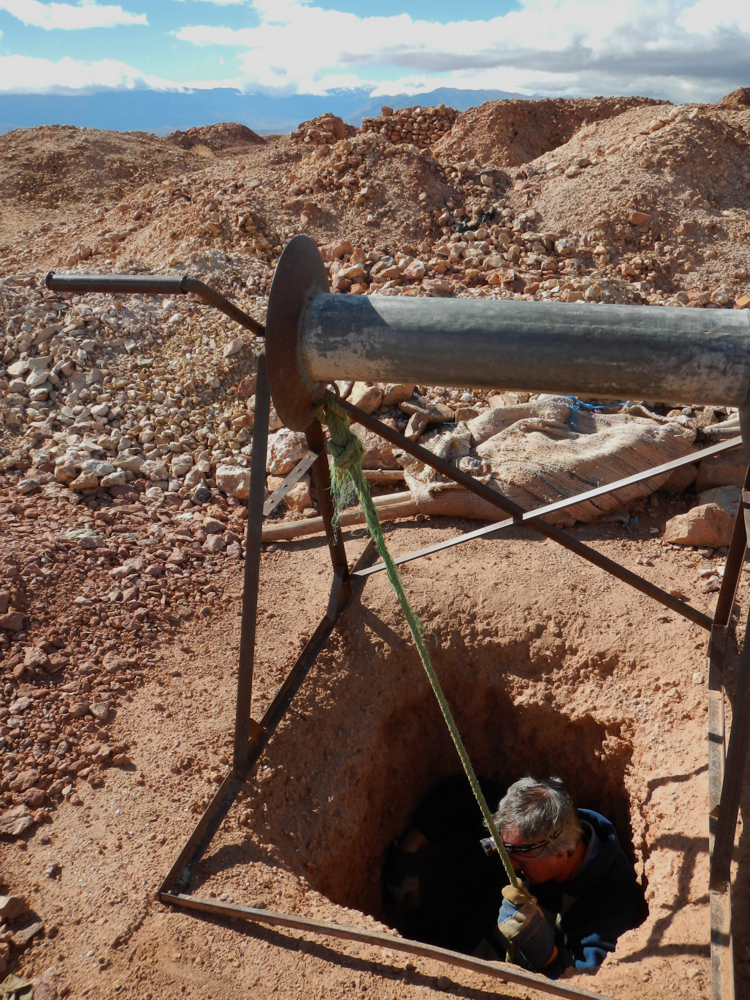 Dave took the rope and headed down the shaft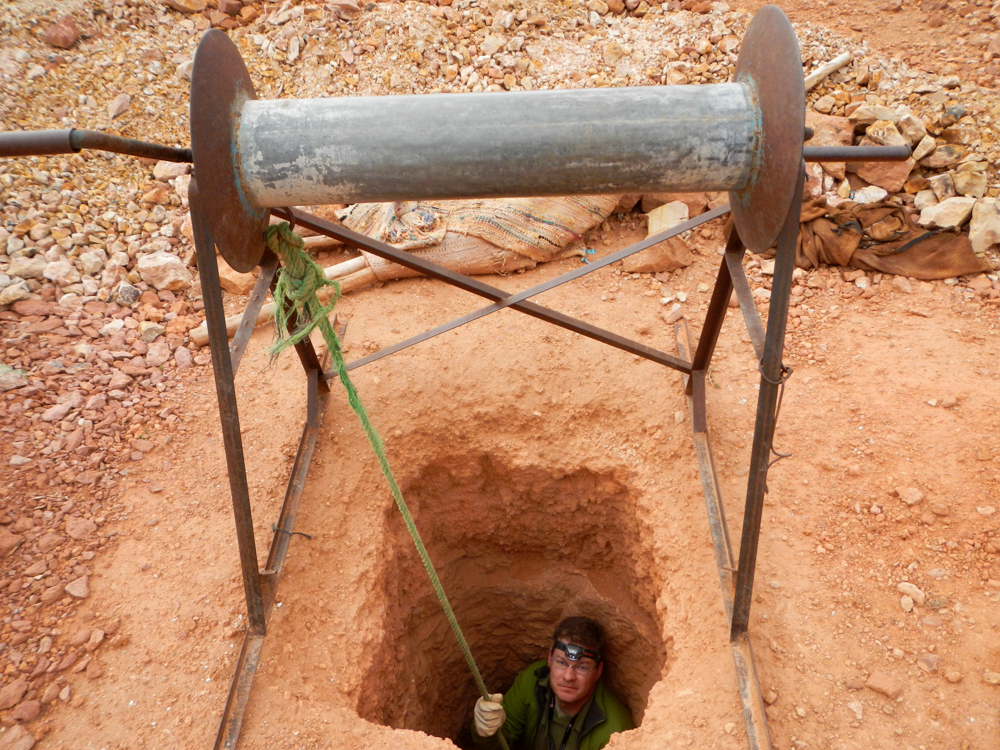 I followed him down…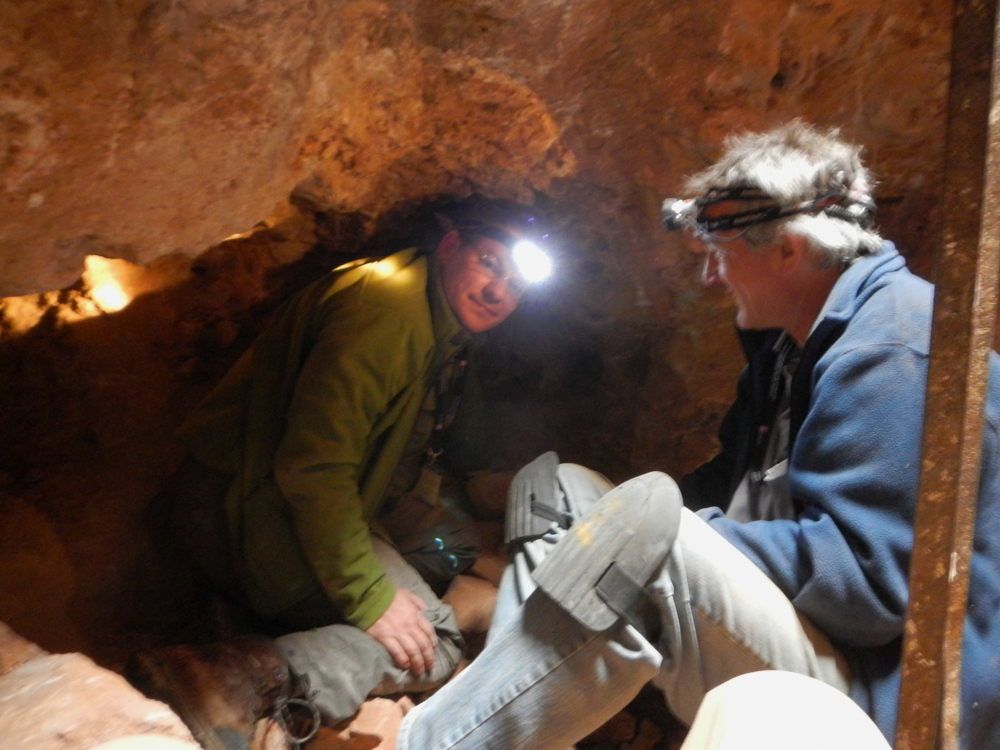 Not a ton of room down there…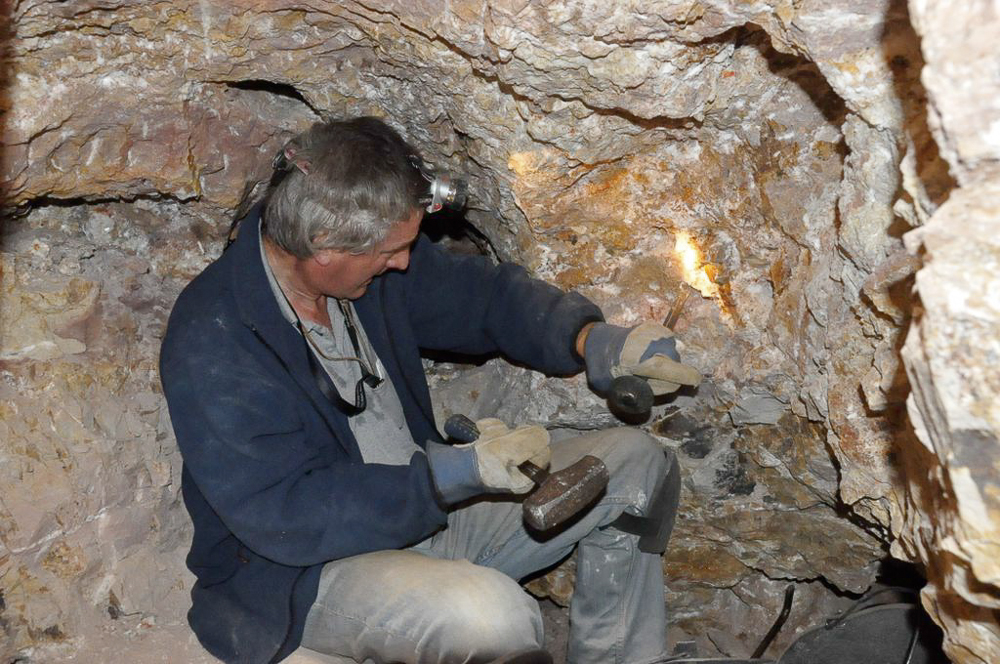 But enough room to work for vanadinite
The rock is solid and tough – tons of hard work goes into finding and extracting these specimens (D.K. Joyce photo)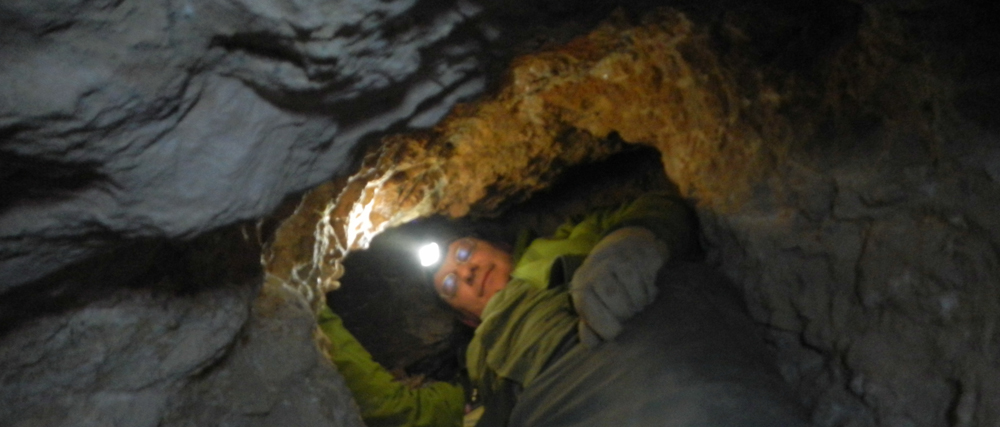 The underground tunnels were pretty narrow, cut through solid rock using only hand tools (D.K. Joyce photo)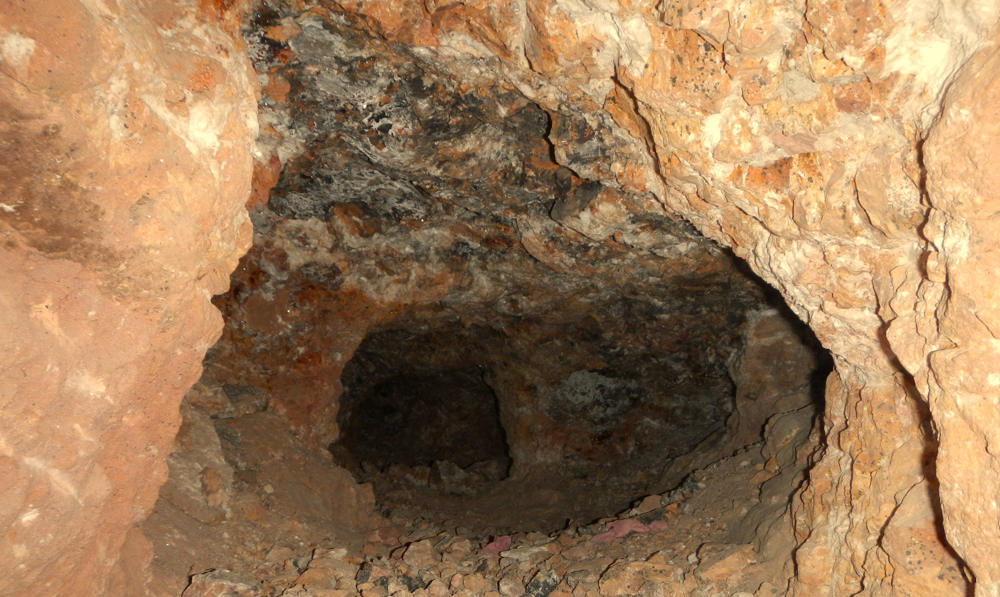 And this was the view ahead of me, a photo I took while lying where I was in the last photo, and looking further ahead into the tunnels. Red vanadinite/white barite mineralization was still visible in the ceilings and walls where specimens had been extracted during specimen mining.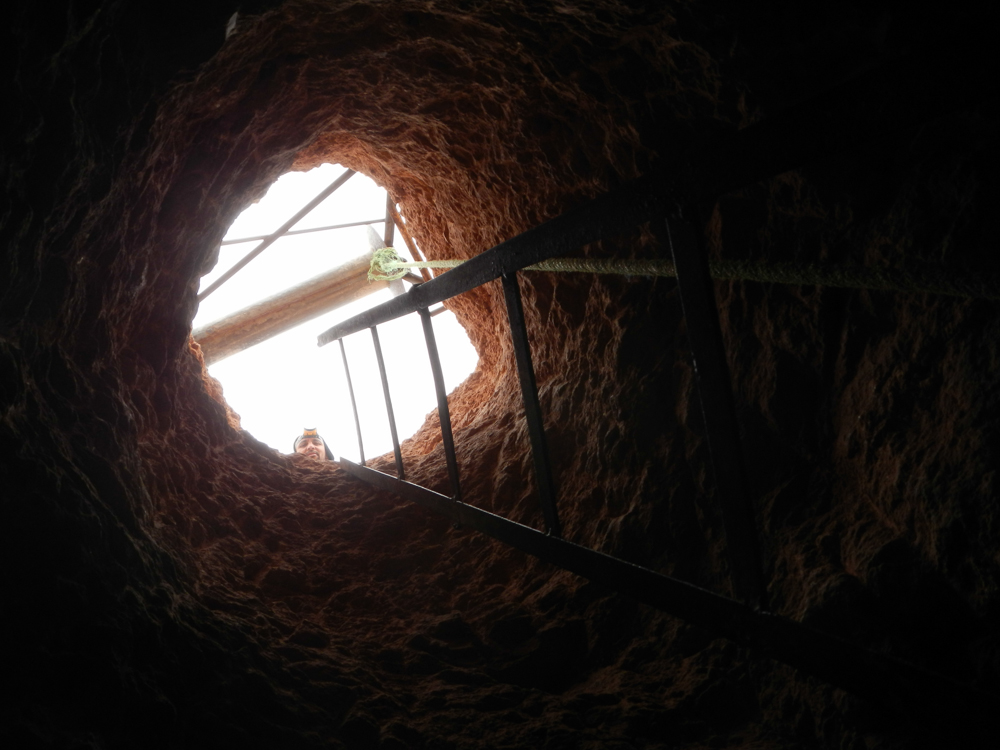 Abdellah was up first, in case we needed help getting back out
Once any of the workings like these get too narrow or dangerous – or are simply collected out – Abdellah goes back to square one and starts again: he goes back to the surface and for the next 8 weeks he will sink a new shaft further along the deposit until he intersects the vanadinite-barite mineralization again. The condition under which the miners are allowed to work these deposits is that they may not use power tools or explosives, so all of the shafts and tunnels are cut by hand.
Beautiful specimens come from the vanadinite/barite workings at Mibladen.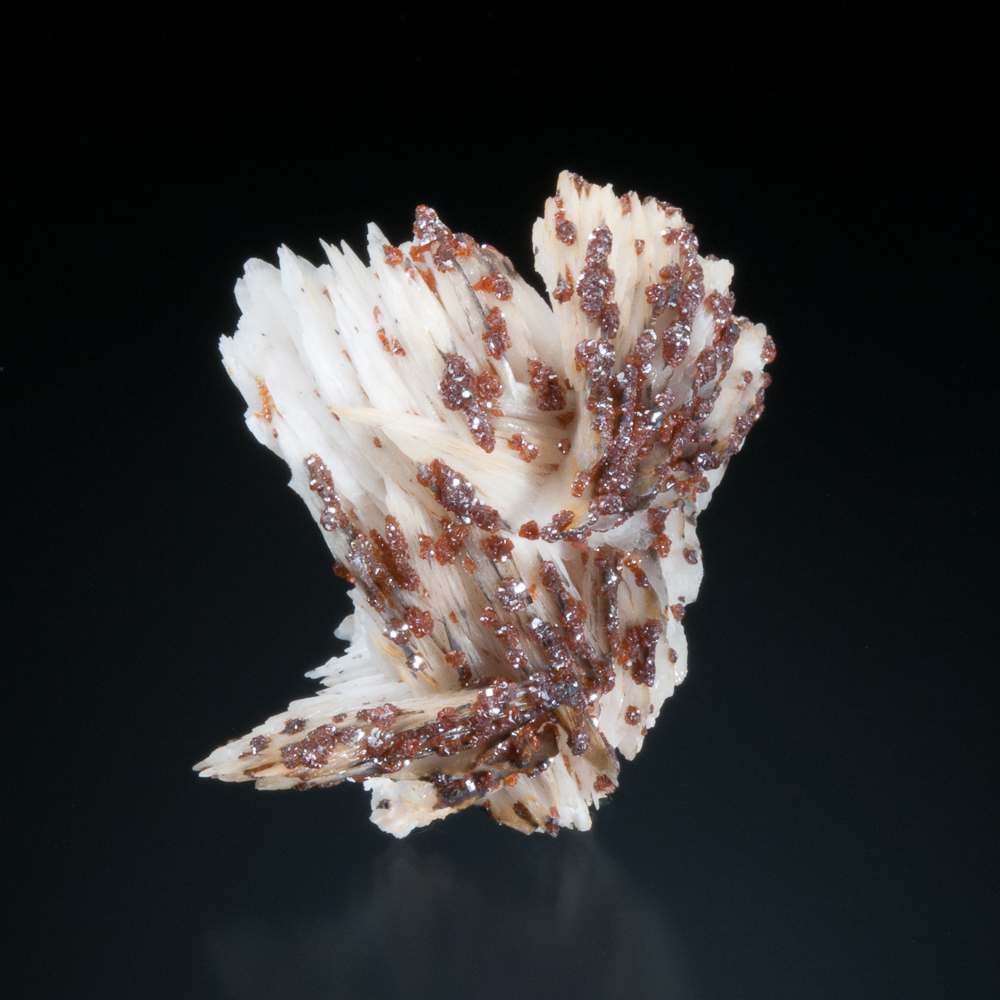 Barite with Vanadinite, Coud'a workings – 5.6 cm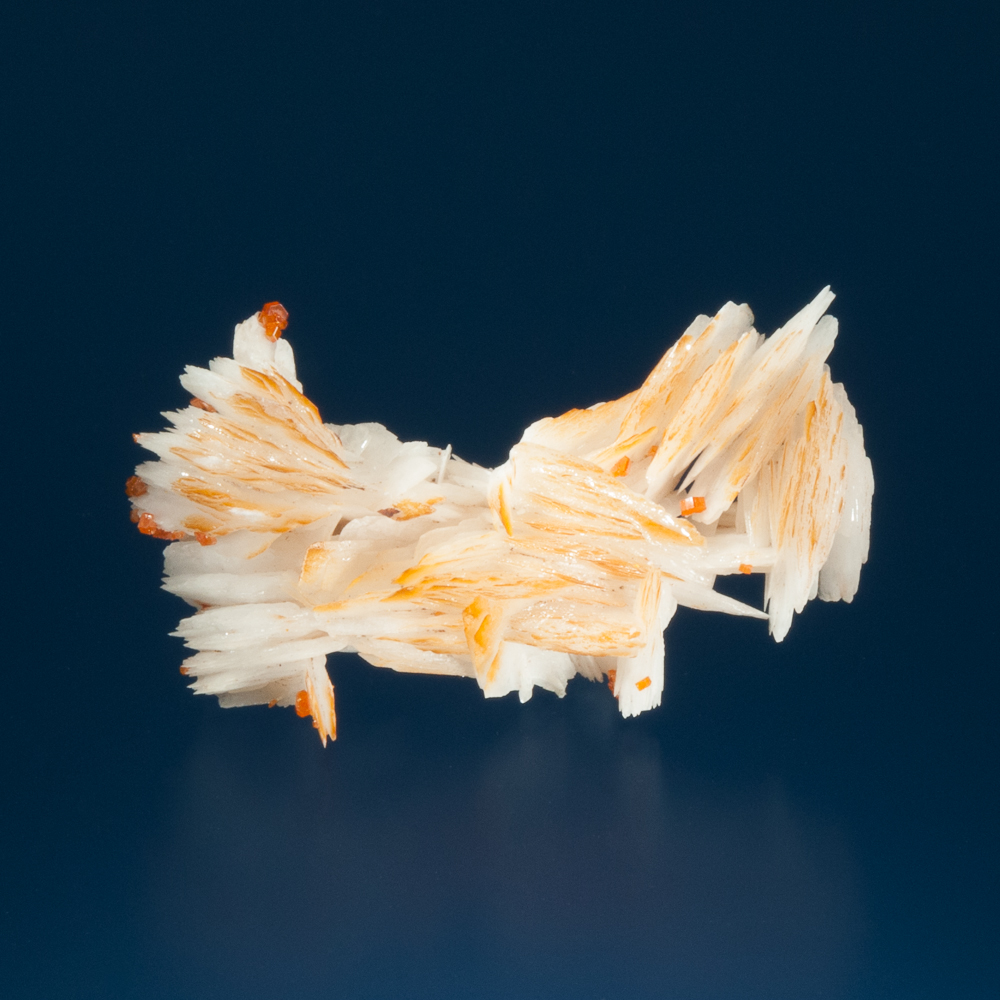 Barite with Vanadinite, Coud'a workings – 5.2 cm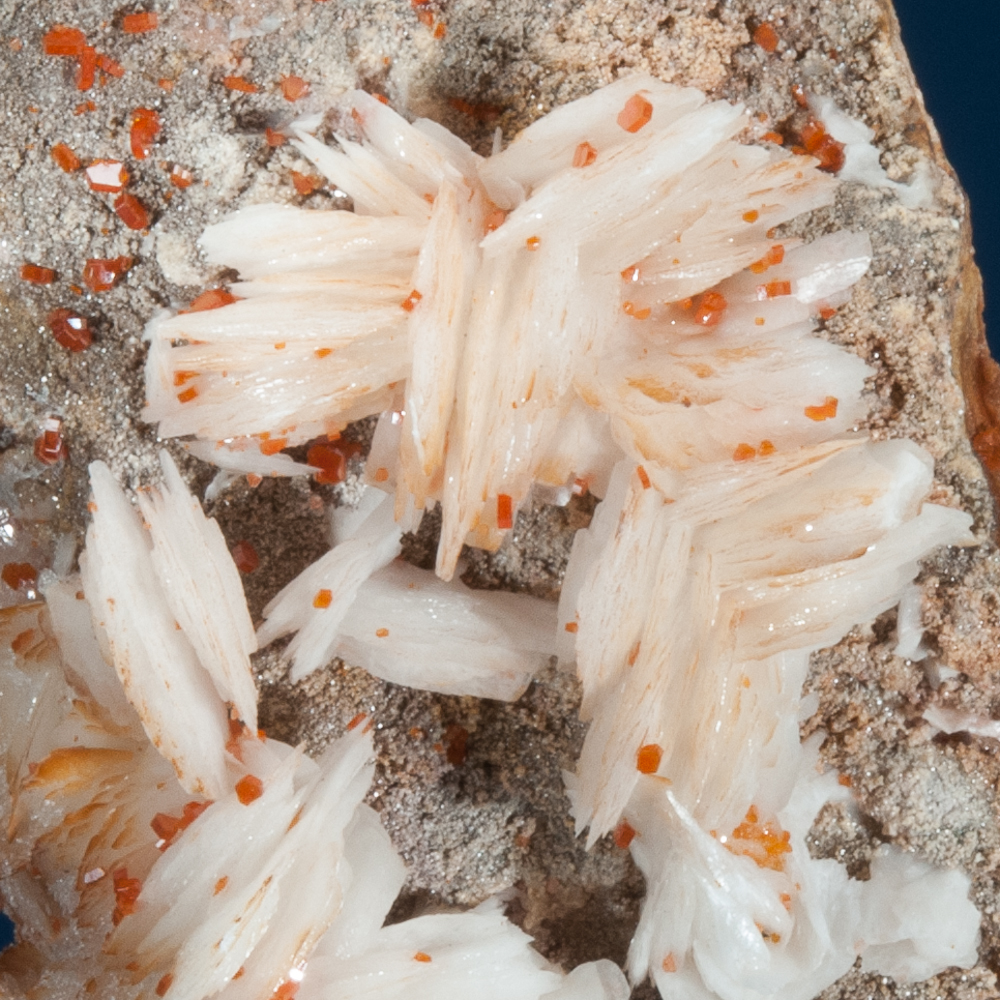 Barite with vanadinite, Coud'a workings – Field of view 5.5 cm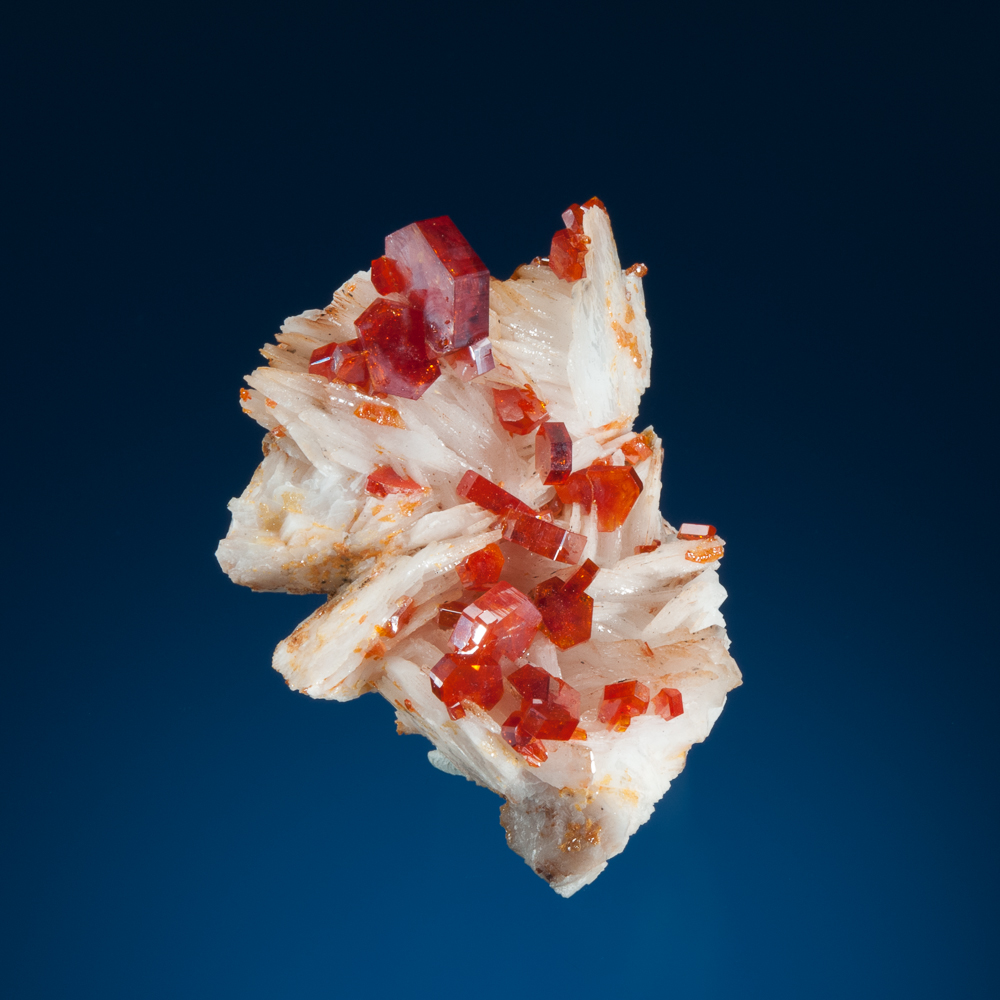 Vanadinite on barite, Coud'a workings – 5.2 cm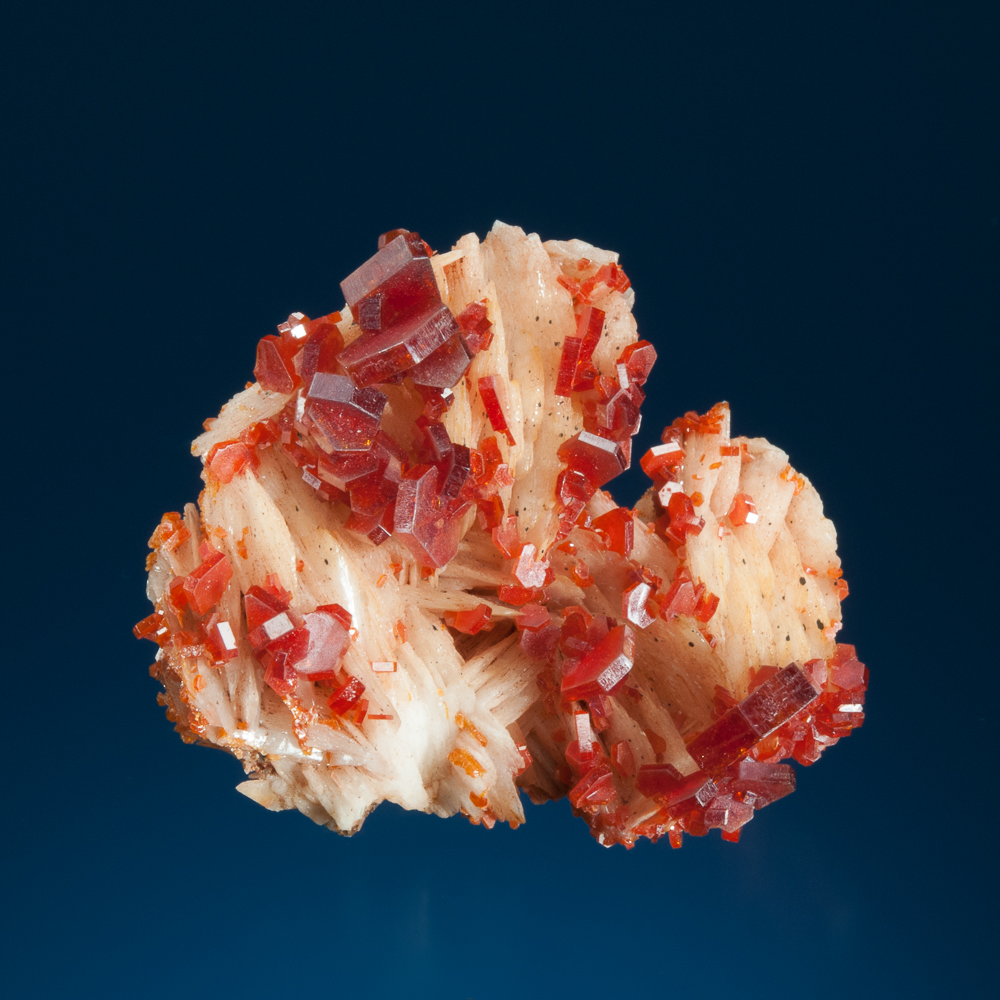 Vanadinite on barite, Coud'a workings – 4.9 cm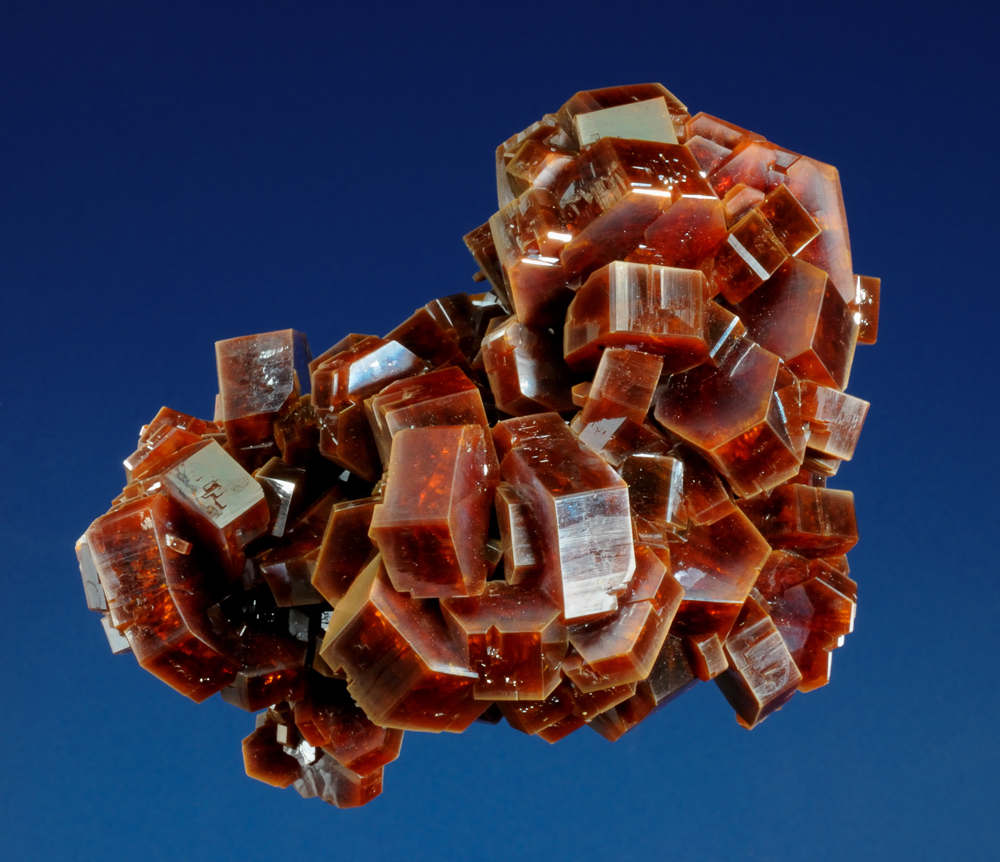 Vanadinite, ACF Mine – 7.7cm
(2) Cerussite, Wulfenite and Barite – Les Dalles Mine and Les O Mine
The second assemblage has produced world-class specimens of cerussite, along with barite and orange wulfenite (beautiful but uncommon at the locality). These minerals are found in the old large-scale lead mining workings, principally Les Dalles Mine and Les O Mine. These are large room-and-pillar mines – nothing like the narrow winding subterranean vanadinite tunnels carved by artisan miners.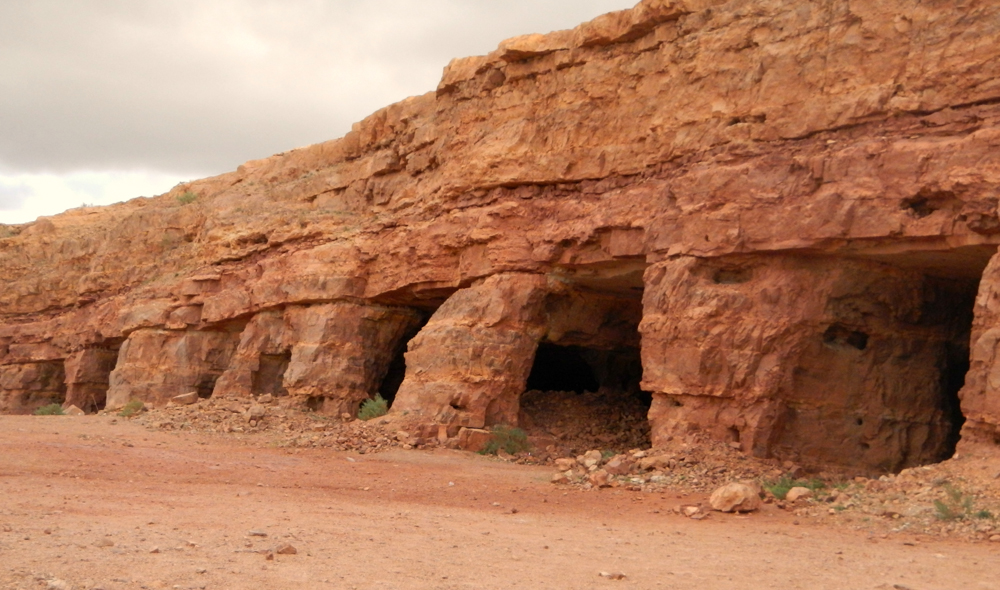 Les O Mine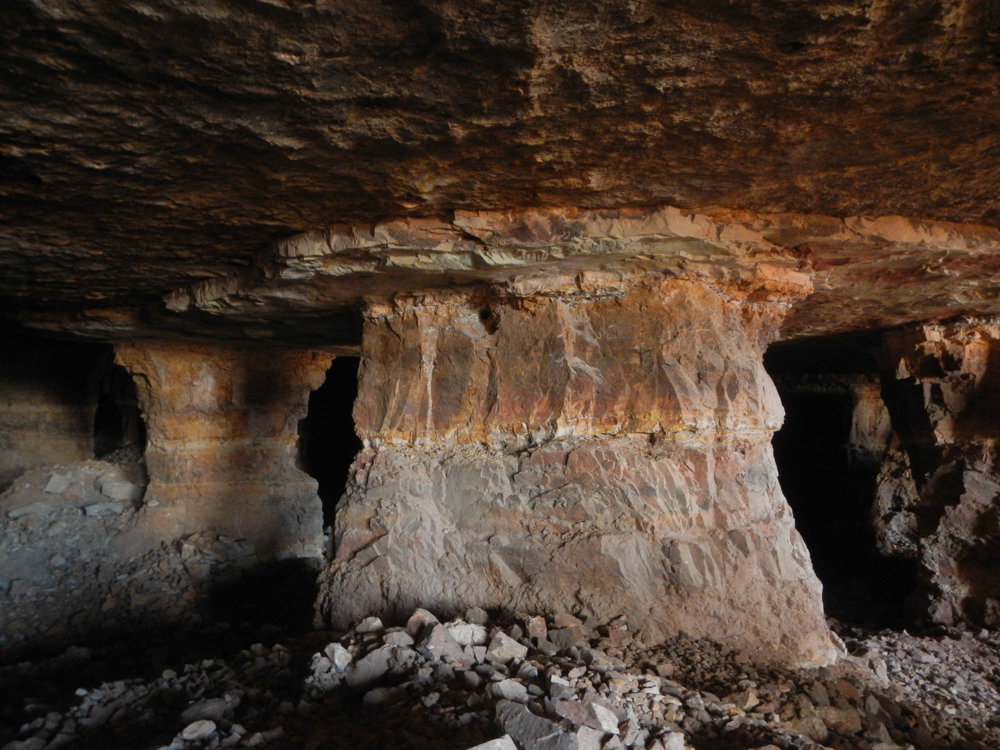 Pillars in Les O Mine
So here's the thing about room and pillar mining like this. The pillars are left there for a reason. There's a lotta rock overhead. However, the pillars of course are the one remaining source of the mineralization from the layer that was mined out… and so when specimen miners want specimens…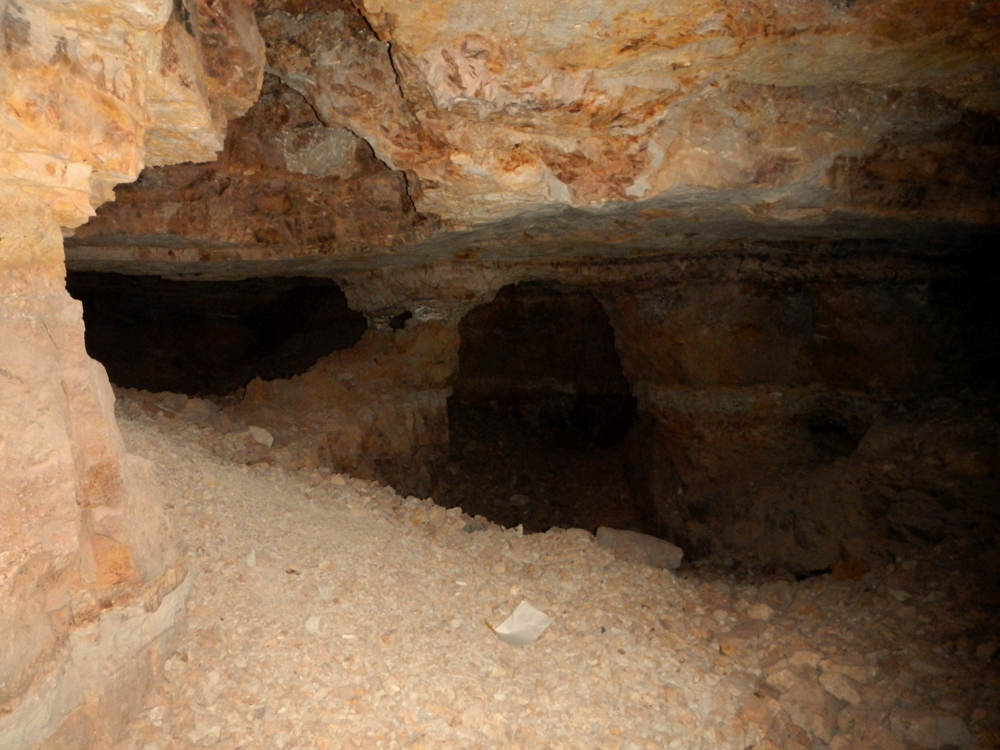 …say goodbye to your pillar… sometimes not a lot of pillar is left!
(Apparently there have never been any collapses due to robbing of the pillars)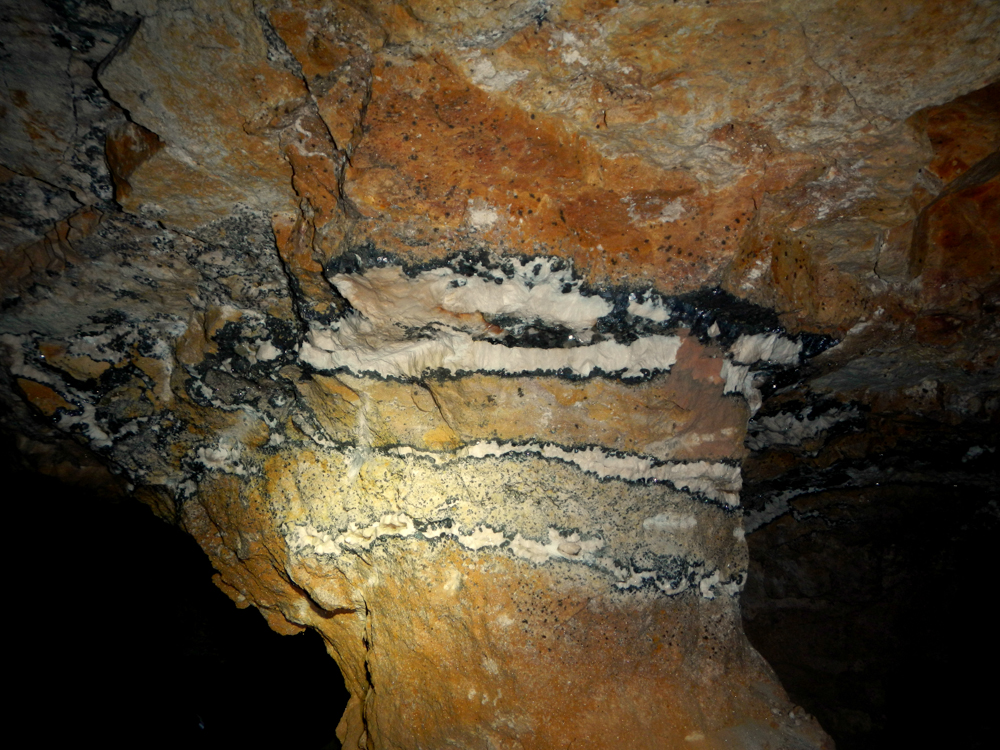 Galena-barite-cerussite veining in a pillar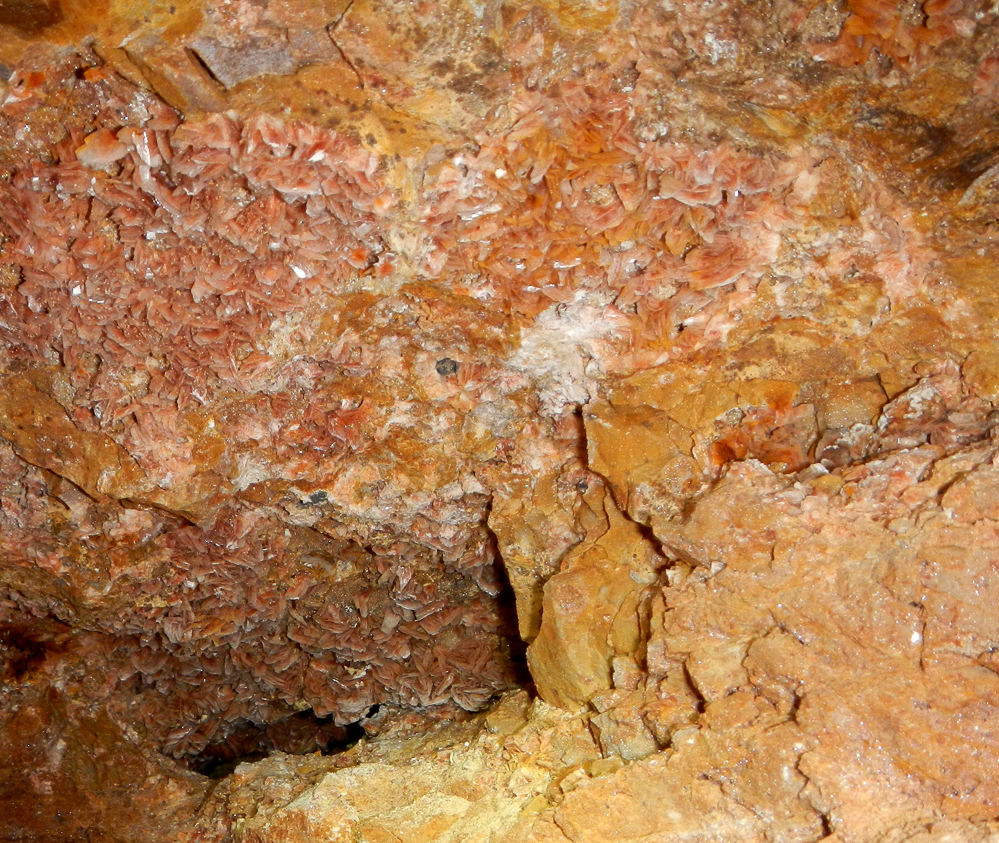 Series of barite crystal pockets in the ceiling at Les O Mine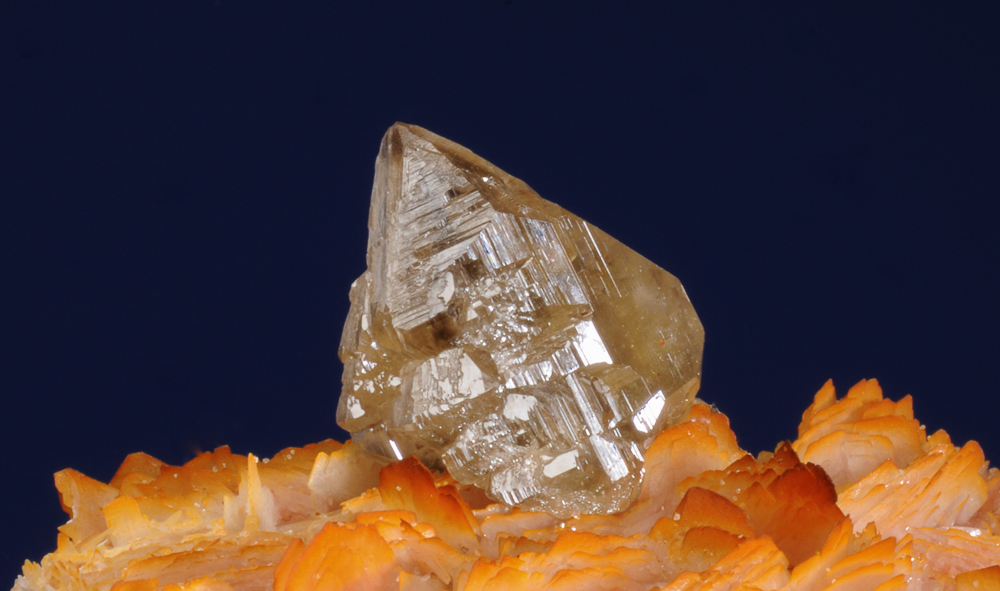 Cerussite, 2.3 cm, on barite, Les Dalles Mine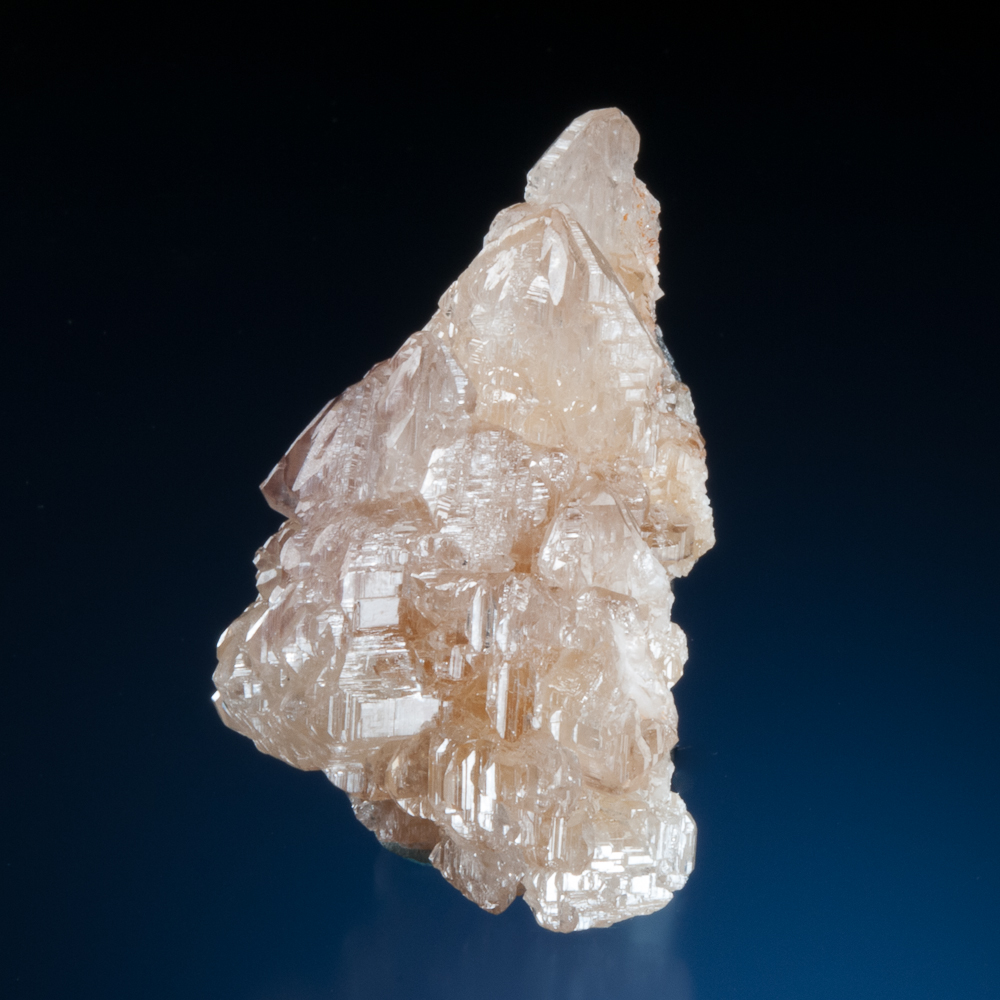 Cerussite, Mibladen Mining District – 7.6 cm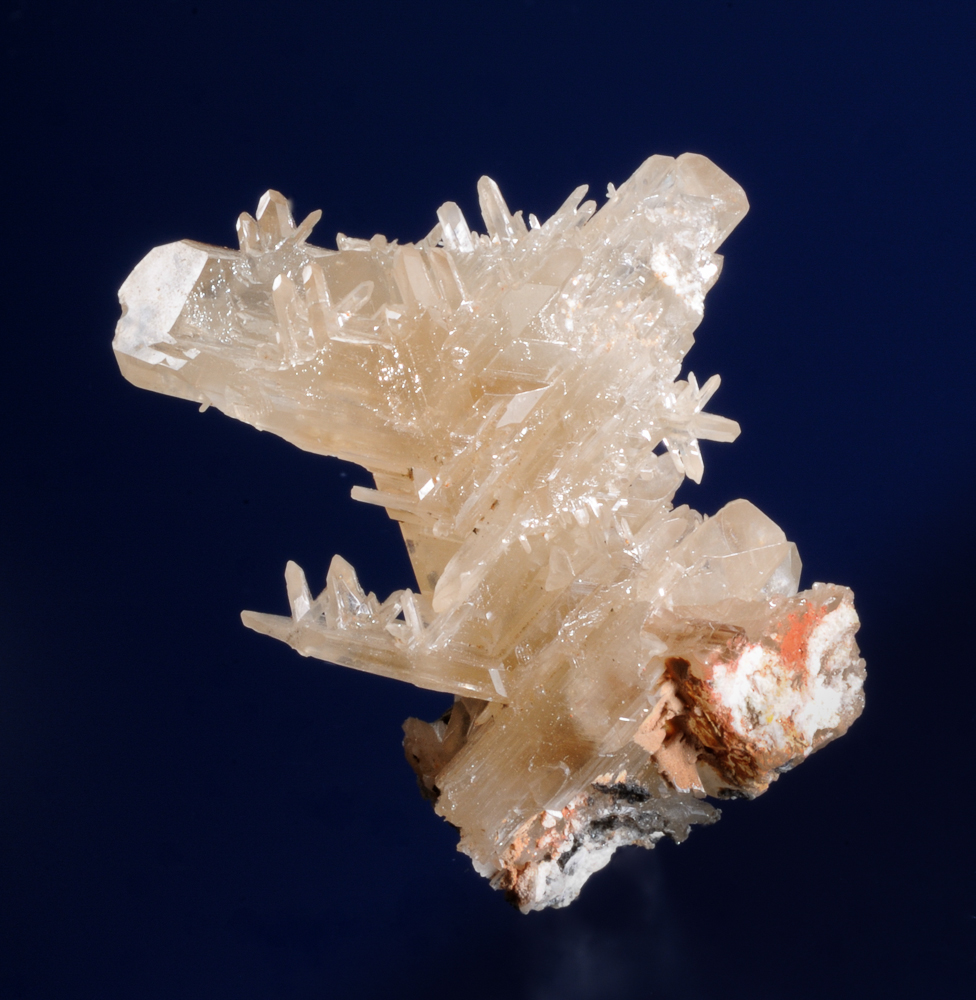 Cerussite, Les Dalles Mine – 5 cm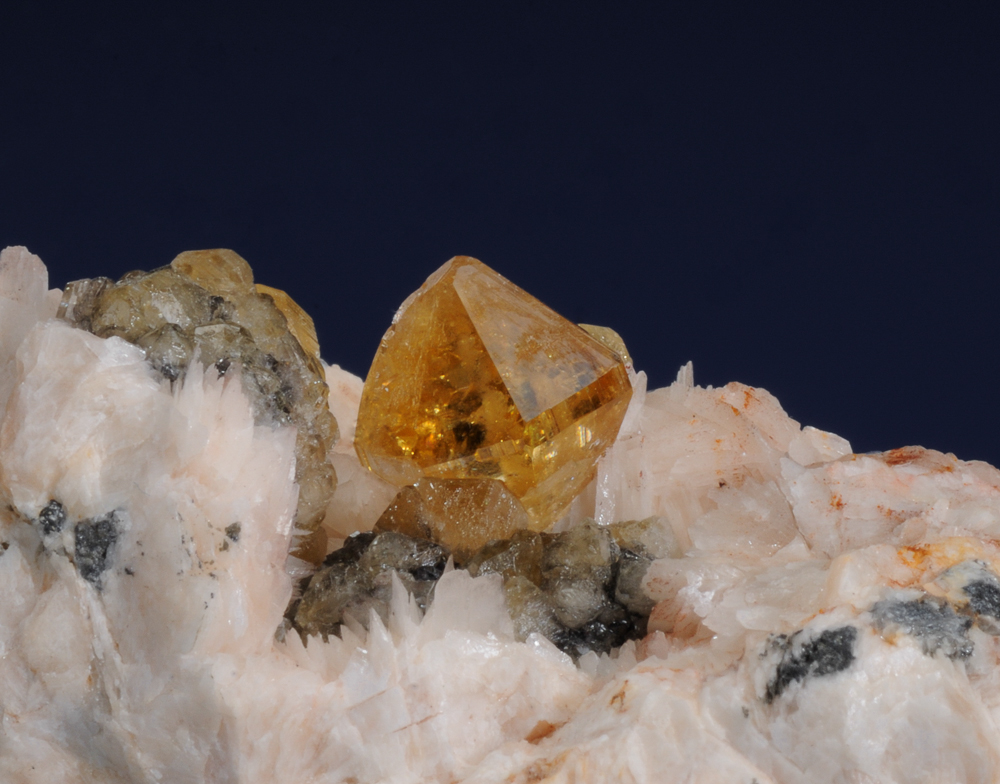 Cerussite, 1.3 cm, on barite, Les Dalles Mine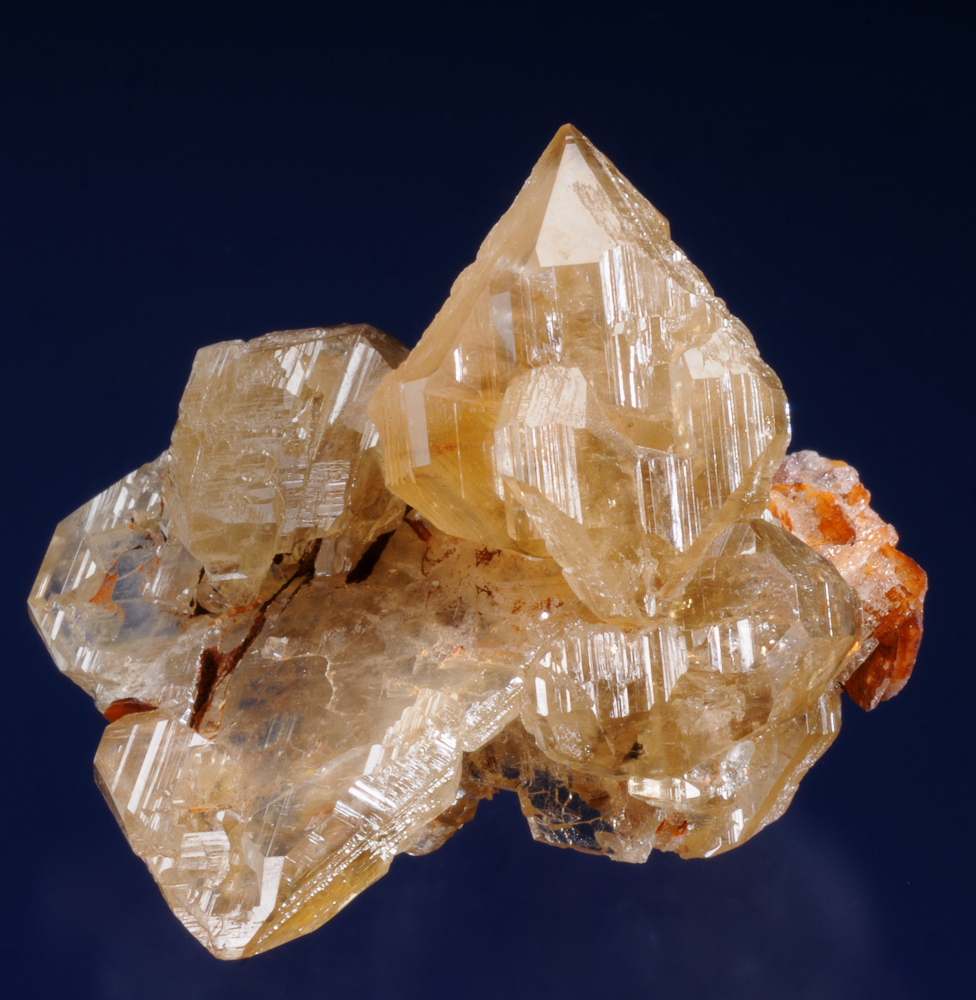 Cerussite, Les Dalles Mine – 4.5 cm
Dinner Underground
As there have been many other write-ups online about the conference, I have been light on that topic, but I would be remiss if I did not at least include a mention of the "Surprise Dinner" as the conference Grande Finale. We were simply told to change into decent clothes and that we would be driven to dinner. It was after dark as we set out and it was hard to figure out where we might be headed. The conference shuttles pulled up into an area lit with temporary spotlights and we could see that we were in fact at one of the entrances of the Les Dalles Mine. A section of the room and pillar structure was converted – specifically for this night of this conference – into an underground dining area, large enough to host dinner for the whole conference, plus formally attired servers and a group of local musicians.  We were served a multi-course meal on fine china, and I think most mineral collectors in the group were completely blown away by the vision behind the idea – and then the experience itself. It was an audacious concept and it was spectacular.  (And after all, most of the time when we eat something at a world famous mineral locality, it is something from a packed lunch we've just pulled out of our backpacks…)
Entering the mine for dinner
Aouli – Sidi Ayed
We made one final mineral locality pilgrimage on this trip – we went out to see Aouli and Sidi Ayed. Many mineral specimens are labelled "Aouli" (often yellow fluorites) but in fact Aouli has not produced minerals for decades and even in its producing days it was not a big specimen producer. We learned that the specimens labelled Aouli usually come from an area of workings around Sidi Ayed, which is perhaps half an hour or more beyond Aouli, over very rough winding roads.
This final adventure was all rough when it came to the roads.  The roads themselves were strewn with rocks and had minor gaps where rivers had taken their toll during storms. We were driven in a car that looked like it might disintegrate at any minute. You probably think I'm exaggerating, but it was a train wreck. Here's what we saw on the inside of the door when we got into this thing: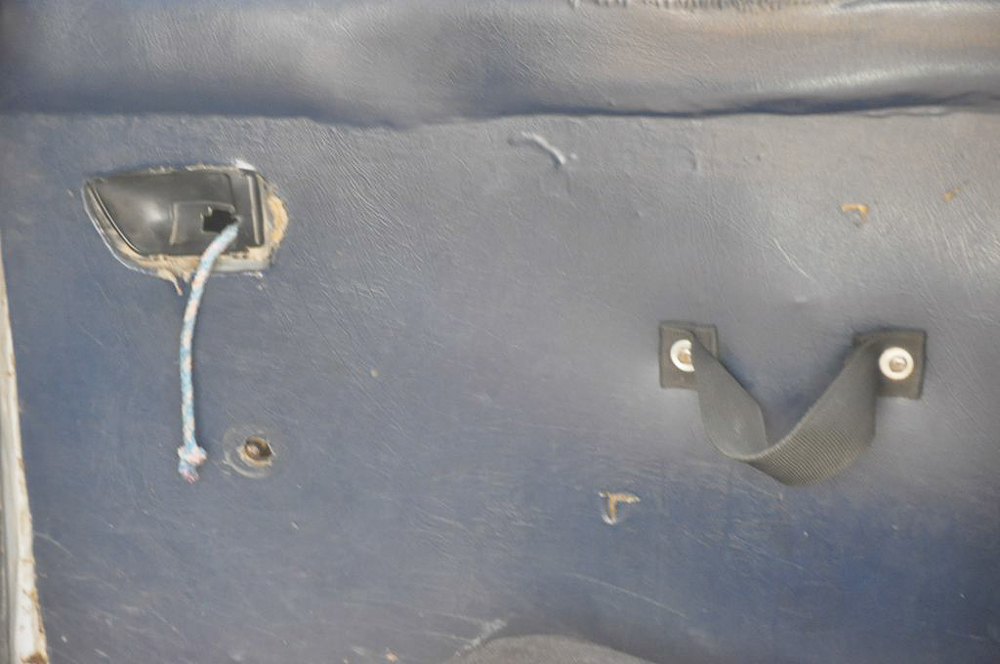 Try rolling down the window
Actually it was not a day for rolling down the window anyway – it started out blustery with high winds, then came the blasting sand and finally by afternoon we had blowing sleet and hard rain. The latter of which of course came in down my neck through the hole in the car roof, but I digress. The car held together and the roads did not get washed out by the afternoon storm as our guides feared they might.
As collecting days go, there wasn't much in the way of fine minerals out there, but it was an interesting trip through canyons and hills.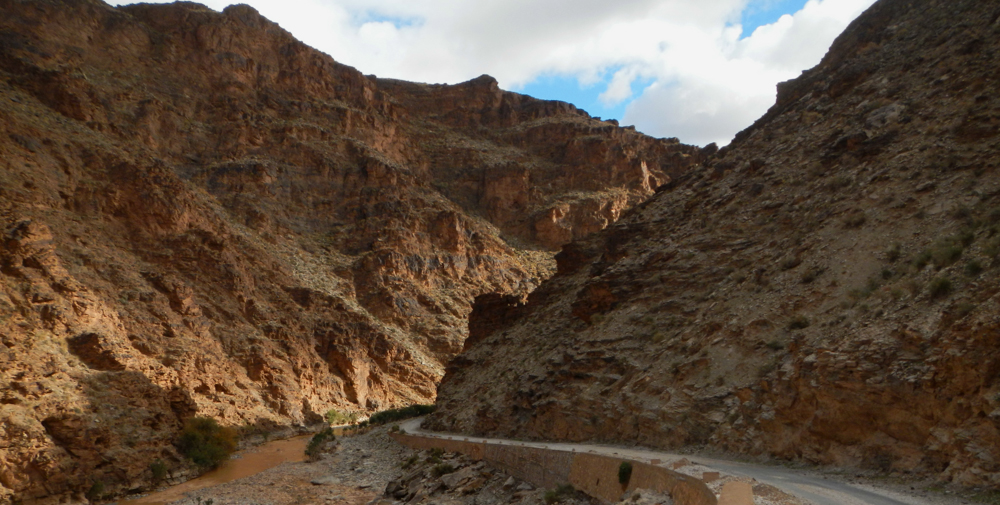 The road to Aouli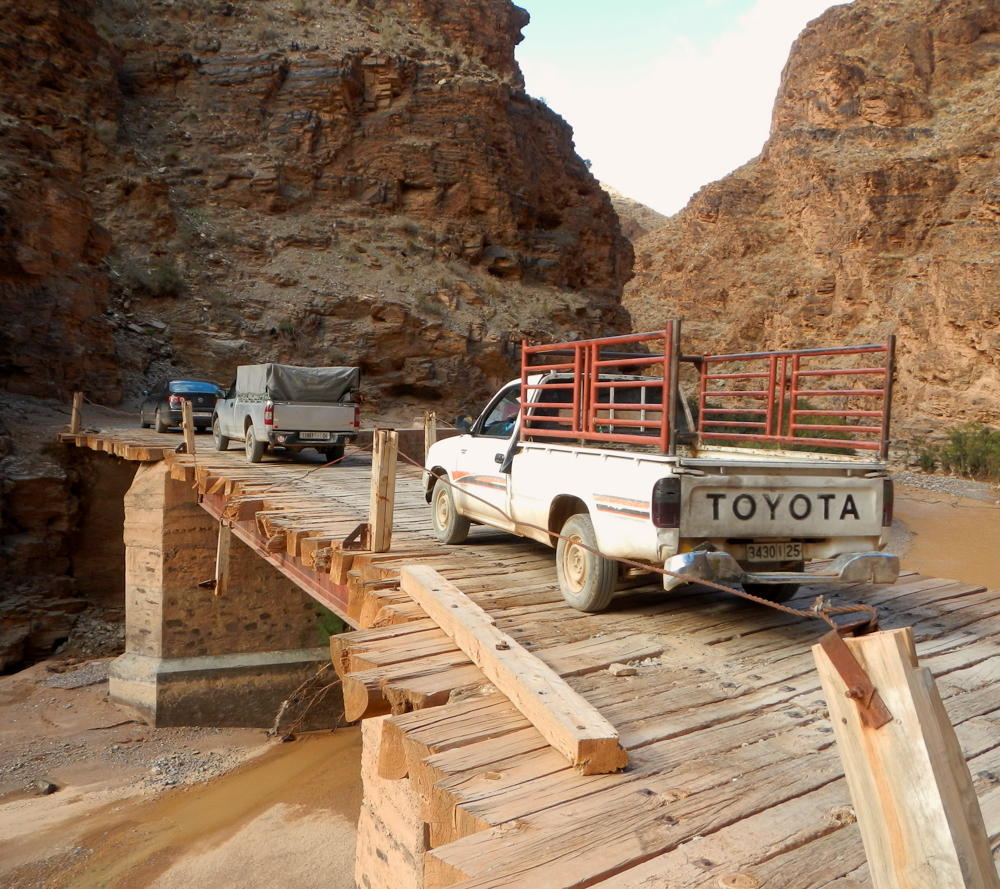 This bridge looked only slightly better than the car we were in, but it was solid and supported all kinds of traffic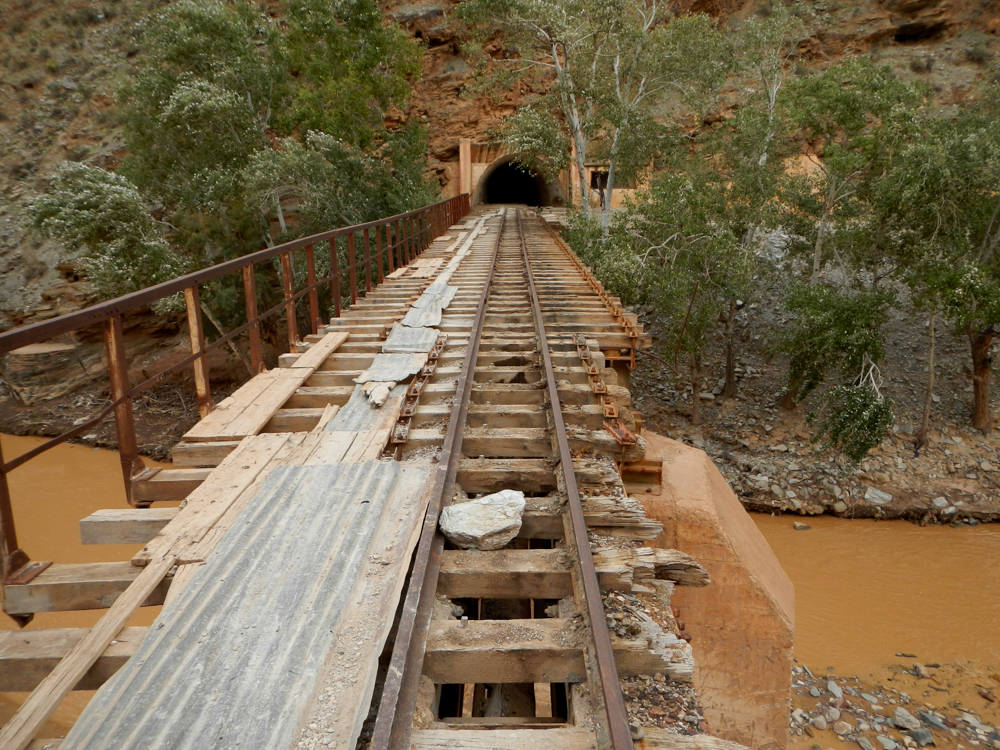 River bridge and large adit at Aouli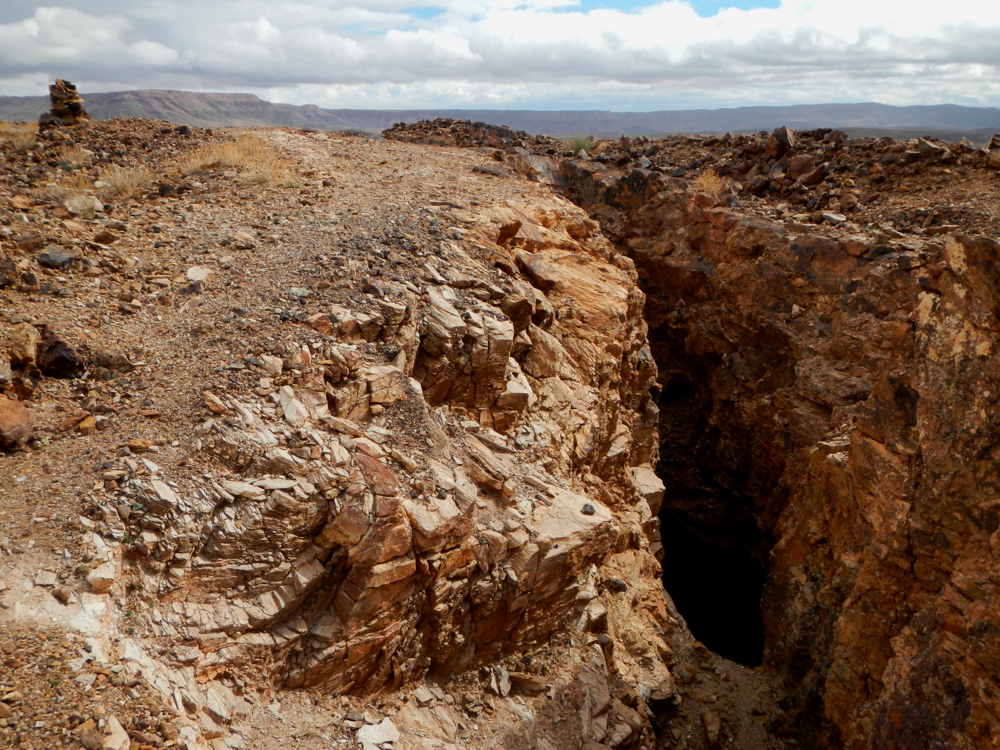 Deep  surface workings in the Sidi Ayed area – malachite, azurite and fluorite were all abundant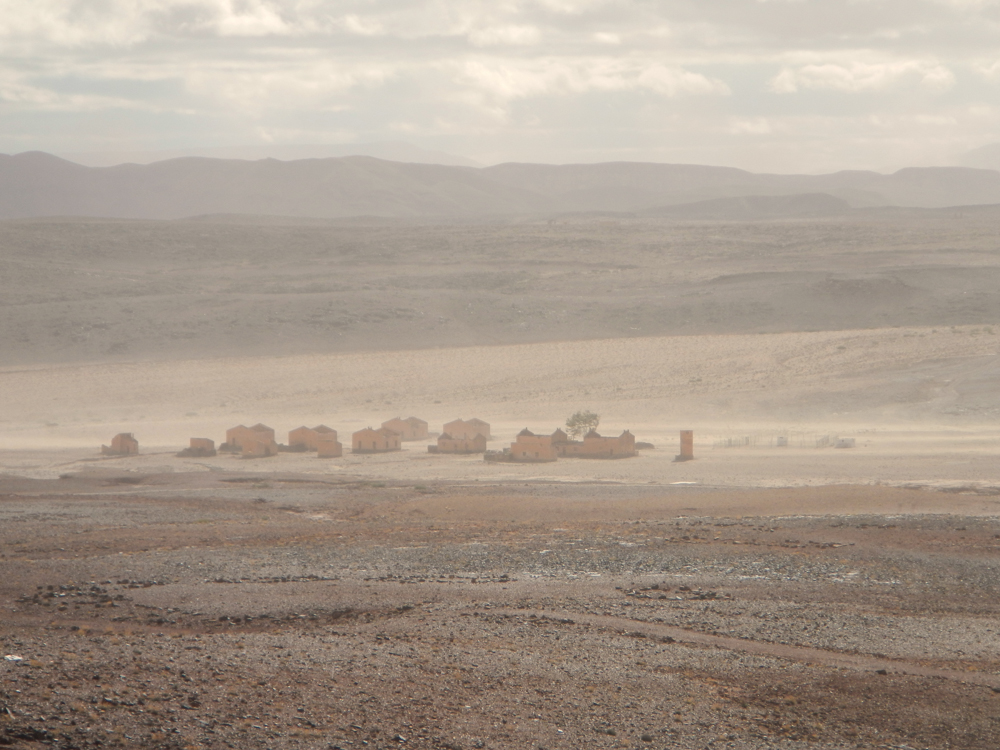 Sandstorm in the Sidi Ayed area – this settlement is abandoned, with all roofs gone from the buildings
Snow Closures – in Africa
You know, if you want to have snow closures and cancellations anywhere – even in Africa – just bring a few Canadians along. The stuff follows us wherever we go.
The end of our trip was a bit colourful, as a snowstorm hit the Atlas Mountains and surrounding areas. Highways were closed in all directions for about a day, and our route through the mountains back to catch our flight in Casablanca was in doubt. However, the morning of our departure the roads were reopened and although we passed accident scenes, our own travels were safe and smooth driving all the way to Casablanca.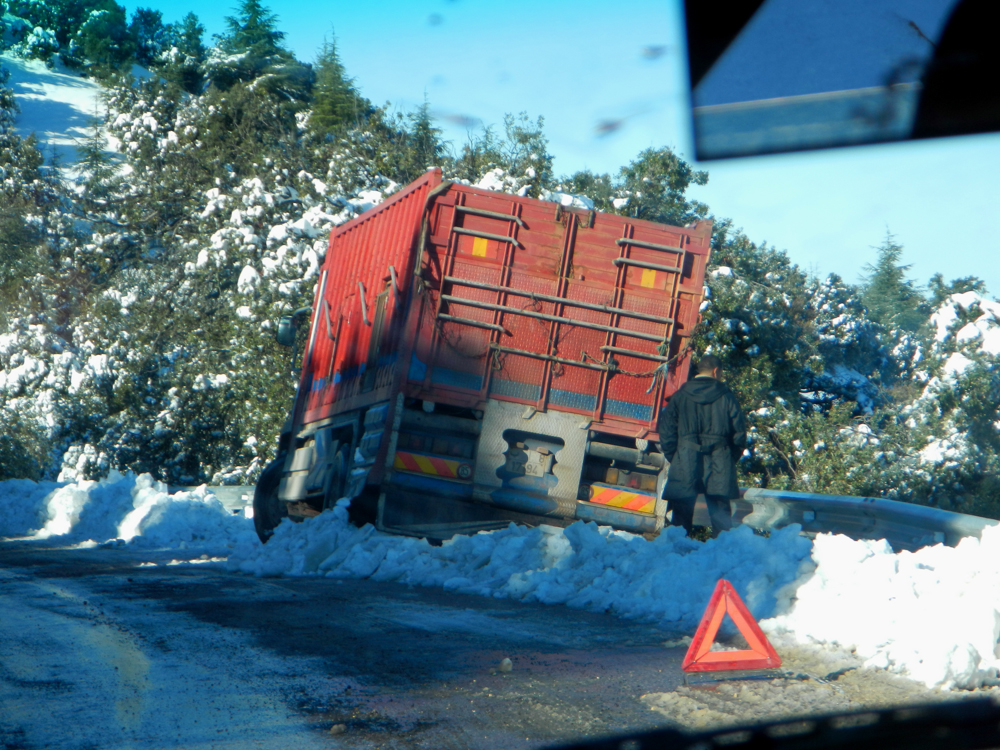 The guardrail saved this one – it was a steep slope over the edge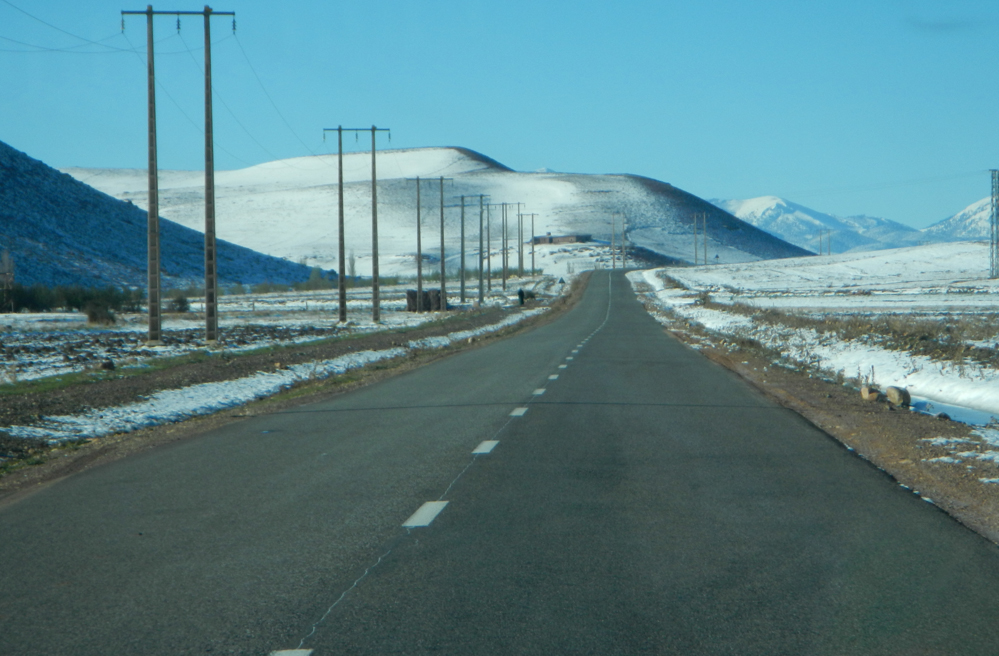 On the open road, beginning our journey home
Minerals from Morocco
Some of the minerals described in this post are for sale on here our website. Some even come from the same holes and tunnels.  If you are interested in minerals from Morocco, click here.
Back to Part 1: If you have landed here directly without seeing the first half of this adventure, it's here at Part 1.
Thanks
Special thanks to Tomasz Praszkier of Spirifer Minerals and Jolyon Ralph of mindat for their amazing efforts as the lead organizers of this trip and the conference – thank you both! The planning, logistics and the trip itself were all superb and I am grateful for the opportunity to have been a part of it.  I'm afraid I will miss mentioning someone – thanks to Agatha, Ida and Abdellah, and to all of the organizers on the ground in Morocco, hosts, guides and drivers, for this unforgettable experience.  And thanks of course to all the friends who took part in the journey!
References
I have refrained from delving into a lot of technical information on the localities, geology or mineralogy because there are super references already available, if you are interested.
For excellent references on Bou Azzer and Mibladen:
Favreau, G, Dietrich, J.E., Meisser, N., Brugger, J, Haddouch, L.A. and Maacha, L. (2007) Bou Azzer, Morocco. The Mineralogical Record. September-October, 2007,  vol. 38, no. 5.
Praszkier, T. "Mibladen, Morocco." (2013) The Mineralogical Record. May-June, 2013. vol. 44, no. 3.
A great German language book on Morocco (not available in English):
Jahn, S., Bode, R., Lyckberg, P., Medenbach, O., and Lierl H.J. (2003).  Marokko: Land der Schöenen Mineralien und Fossilien. Bode, R., ed.
And a new book on the minerals of Morocco (anticipated to be two volumes) is anticipated soon from Tomasz Praszkier – can't wait!