Categories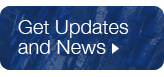 Archives
Tracy A. Kimmel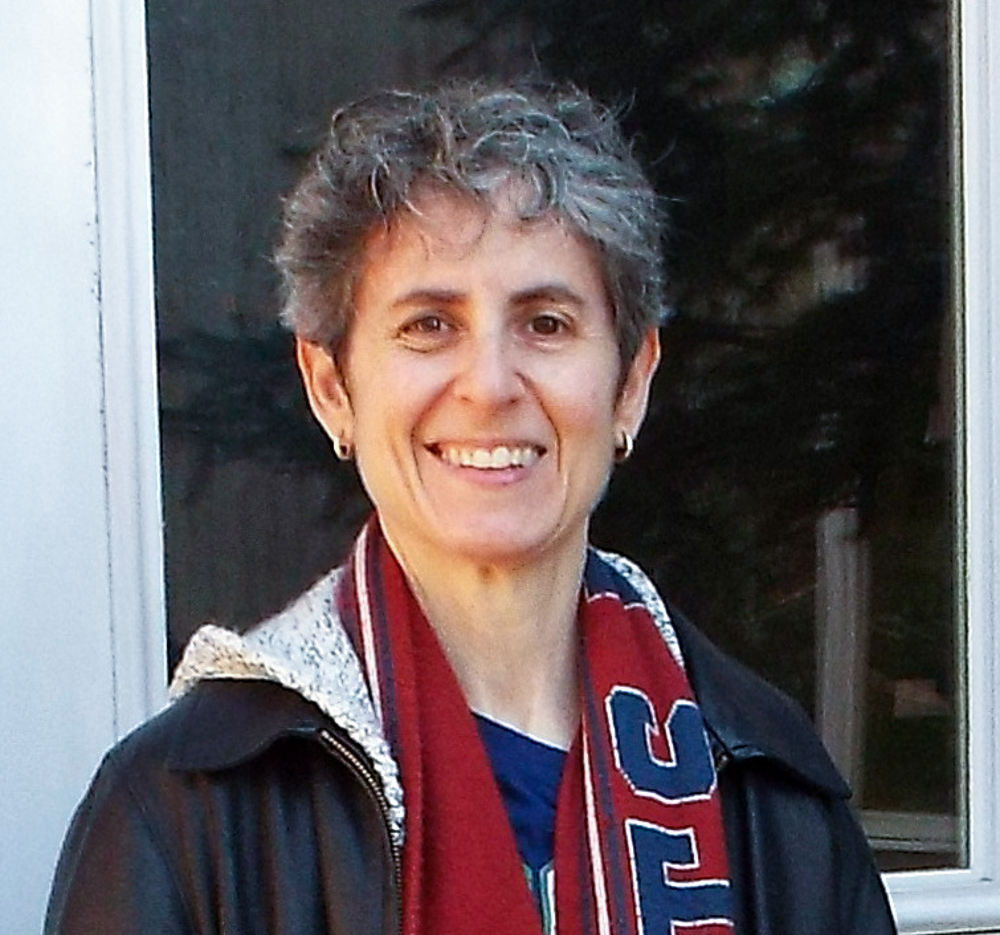 Tracy A. Kimmel (1963-2021) was a Canadian mineral collector who built an excellent worldwide collection, with particularly strong sub-collections of arsenic minerals and quartz.  She was of course so much more – and, together with her mineral collection, that's what I'd like to share with you.
I first "met" Tracy online, long before we met in person, as she was a frequent poster on Jordi Fabre's Friends of Minerals Forum for about 15 years. Back in those earlier days, I was reading FMF posts while eating dinner at my desk at the law firm, and Tracy was posting from her home, which at that time was in New Jersey. Tracy's posts were memorable – at that time she was relatively new to collecting and was particularly fond of fluorite.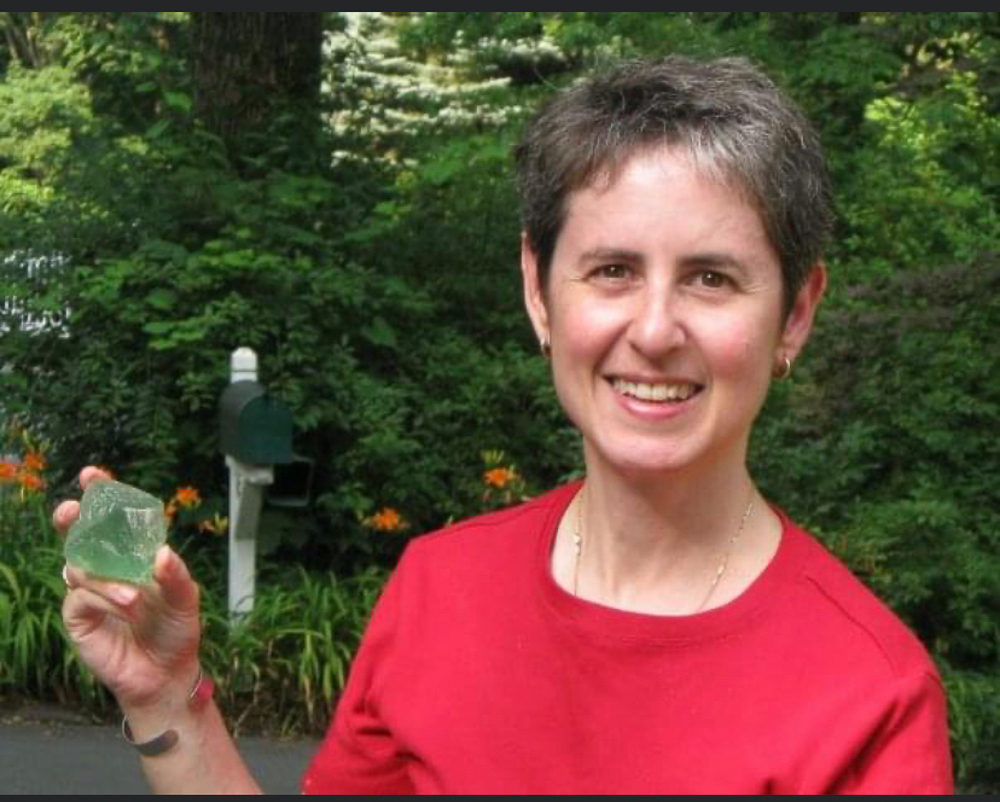 I remember how genuine and intense her curiosity was – about minerals and also about building a collection. Her posts were earnest and so well-articulated. I remember thinking: this is a thoughtful and discerning person who will one day assemble a collection of excellent mineral specimens. It would be years before we would connect as friends in Canada, and even longer before I would discover how accurate those first impressions had been… but more on that later.
I think it's safe to say that for everyone – in whatever connection you knew her – there was so much more to Tracy than she ever let on. Even some of the people very close to her have been amazed to learn some of what we've learned since last October (2021).
So, I hope you'll enjoy joining me  – it's my pleasure to tell you more about my friend Tracy. My admiration for her has deepened as I've continued to learn things about her that she never told me.
About Tracy
Tracy was born to Earl and Lessy Kimmel in 1963. She grew up in Montreal with her sisters Kerry and Amy, who adored her.
As a young girl, at bedtime, while Kerry was reading Nancy Drew adventures, Tracy would be reading the next volume of Encyclopedia Britannica with a light under the covers. The next morning, she would ask Kerry all about her novel as well. Her interest and curiosity in all things was boundless, all her life.
Amy and Kerry have fondly recalled moments growing up together with Tracy in Montreal, and spending times in their childhood summers in the Laurentian Mountains north of the city (where Tracy was not keen on the echoing nighttime thunderstorms).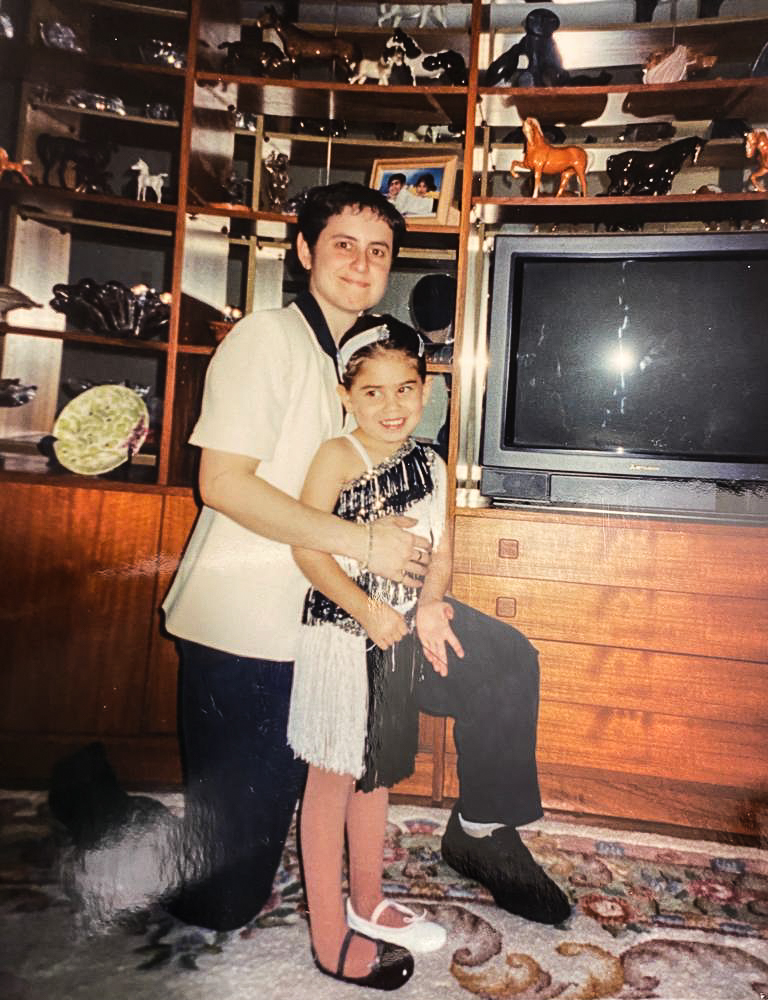 Tracy and Michal
After high school, Tracy studied at Harvard University and NewYork University – she held a PhD in Environmental Health Sciences and was a Diplomate of the American Board of Toxicology.
Professionally, Tracy was a senior toxicologist, working during her career for Warner-Lambert/Pfizer and Safebridge Consultants Inc.  Her work was varied – she conducted health hazard assessments of pharmaceutical and industrial compounds, predicting the toxicity of compounds (using both modeling and qualitative analyses), evaluation of pharmaceutical impurities and synthetic intermediates, and assisting with environmental risk assessments.  She contributed to peer-reviewed journal articles and publications, prepared white papers on occupational hazard assessment, and delivered presentations and workshops around the world. Tracy has been called a driving force in the science of toxicology. And, at the same time she was doing all that, she was highly respected for her conscientious mentoring of colleagues.
Love of Hockey
Tracy loved hockey and she was an ardent fan of the Montreal Canadiens.
To excerpt an actual email from Tracy to me: "GO HABS GO!!!!!!!!!!!!!!!!!!!!!!! WOOOOOOOOOOOOOOO!!!!!!!!!!!!!!!!!!"
(Ed. note for any non-hockey fans, the Canadiens are also colloquially known as the Habs, short for Les Habitants)
She not only loved following hockey and the Habs, she also loved to _play_ hockey. Tracy was a talented and determined goaltender – backstopped the Harvard women's team and was an All-Ivy Select player.  She also played at NYU (where, to her friends, she was "Puckhead").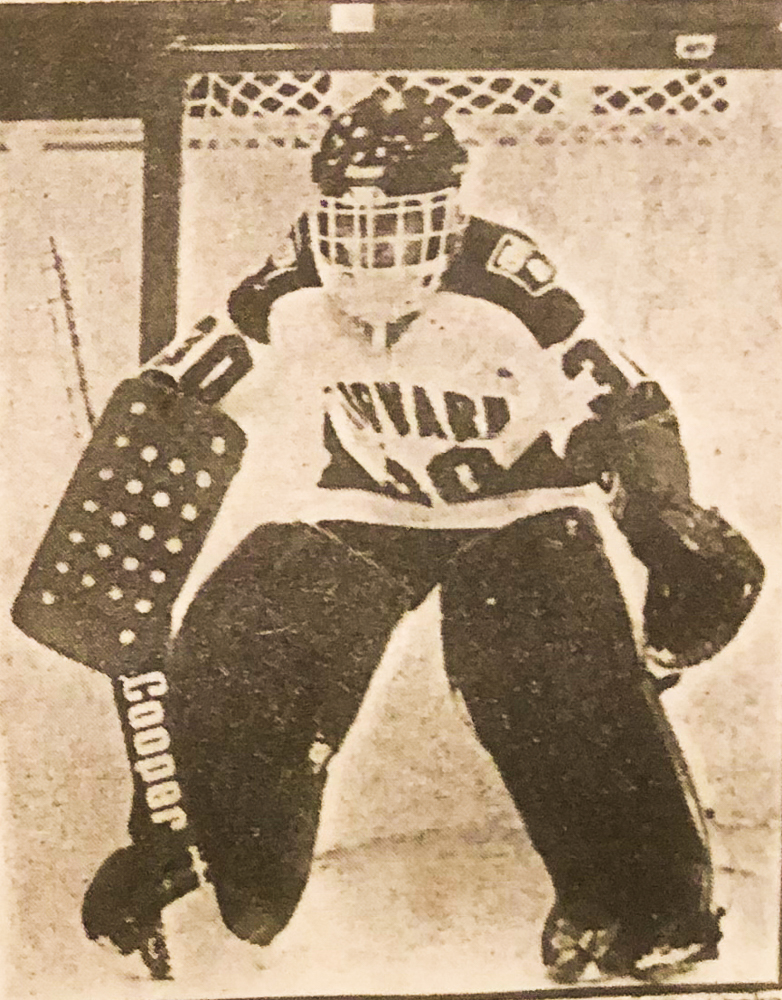 Tracy in net for the Harvard Crimson
Tracy played a foundational role in Harvard women's hockey at that time – and, for you hockey fans out there: in her senior year (1985) Tracy's record was 13-10 with a 2.30 GAA (still top 10 in Harvard women's hockey history). In her last game with Harvard, she shut out Vermont.
Hockey allows a further glimpse into Tracy's bravery, she was willing to be a vocal Montreal Canadiens fan in a Canadiens jersey at Boston Garden, full of Bruins fans…
And yes, she had a print of Ken Danby's "At the Crease" hanging in her Toronto home (if it's not familiar to you, feel free to look it up online – it's an iconic Canadian painting, prints of which are hanging in hockey fans' homes all across the country).
Love of Music
Tracy also loved music. She was a keyboardist in bands, including Toxic Jam (her NYU years) and Occupational Exposure (her professional years).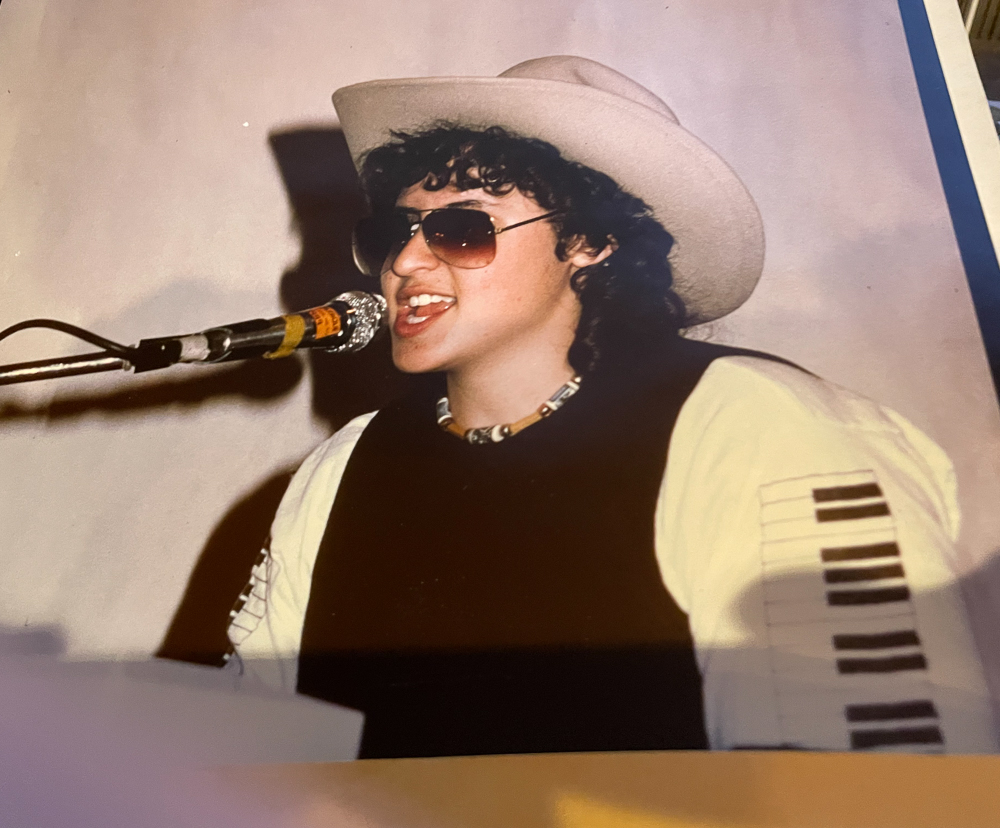 In addition, Tracy wrote and recorded her own original music.
Tracy's Mineral Collection – Glimpses
Tracy was a serious mineral collector, building her collection over a period of about 20 years.
Tracy's family and friends knew she collected minerals. But the true extent and calibre of her collection was a surprise to all of us. Tracy was always so modest about her collection and about her mineral knowledge – she downplayed it all. In fact, she did this to such a degree that I would feel I should lightheartedly correct her, that she was no longer a beginner and after 20 years she was indeed an experienced and discerning collector (!). And yet even then, I really did not know the breadth and sophistication of her collection, nor did any of her other mineral friends. None of us had ever seen it, and in any event many specimens were not out on display.
Tracy was a close friend of John White, who was a mineral mentor to her (and indeed it was John who took the great photo of Tracy that begins this post). Tracy's other good friends in minerals include David Joyce, John Betts and Jordi Fabre. Her collection includes specimens from many more dealers, and she had many more friendships in mineral world.
As is usually the case for collectors as they start out in minerals, Tracy began her mineral collection without a focus, but early on she began to build a suite of beautiful worldwide fluorite specimens.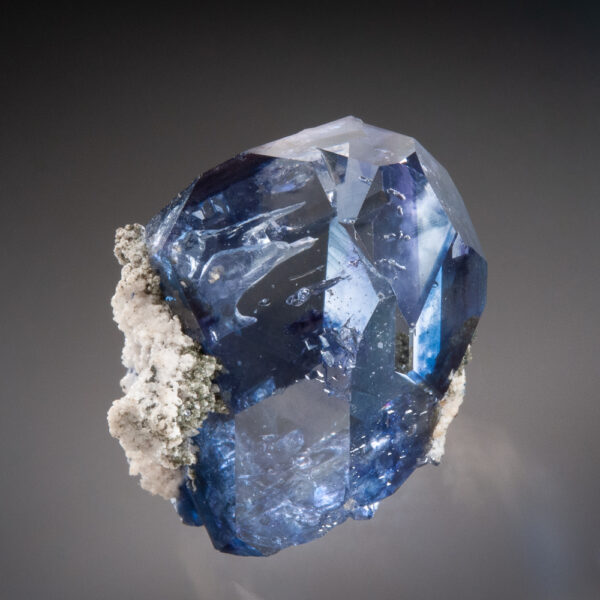 Fluorite (penetration twin), Gibraltar Mina, Naica,
Saucillo Municipality, Chihuahua, Mexico – 3.0 cm
Tracy Kimmel Collection
As her collecting evolved, she moved on to specialize in two main areas: arsenic-bearing minerals (her toxicology expertise in respect of arsenic made this a long-standing main focus of her collection); and Tracy built an excellent quartz sub-collection (including many specimens from John White).
Here is a glimpse from Tracy's suite of arsenic-bearing mineral specimens: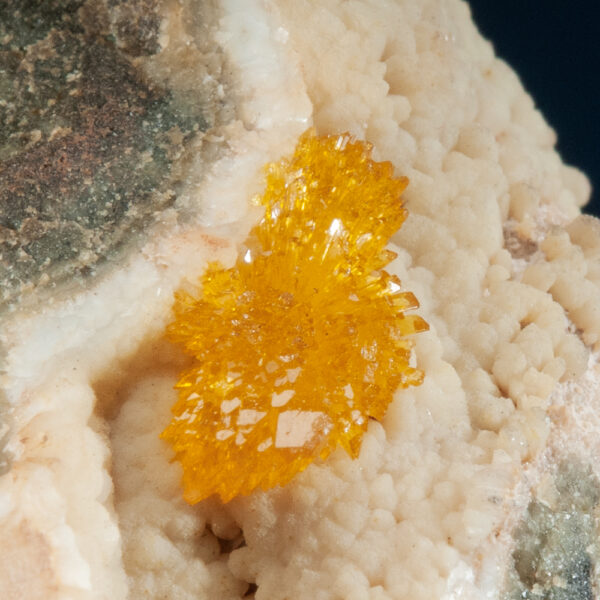 Legrandite, Flor de Peña Mine, Lampazos de Naranjo, Nuevo Leon, Mexico
(The type-locality for legrandite) The crystal cluster is approximately 1 cm.
Tracy Kimmel Collection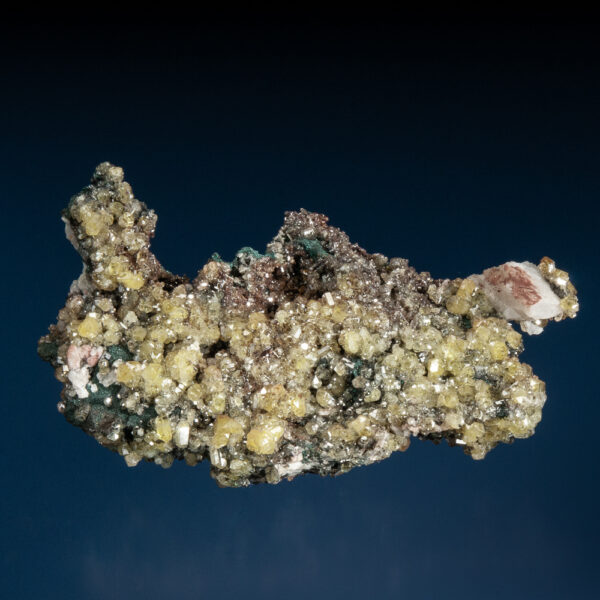 Mimetite, Tsumeb Mine, Otjikoto Region, Namibia – 9.0 cm
Tracy Kimmel Collection (ex Desmond Sacco Collection)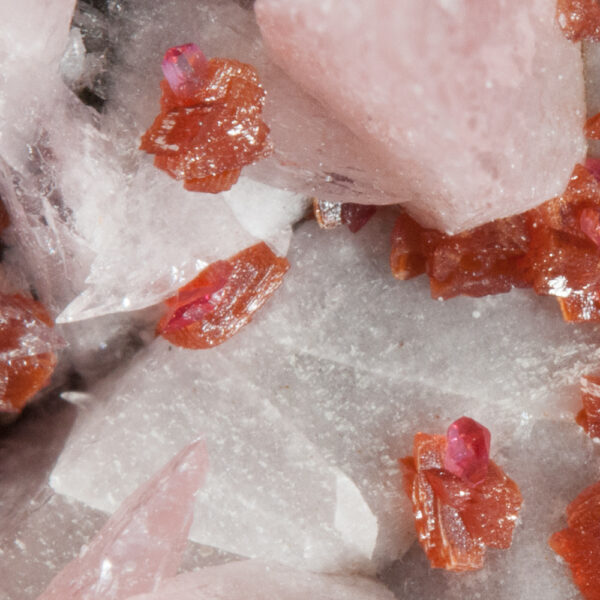 Roselite, epitactic on beta-roselite, Bou Azzer District, Tazenakht, Ouarzazate Province, Morocco
Tracy Kimmel Collection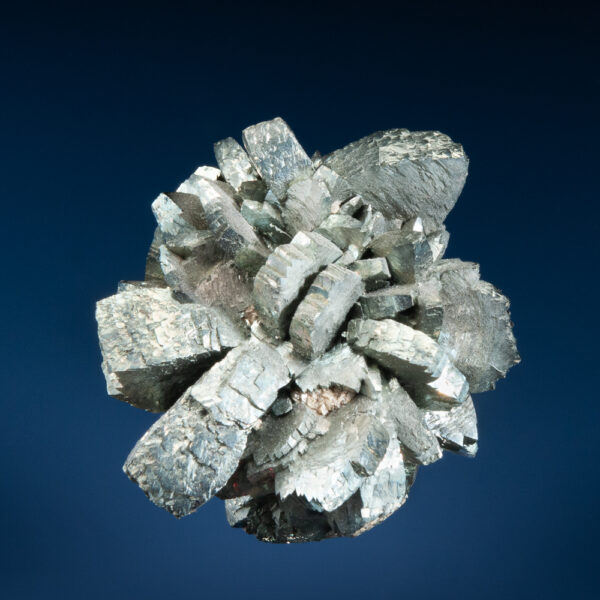 Arsenopyrite, Panasqueira Mines, Covillha, Castello Branco, Portugal – 5.4 cm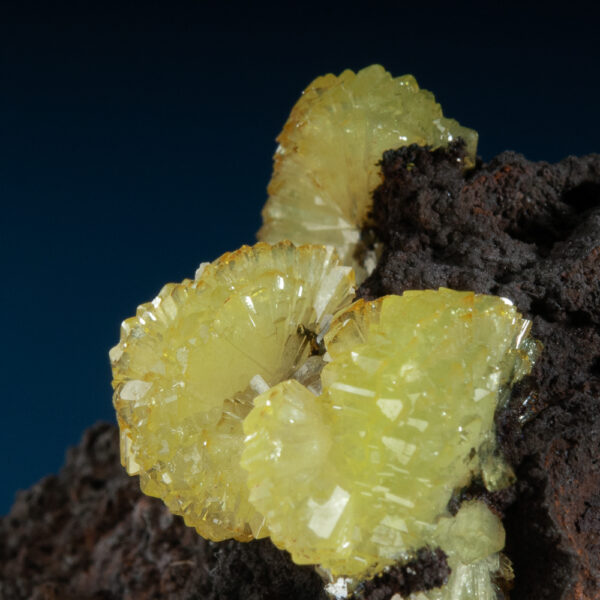 Adamite, Ojuela Mine, Mapimi, Durango, Mexico
Field of view 2.5 cm
Tracy Kimmel Collection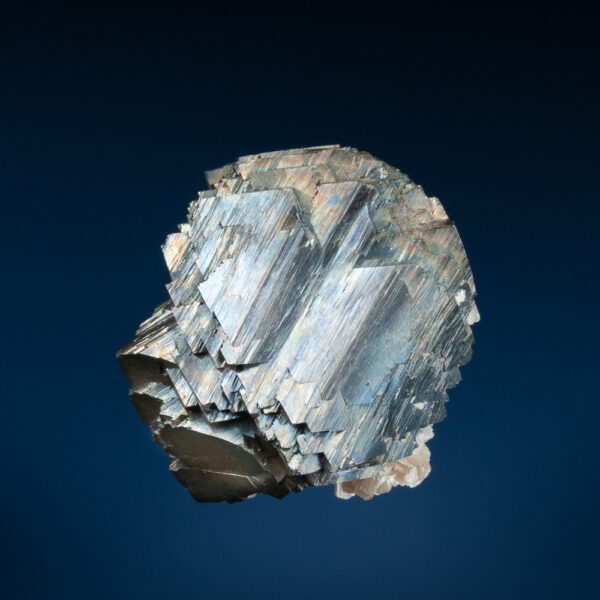 Arsenopyrite, Yaogangxian Mine, Yizhang Co., Chenzhou Prefecture,
Hunan Province, China – 3.7 cm
And here are a few from Tracy's quartz sub-collection: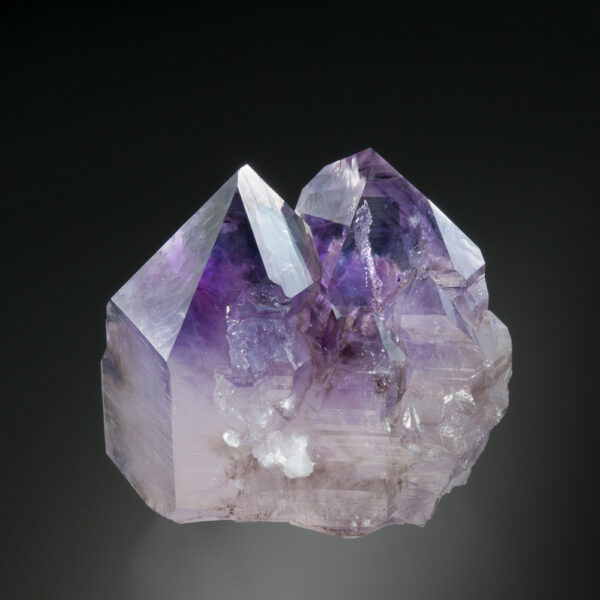 Quartz, var. Amethyst, Jacksons Crossroads, Wilkes Co., Georgia, USA – 7.0 cm
Tracy Kimmel Collection (ex John S. White Collection)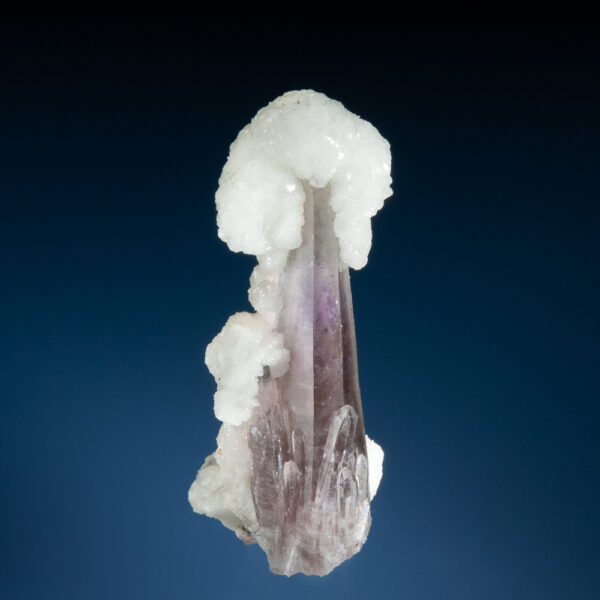 Quartz var. amethyst with calcite, Zacatecas, Mexico – 5.8 cm
Tracy Kimmel Collection (ex Martin Zinn Collection)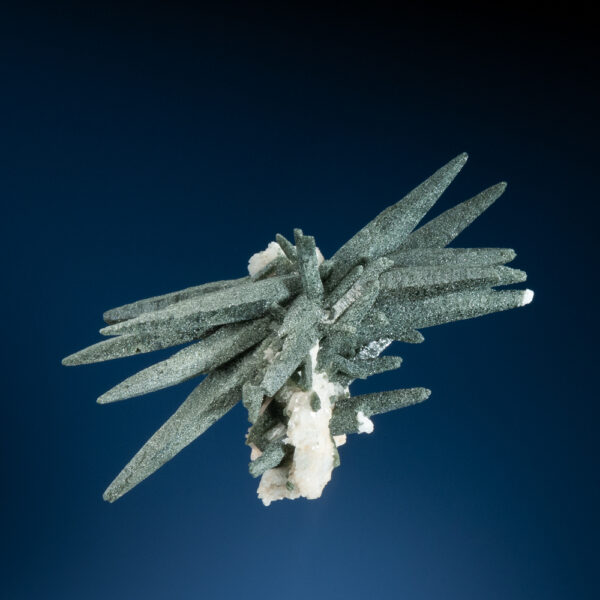 Quartz with chlorite inclusions, Ganesh Himal, Dhading District,
Bagmati Pradesh, Nepal – 7.3 cm
Tracy Kimmel Collection
Quartz, var. Amethyst, Artigas, Uruguay
Field of view 6.2 cm
Tracy Kimmel Collection
Although Tracy would happily bring a few specimens for show-and-tell when she'd visit me, I only got a very small view of her collection on those visits.
It was therefore a surprise to learn that Tracy had as substantial a collection as she did. She had specimens from the personal collections of famous collectors (for example, Peter Bancroft, Larry Conklin and others) and also from dealers all over the world.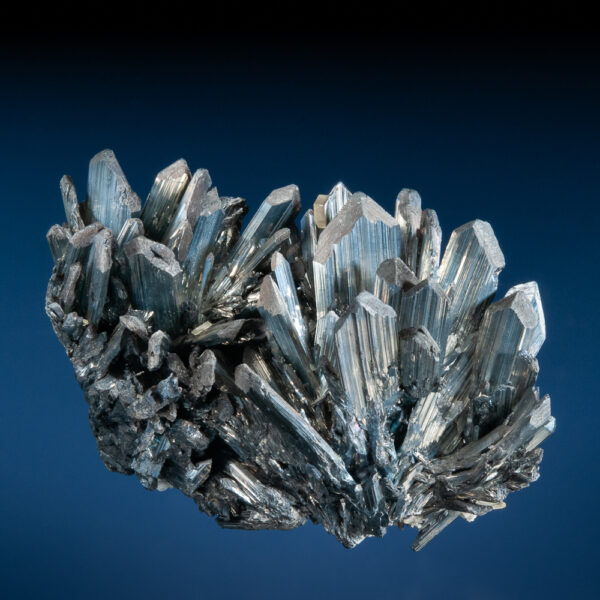 Stibnite, Baia Sprie, Maramureș, Romania – 9.5 cm
Tracy Kimmel Collection (ex Peter Bancroft Collection)
Tracy had many rare minerals along with more common ones. Despite her insistence that she was a novice (!), I've never met a novice with great specimens of rare minerals like ludlockite, vysoskyite, lautite, kraisillite, arseniosiderite, chalcomenite, arsenolamprite, type-locality legrandite… I could easily go on…  Tracy's collection features historic and contemporary specimens. Some are gorgeous and some are rare… and they are from all over the world.
Tracy also appreciated the adventure associated with minerals and collecting. The photos below are from a mine adventure underground, in Sweden I believe: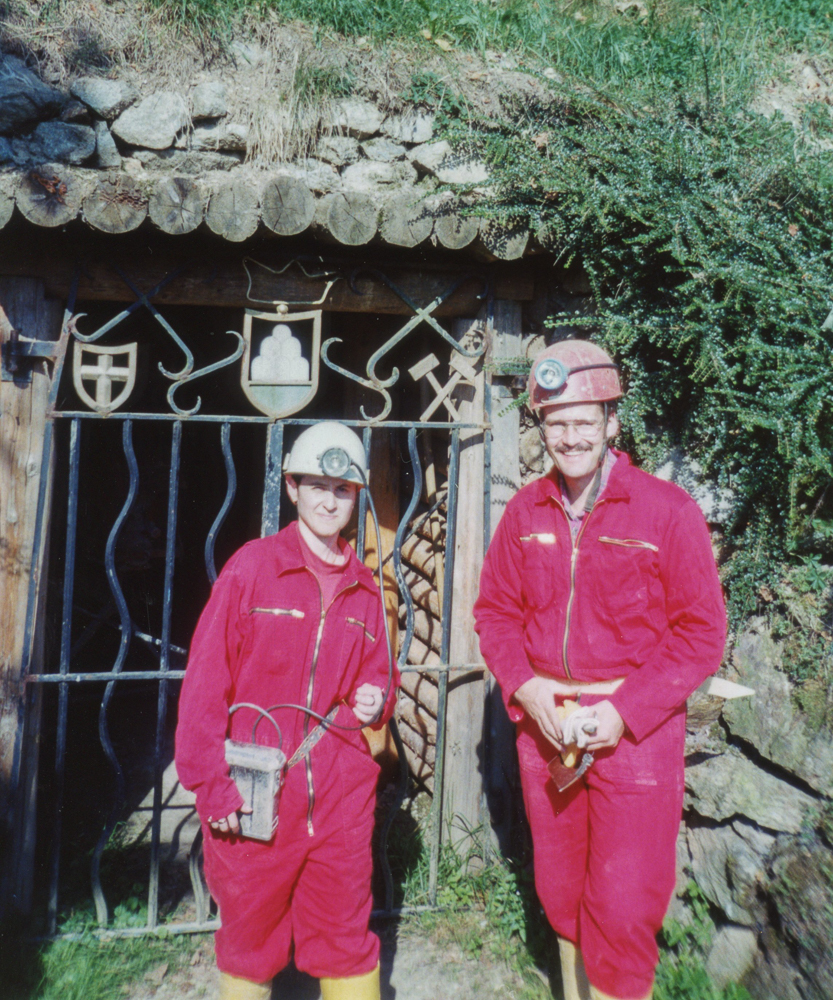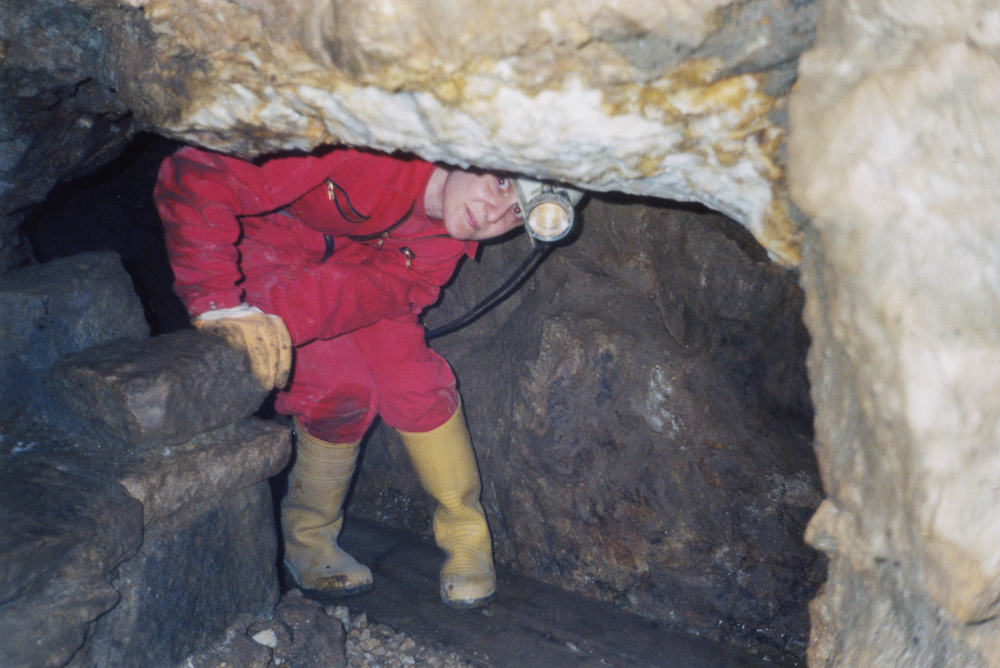 [Ed. note: If you know anything more about the location or the friend in the photos with Tracy, please drop me a note – I'd love to caption them].
Tracy had a great sense of humour, sometimes biting and sarcastic, and sometimes whimsical. Even though she was usually quite serious about her mineral collecting, her sense of humour crept into mineral collecting – of course.
One day Tracy acquired a particular specimen from me – a beautiful amethyst that had been in John White's quartz collection. She remarked to me that it looked to her like a brontosaurus. I replied "Anne Elk!"
For those of you who are not familiar with that reference, there is an old Monty Python sketch in which a serious, earnest TV presenter is interviewing a scientist, Anne Elk, who has agreed to come on the show to discuss her theory about dinosaurs. As life would have it, the interviewer has a hard time getting Anne Elk to focus and present her important theory (with many distractions and so on) and finally after a painful few minutes, she announces for the exasperated interviewer that "The brontosaurus was thin at one end, thick in the middle and thin at the other end."
Tracy had not been familiar with the reference and so of course she watched the sketch online, after which she wrote me to say she had named her new amethyst Anne Elk. After that, she would talk to me about that specimen as "Anne Elk" or just "Anne."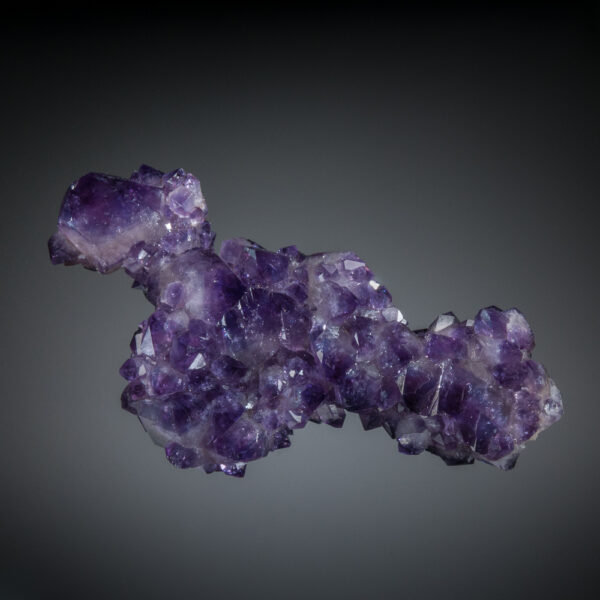 "Anne Elk" – Quartz, var. Amethyst, Artigas, Uruguay – 12.3 cm
Tracy Kimmel Collection
On a different note, I love it that this was in a closed box, deep within Tracy's collection: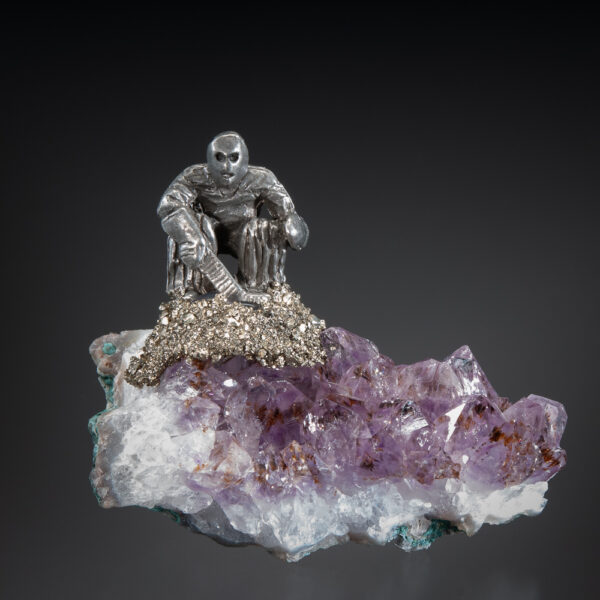 For any of you who might find an explanation helpful, gift shops around the world sell pieces of amethyst with little pewter figurines glued on (in this case, glue mixed with crushed pyrite). The figurines can be almost anything – most commonly, they are little miners, but I've seen many variations on the theme.  However, until I opened this box I had never seen a goalie on amethyst. Whether Tracy acquired it herself, or it was given to her, that she kept it in her collection is another glimpse of her sense of humour.
Other Passions and Collections
Tracy had many passions and pursuits, including collections of historic arsenic containers, scientific books, petrified wood and more. She loved to learn.
She wrote poetry – this is a poem she wrote in high school: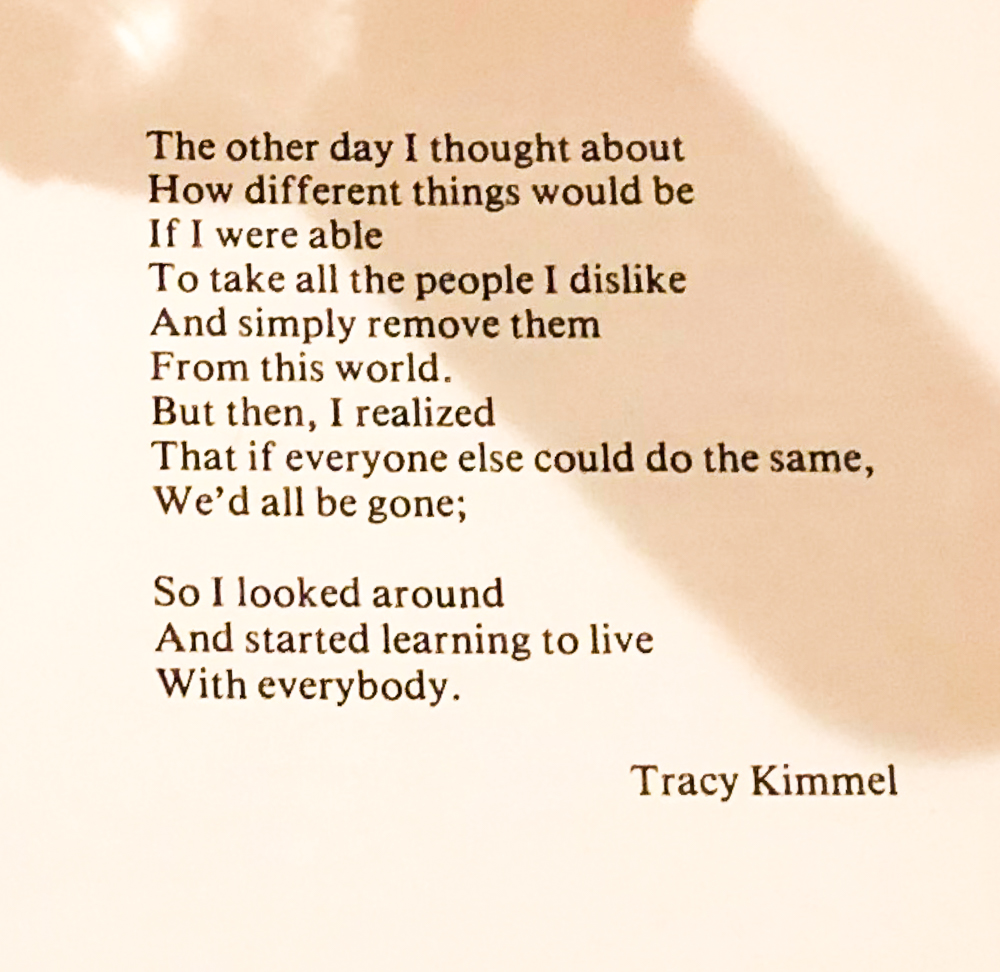 Tracy was also a talented calligrapher, as you can see: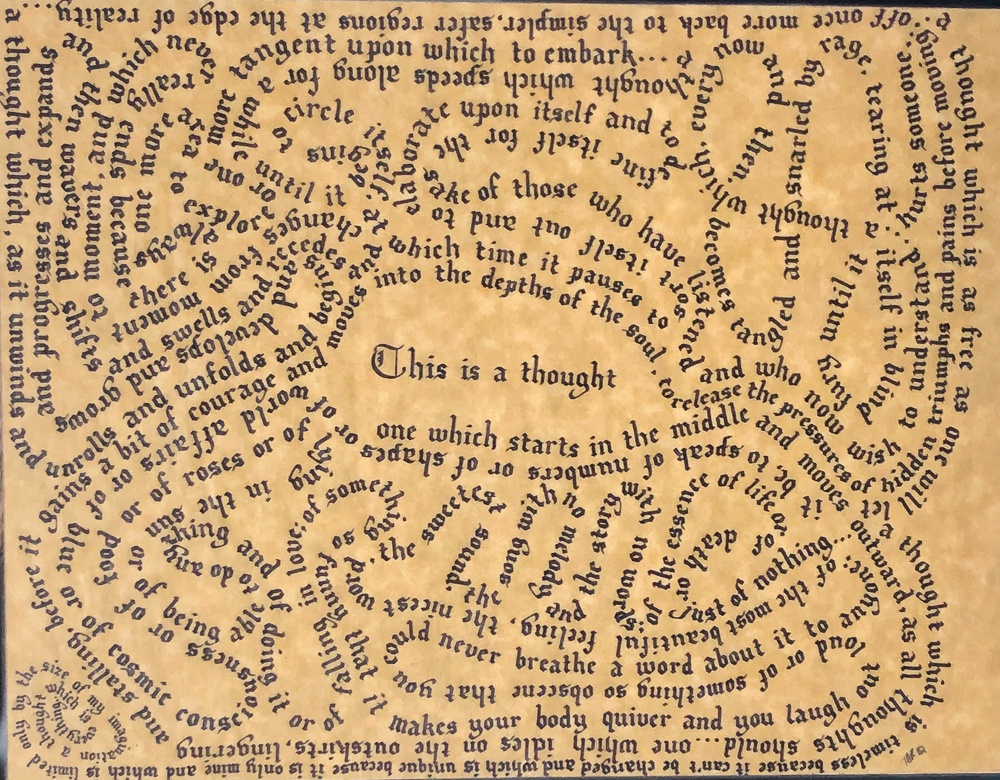 Tracy and Scooby
Tracy and I shared regular stories and updates about our furry companions. She would ask to hear about Rudy (who was particularly fond of her and was thrilled when she'd visit) and I would ask to hear about her cat Scooby.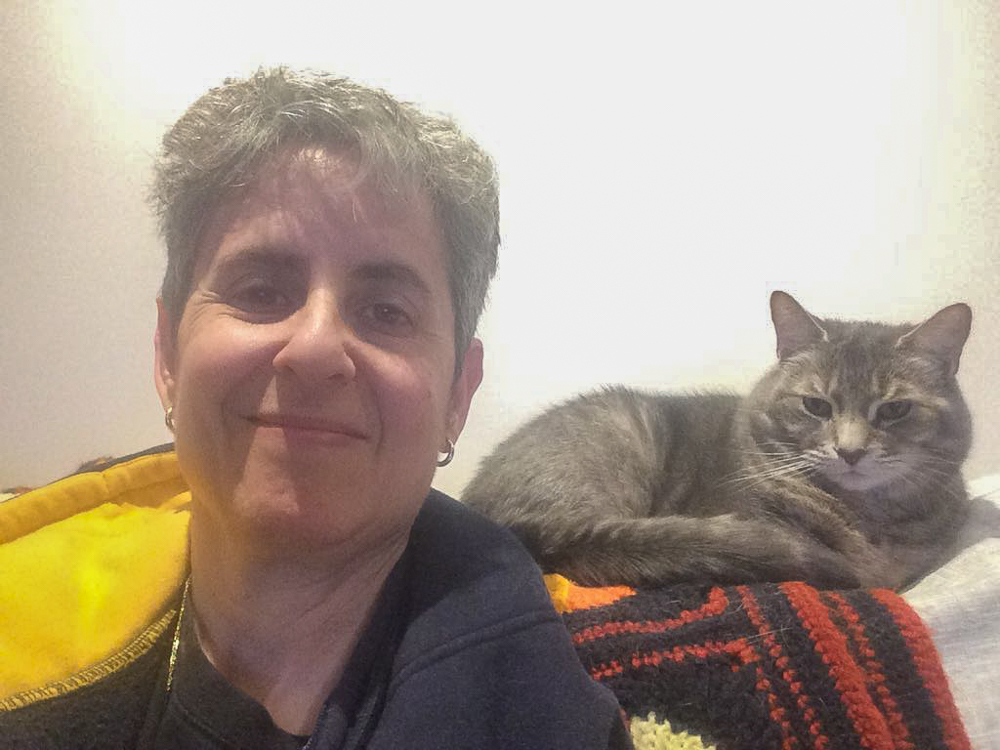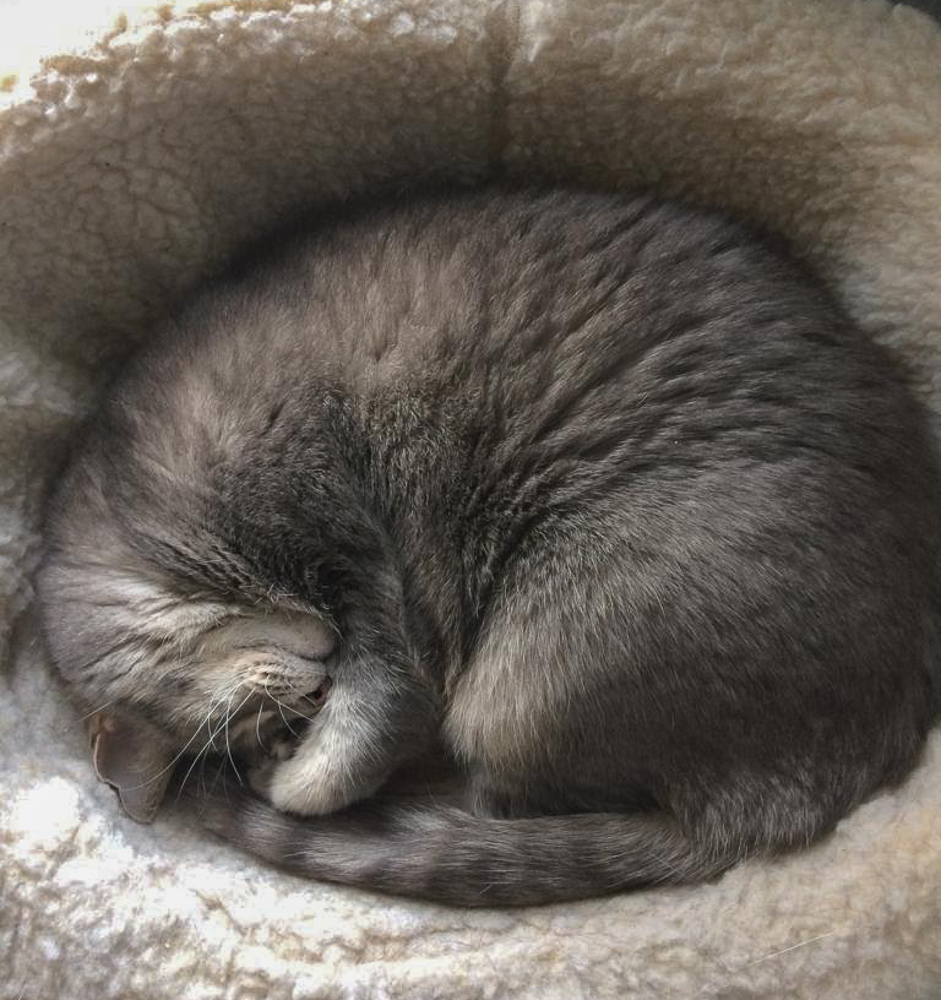 Remembering Tracy
Unanticipated by anyone, we lost Tracy suddenly in October 2021. I have often thought about her in all time since. She was so modest and yet so accomplished. She was a kind and compassionate person, with a deep connection to and love for her family, and she was a caring friend.
In the early 1990s, Tracy had a stroke that took away the use of one arm and hand. I didn't know her at the time, but I have heard from others how determined she was to live her life fully at that time, and ever after – she was committed to overcome it as if it was simply not there. She made adjustments, she persevered and was so admirably resilient. She was tough, with the mind of a goalie, and wasn't going to let anything get past her. Tracy forged ahead as if there was no physical challenge at all.
When I think of Tracy, I think of a person who has been deeply loved and truly admired by her family and her friends. A person modest about her accomplishments, with endless curiosity, bravery to try her hand at the next challenge, and the strength, persistence, intelligence and talent to see it through to excellence. And I think of my friend with the delightfully biting sense of humour, unwavering enthusiasm for the Montreal Canadiens, and an intense sense of interest and commitment that led her, among so many other things, to build a wonderful mineral collection.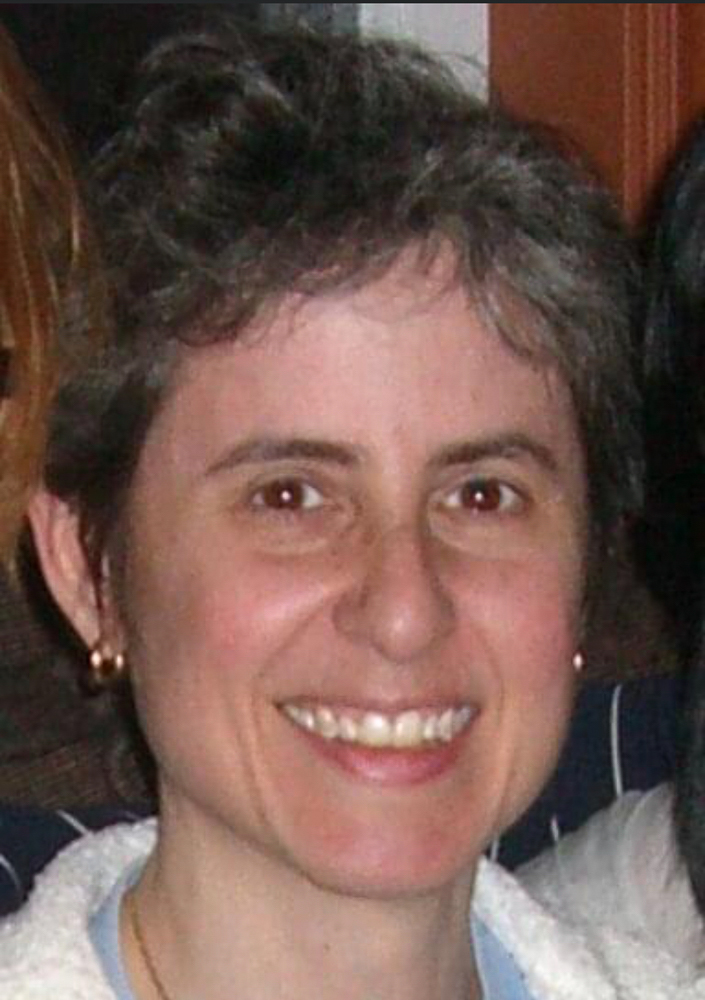 ---
Thanks to Tracy's parents, Earl and Lessy, and her sisters, Kerry and Amy, for helping me put this together. I know some of you reading will be family and friends, not mineral folk (hard for us mineral lovers to believe anyone out there might not be!), and I have a few family photos to share.