Categories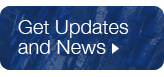 Archives
Sainte-Marie-aux-Mines 2015
Morning sun on cobblestones, flowers spilling out of window boxes, the sounds of church bells and songbirds, swallows dipping and weaving through the village, the smell of fresh baked goods wafting from the boulangerie… fine cheeses and wines, scenic hills of vineyards and lavender-filled gardens… I mean really, what could be better than France in June?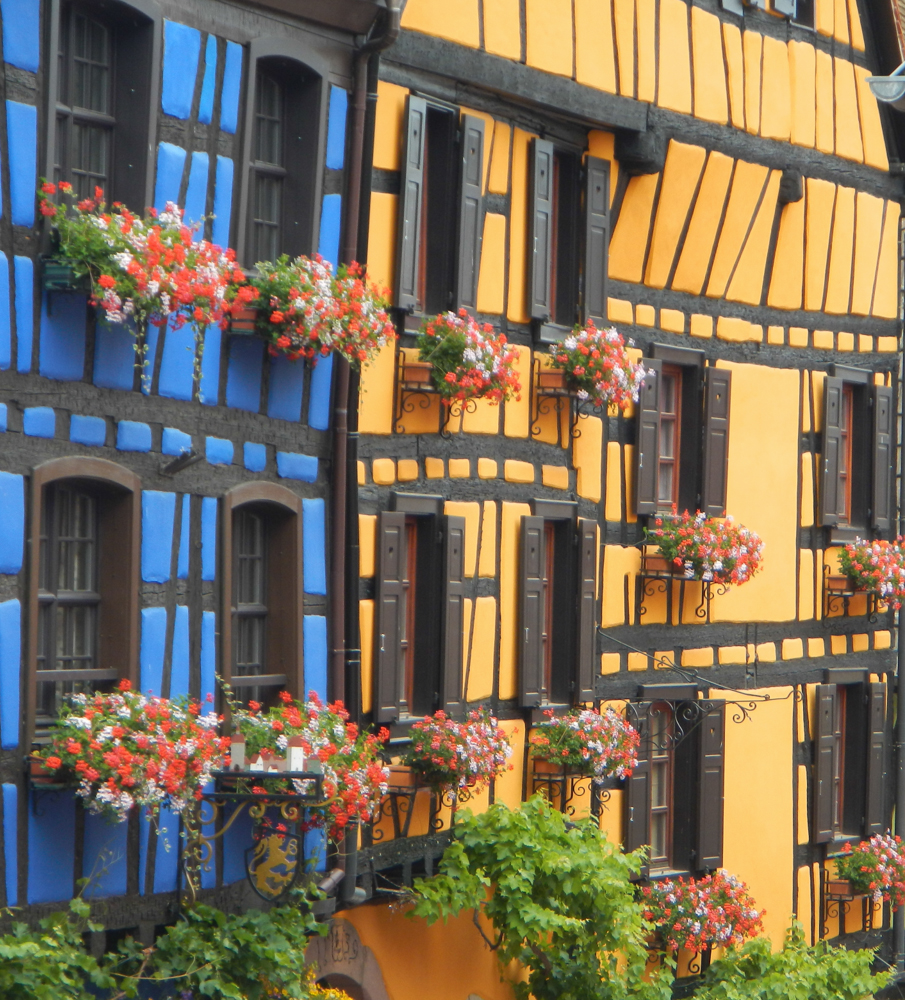 Minerals in France in June. (Obviously.)
The annual mineral show at Sainte-Marie-aux-Mines is so different from all others. Sure, we all love the large exciting mineral-filled halls and general mineral mayhem of the large shows, and the hotel shows in Tucson and Denver. But Ste Marie's character and charm, from the theatre and the tent-lined streets within the show, to the town and the countryside beyond, make this an experience not to be missed.
Ste Marie is in Alsace, a region known for its beautiful small towns, distinctive architecture, hills, valleys and vineyards.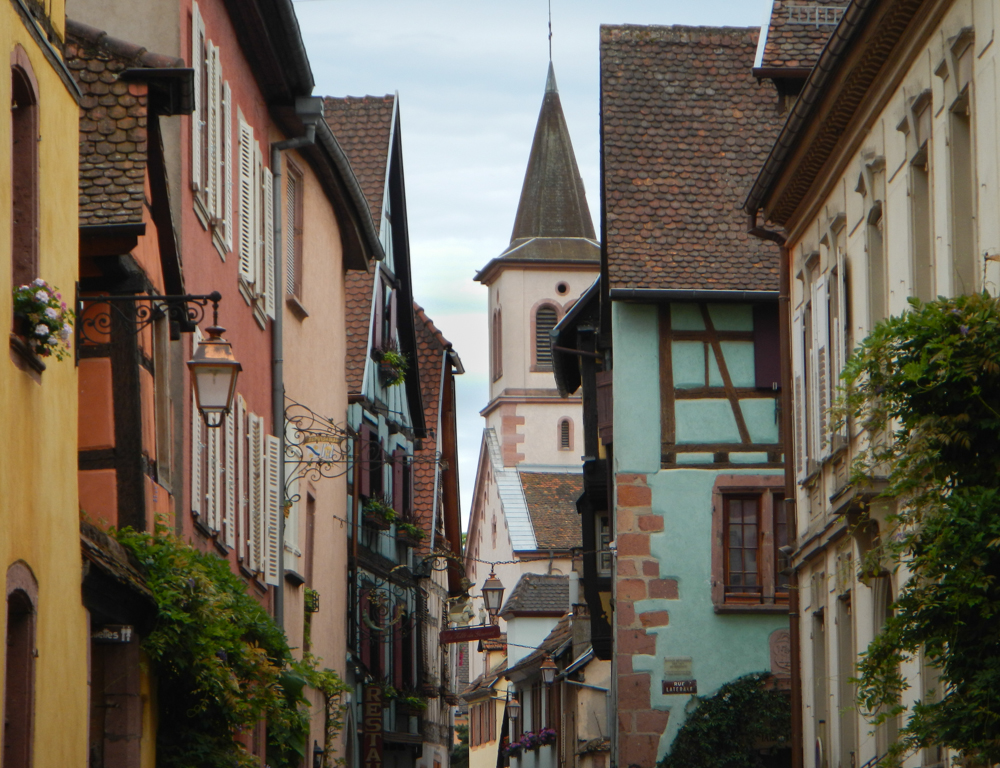 Alsace village of Riquewihr
Beyond the gardens and planters, there are beautiful wildflowers.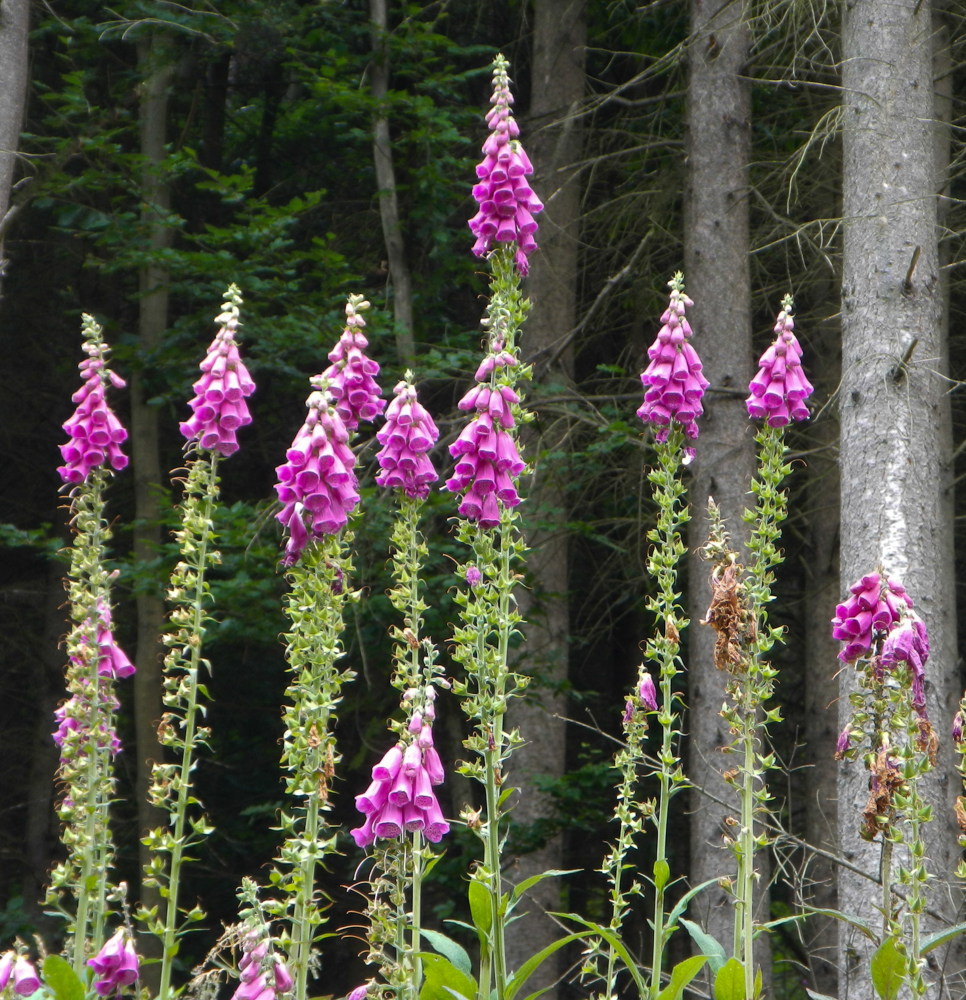 Wild foxglove (digitalis) at the edge of the forest
The woods and countryside are beautiful, home to a variety of animals. I wasn't close enough for a good photo of the two deer grazing at the edge of the trees one morning, but I did catch this scene (granted, not so deep in the forest!)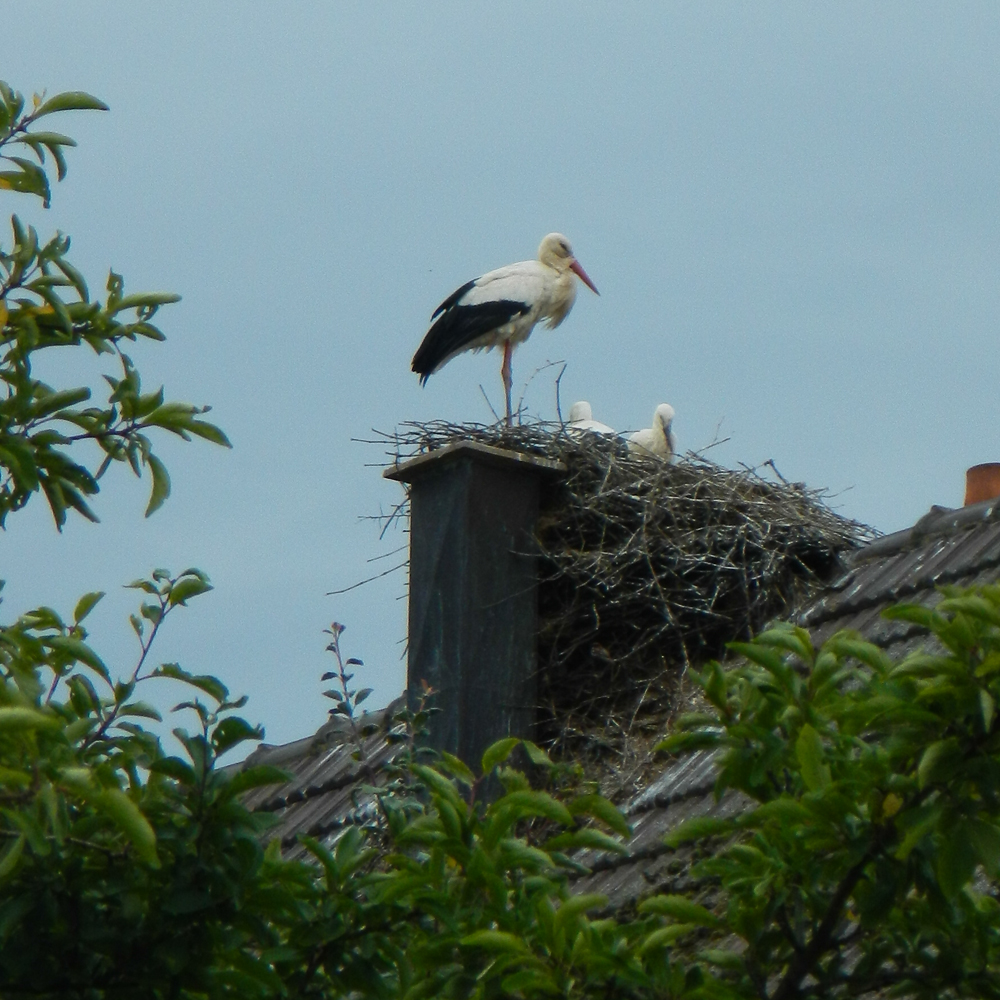 Storks, Alsace
The town of Ste Marie itself is situated in the heart of an historic mining district, the Val d'Argent (the Valley of Silver). This region's mining history is remarkable, with underground mines dating to the 16th century. They say that within the greater valley and all its hills, there are more than 20,000 km of underground tunnels (!) – not sure how anyone would have calculated that, but even a lesser fraction of that would be astounding, as there is of course almost no evidence of this above-ground.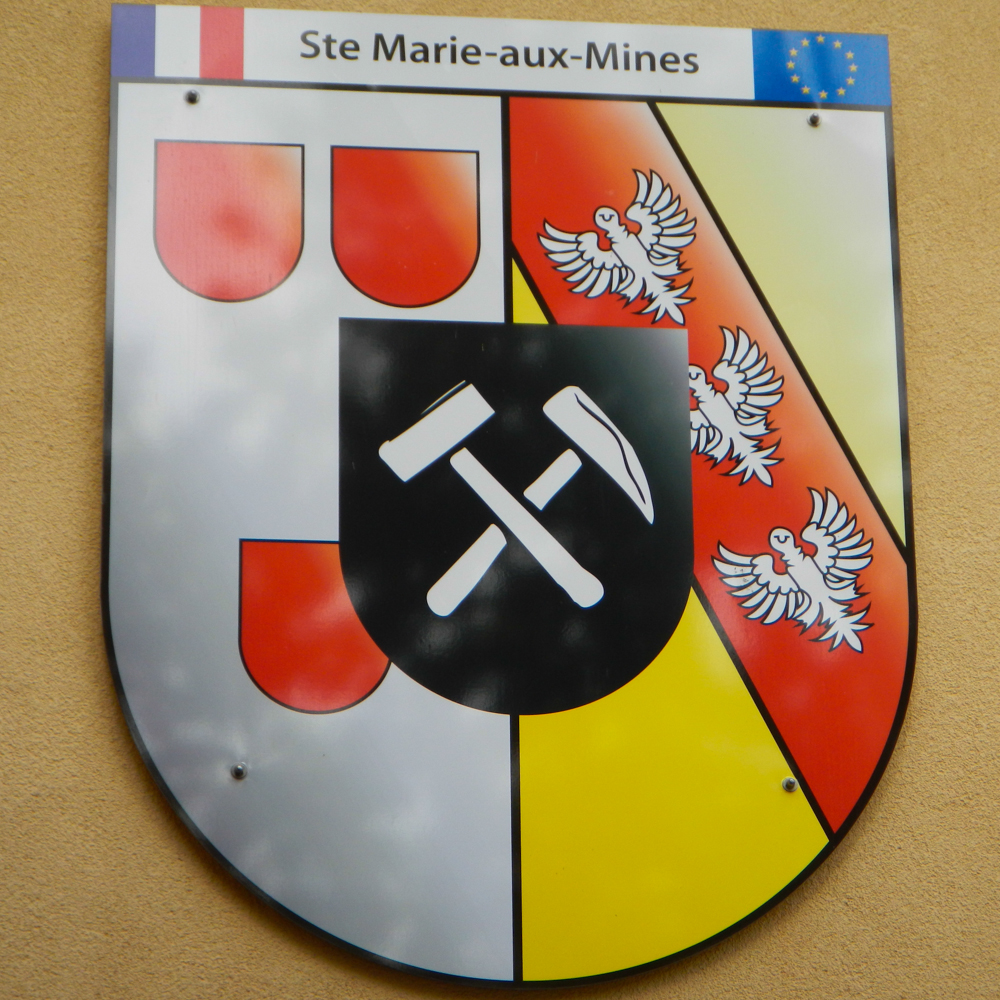 Such a great coat of arms.
Certain of these historic mines have been opened for organized visiting, and it's well worth the time to go and explore. One such mine is Tellure. Major work has been done at this site to make it accessible to the public, with a modern interpretation centre and underground infrastructure to facilitate tours of small groups. Today, access to the old workings is via an adit which has been driven into the hillside to intersect older workings at various places – an amazing undertaking. This is well done – visitors experience workings of various vintages, from the 16th to the 19th century.
Most of the 16th century workings are irregular and require a small bit of clambering to walk through, as they were cut using only hand tools, advancing at an average of 15 cm per day in the hard rock areas. The workings from this era are narrow and not as high, as the miners were typically not as tall as we are today.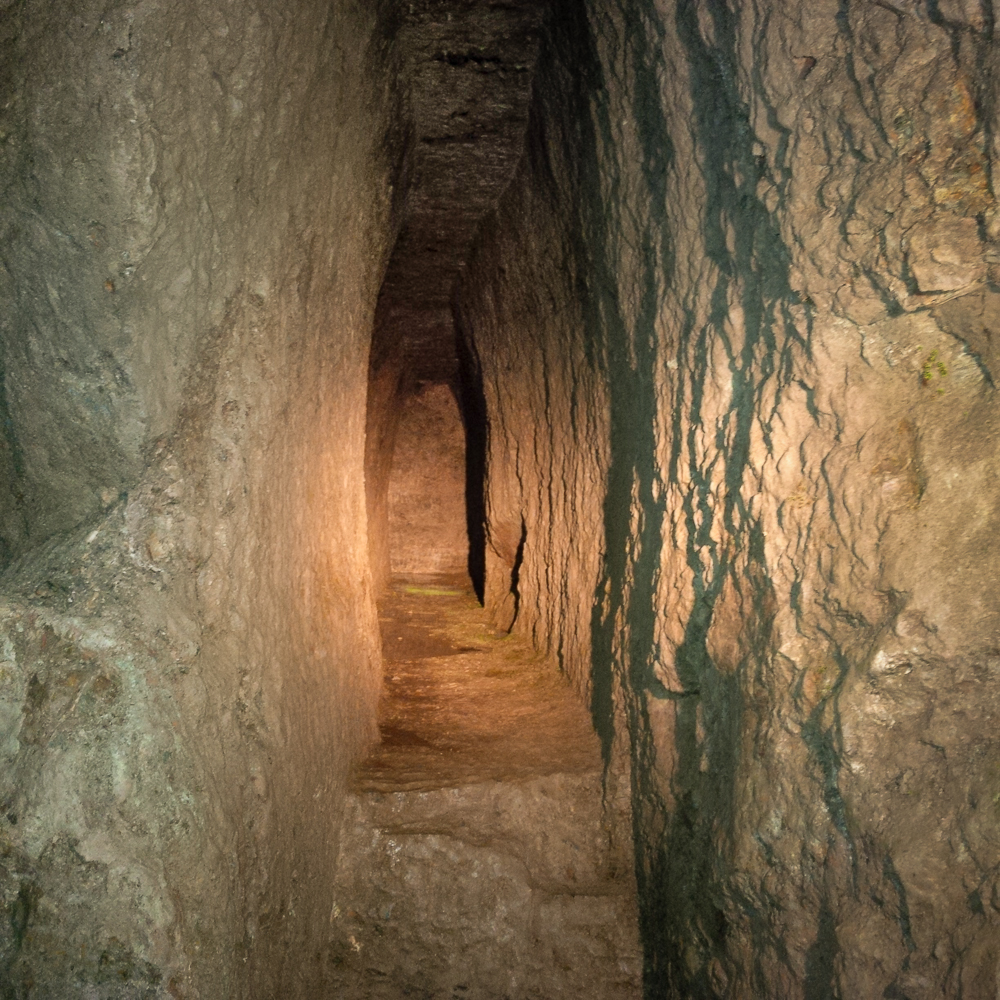 An unusually straight 16th century working, through softer rock – this one is believed to have been exploratory, in search of the extension of the silver vein.
More recent workings were larger in scale, of course, as equipment and blasting were used.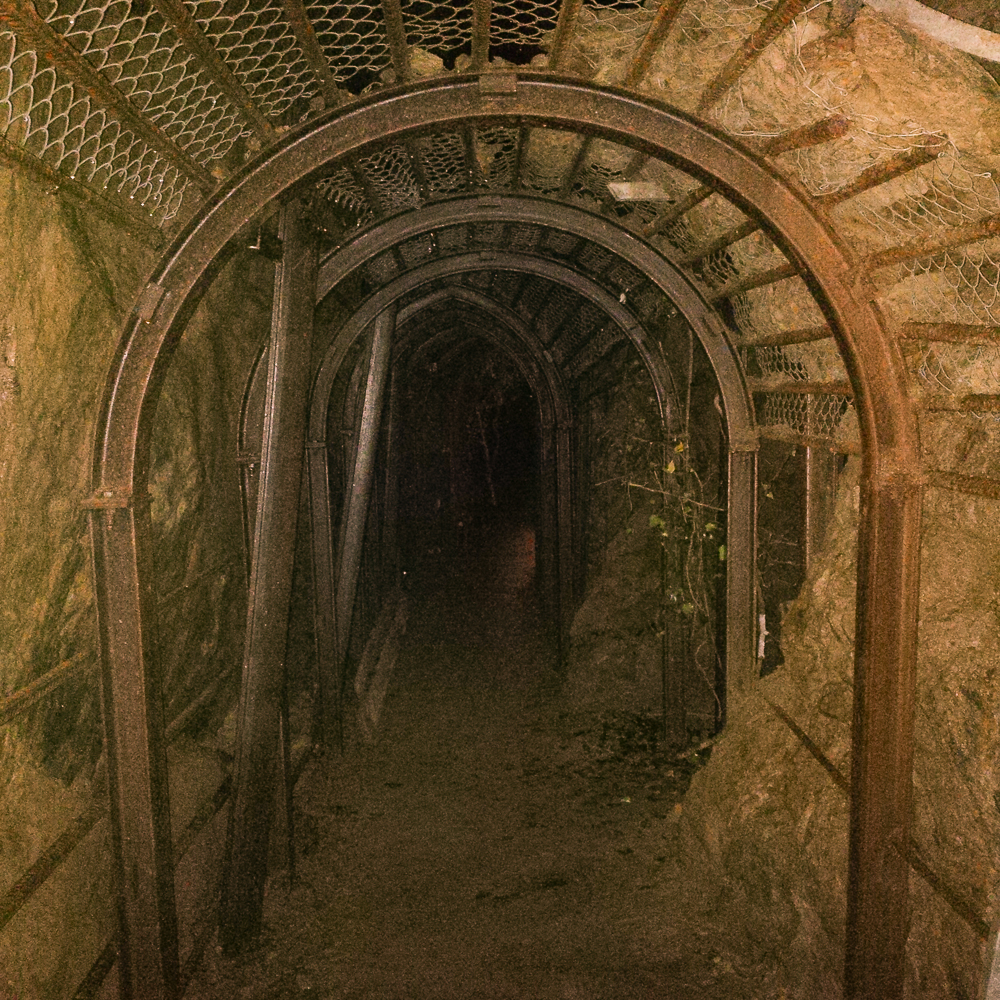 A section of 19th century workings, with supports.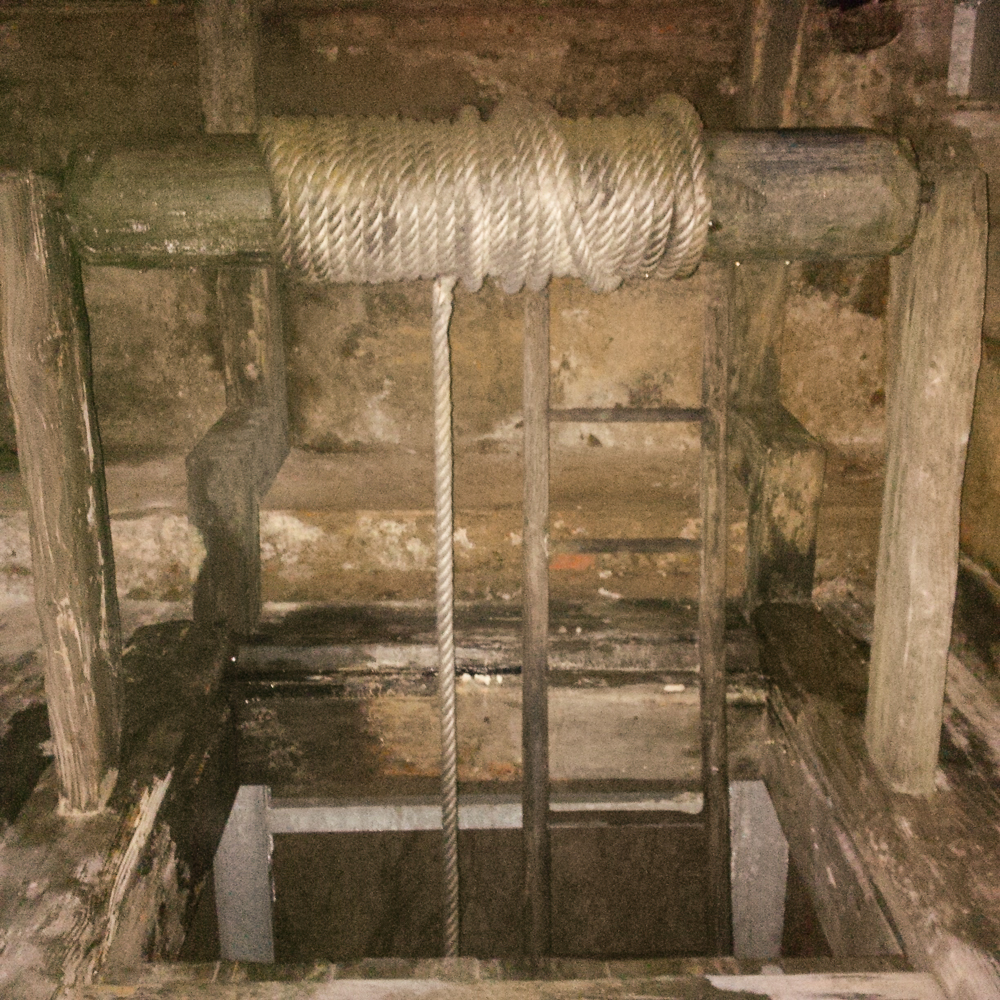 19th century hoisting apparatus
The museum at the Tellure interpretation centre includes many artifacts, although the collection of local minerals is currently very basic/elementary. A highlight at the Tellure interpretation centre was a temporary display – this year, a local collector of mining lamps had put on a super exhibit, absolutely first class in all respects.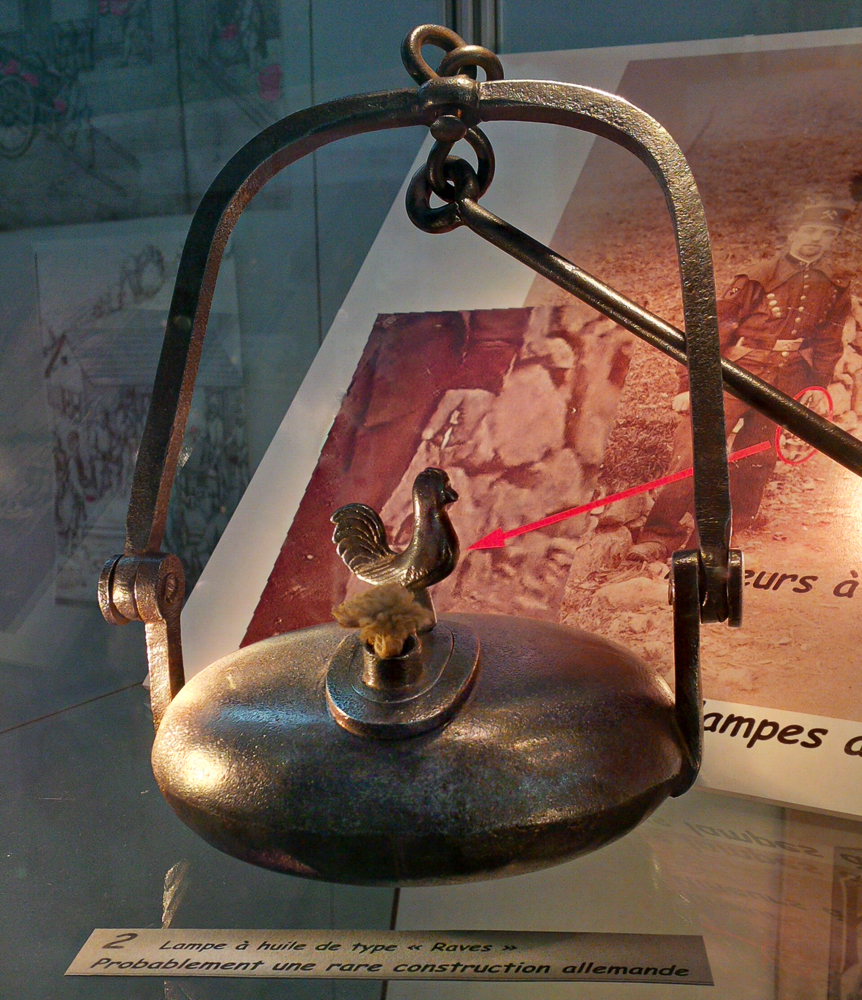 In the exhibit, many historical photographs were used together with the lamps, showing the given types of lamps
in use. Featuring the French symbol of the rooster, this lamp was used in the Val d'Argent.
OK, on to the main event – Ste. Marie 2015!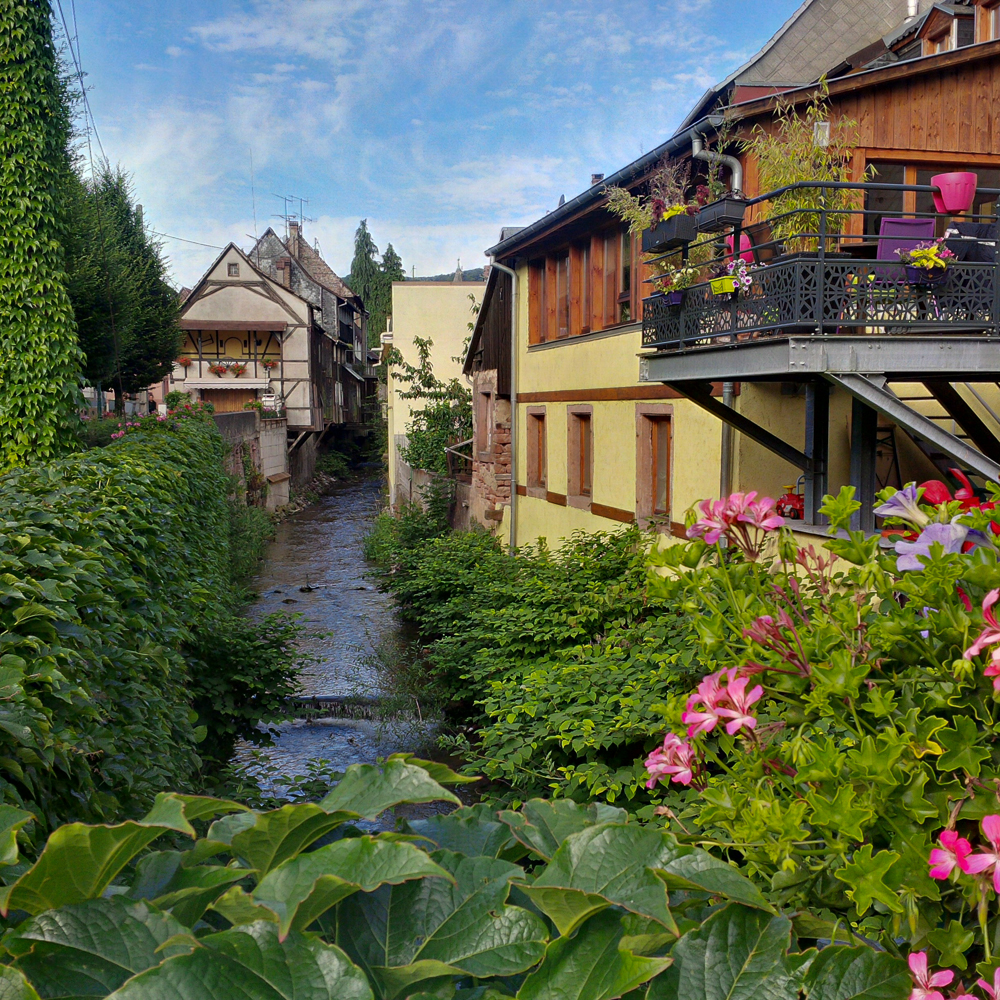 Ste. Marie – the river channel behind buildings and homes.
Of course, as one of the world's premier mineral shows, Ste. Marie has the strengths that come with this reputation in Mineral World. Top dealers and smaller dealers from all over the world offer specimens of all kinds. In particular, Ste. Marie includes truly stunning thematic displays. At the same time, Ste Marie reflects other regular trends in Mineral World too – scarcity of new material and lots of high prices.
This year the show's tents and exhibits opened under sunny skies, with lots to look through.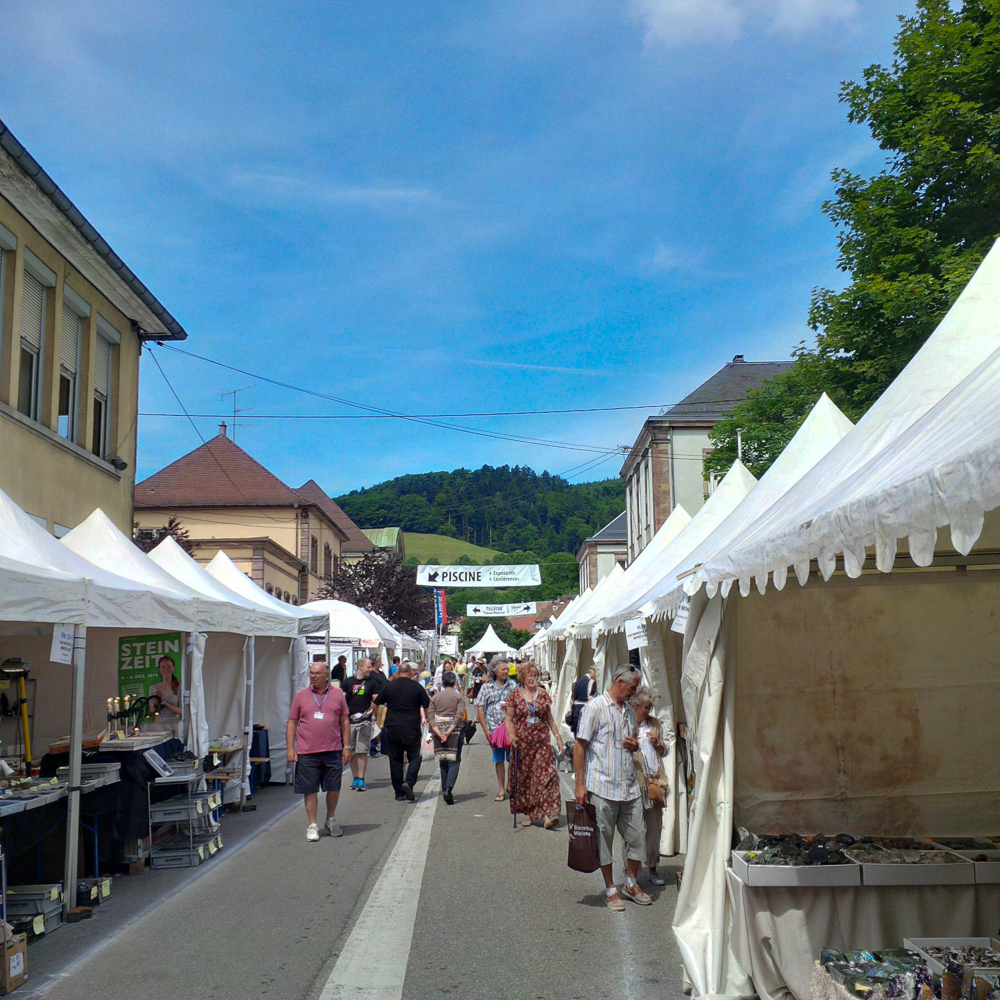 One of the many tent "streets".  There is no grid or obvious pattern to the layout (as it is in the old part of town)
so navigation back to that particular specimen you remember is a good challenge.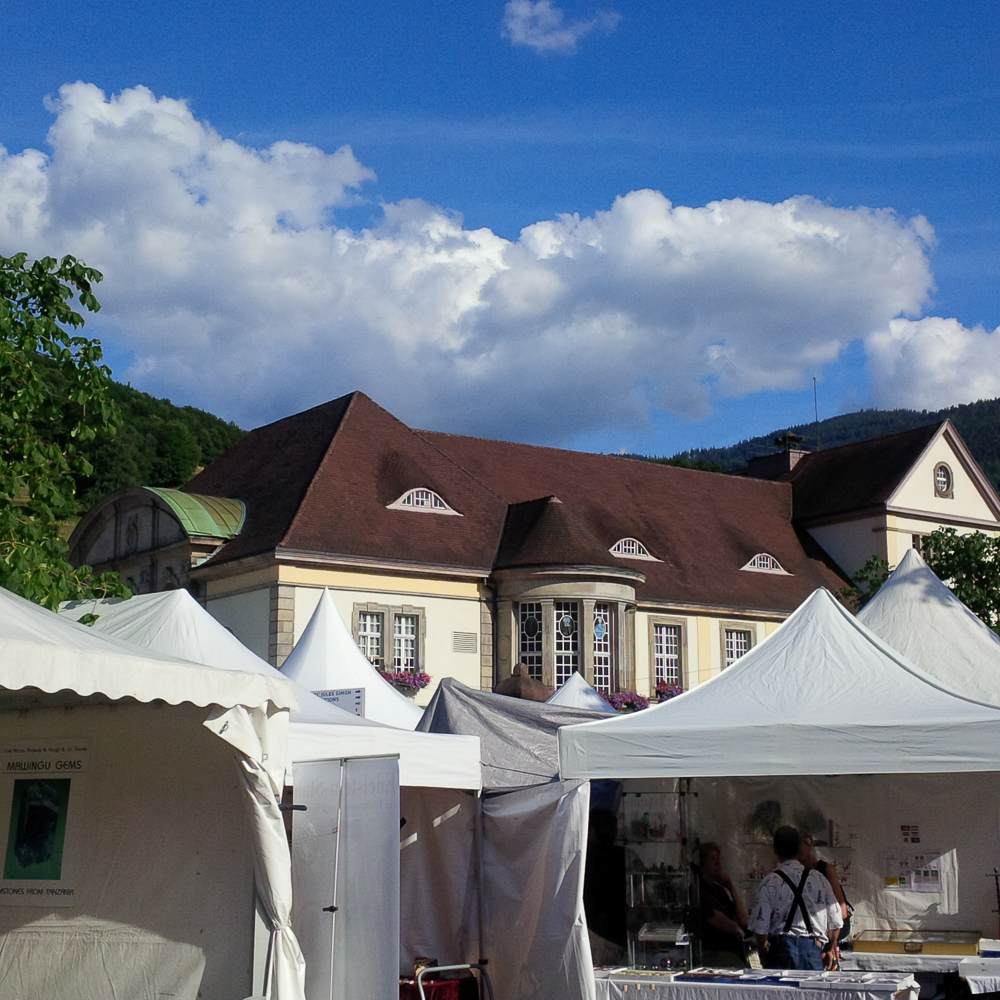 The theatre rises above the surrounding tents. Hidden in the deepest shadows in the centre of this photo
is Alfredo Petrov, who was visible when I was waiting for the break in pedestrian traffic to take this shot.
Does he not want to be seen? What mineralogical secret has compelled him into the darkness?
If you've read other reports of mine from past shows, you may have noticed that I am regularly baffled by the torture to which some mineral specimens are subjected. It's one thing to toss tumbled agates together, but here is the Ste Marie 2015 winner, for me – the two flats of reddish material at upper right and lower left.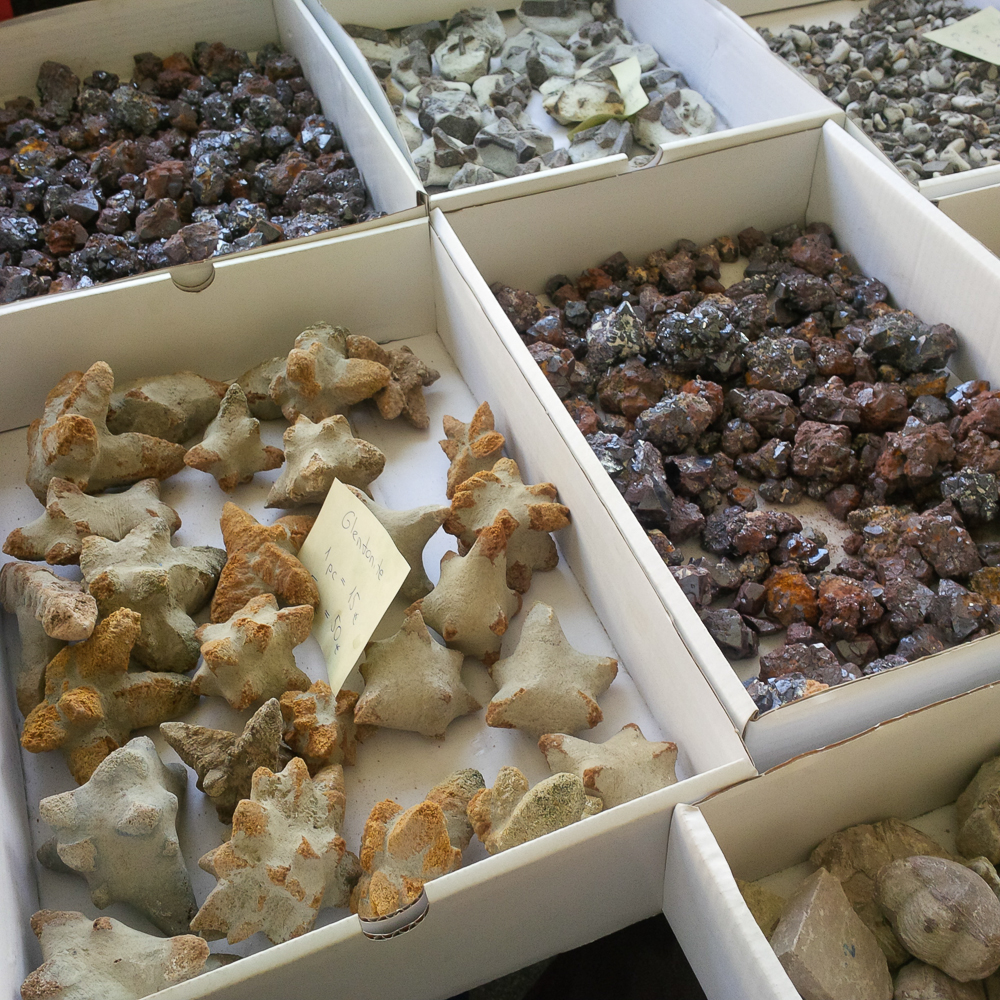 Yes, this one is pretty low. Those are – or were – cuprite crystals from Rubstovskoe.
Sure, to be fair, they were undoubtedly not the top ones, but there were good
crystals among them and I just can't see how this could ever be a good idea.
Searching the show, I found a few excellent things.
Despite the host country, the show is truly not full of French mineral specimens, given their relative scarcity. The ones that are there are highly prized. Nonetheless, I was able to acquire a few really interesting French pieces.
There are beautiful deep golden barite crystals from a find at La Côte d'Abot, near Saint Saturnin, Puy-de-Dôme, Auvergne, France. This was in fact a sizeable find however it seems that the pockets were either collapsed or at least partially collapsed well before human eyes ever reached them – many of the broken surfaces have faint recrystallization textures on them.  As in so many cases in mineral collecting, even the most careful of collecting cannot help specimens that were damaged by nature, so I did not acquire many, but the ones I did pick out are very cool specimens. Many demonstrate late-stage layered crystal growth, to create sceptres and capped sections – really neat crystallization patterns on these.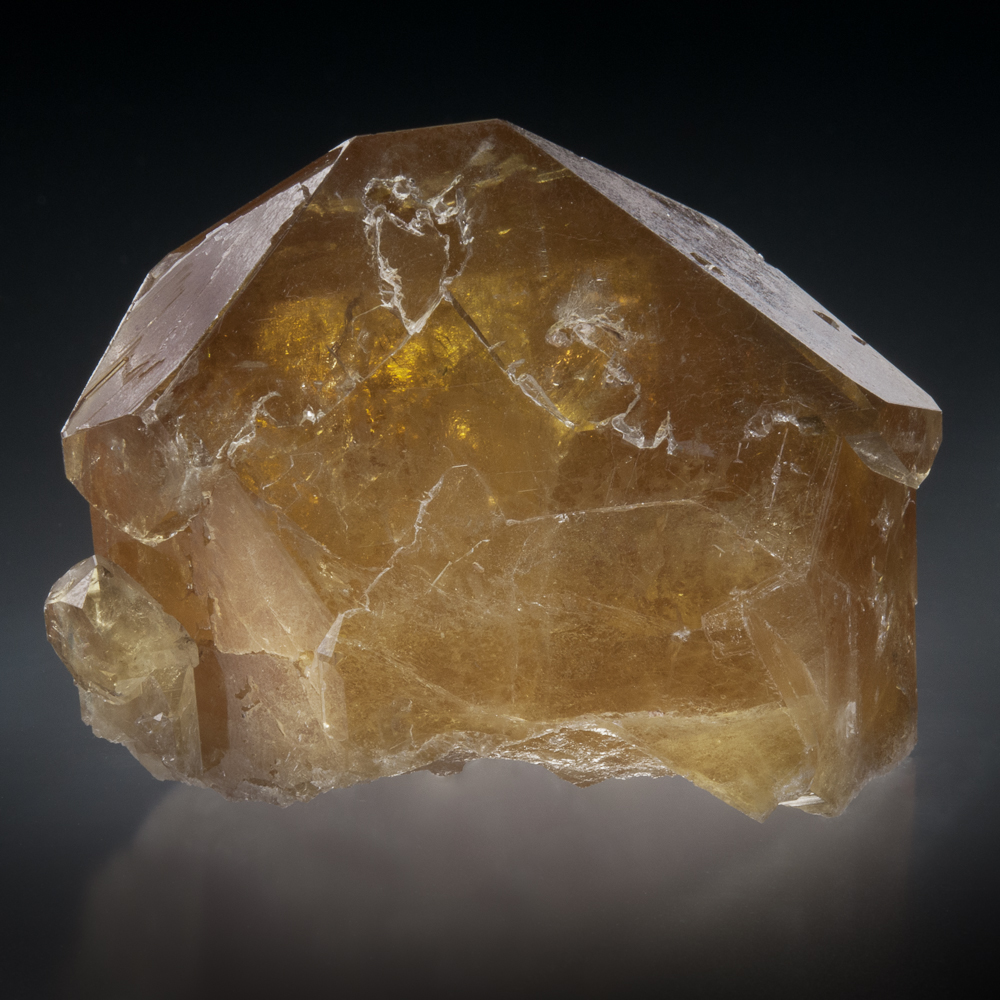 Barite, La Côte d'Abot, Saint Saturnin, Puy-de-Dôme, Auvergne, France – 7.1 cm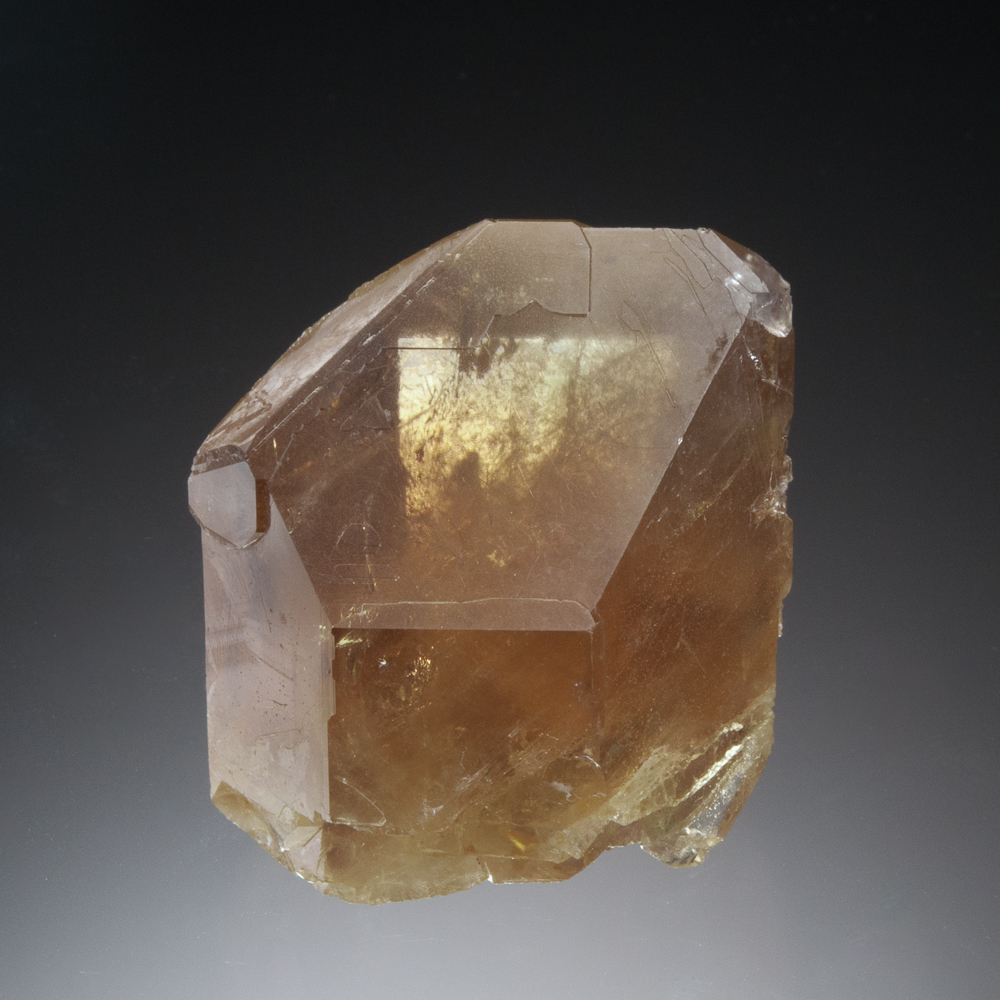 Barite, La Côte d'Abot, Saint Saturnin, Puy-de-Dôme, Auvergne, France – 4.3 cm
I also found a small stash of bournonite crystal groups from the contemporary classic locality, Les Malines District, Saint-Laurent-Le-Minier, Gard, Languedoc-Roussillon, France. As with the barites, many of the broken rear surfaces have faint recrystallization textures (and even micro crystals, in some cases) on them, and so again with these pieces there is the problem that many of them detached with just too little that was complete or in excellent condition. I did manage to come up with a very small number of great ones.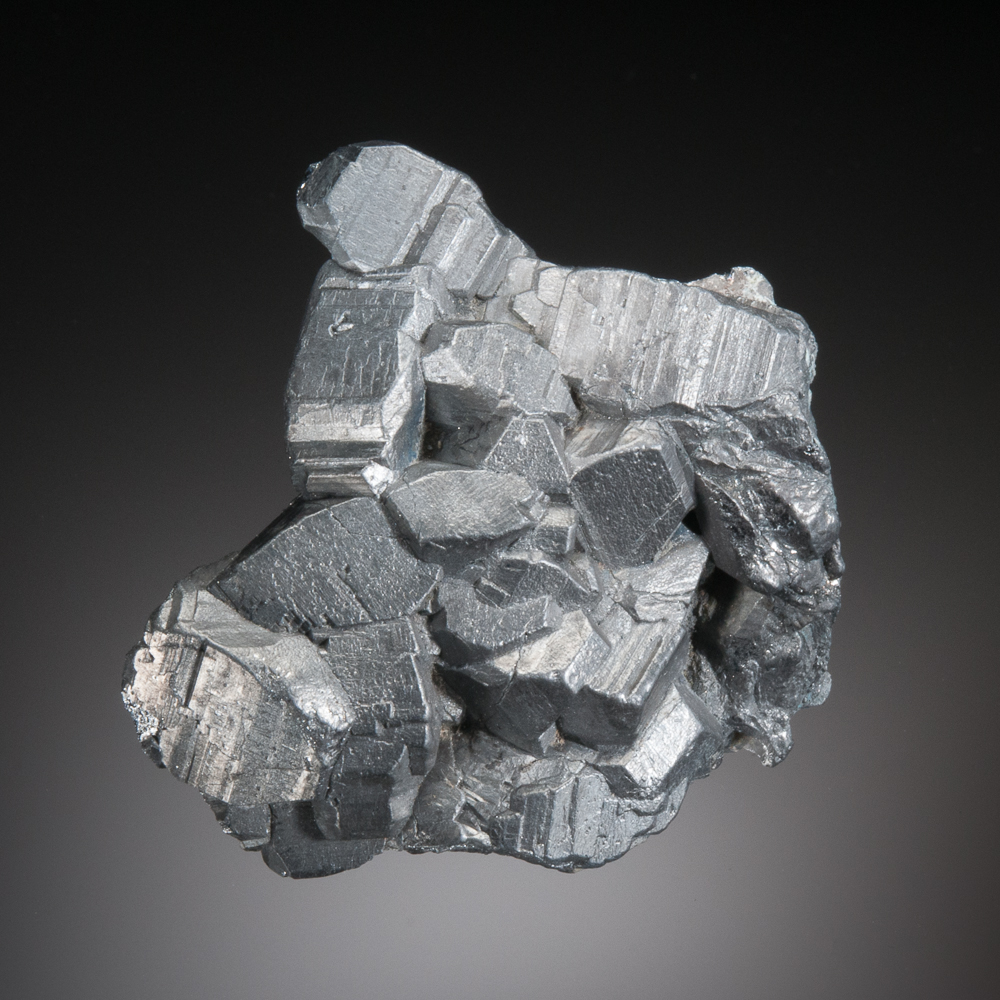 Bournonite, Les Malines District, Saint-Laurent-Le-Minier, Gard, Languedoc-Roussillon, France – 6.8 cm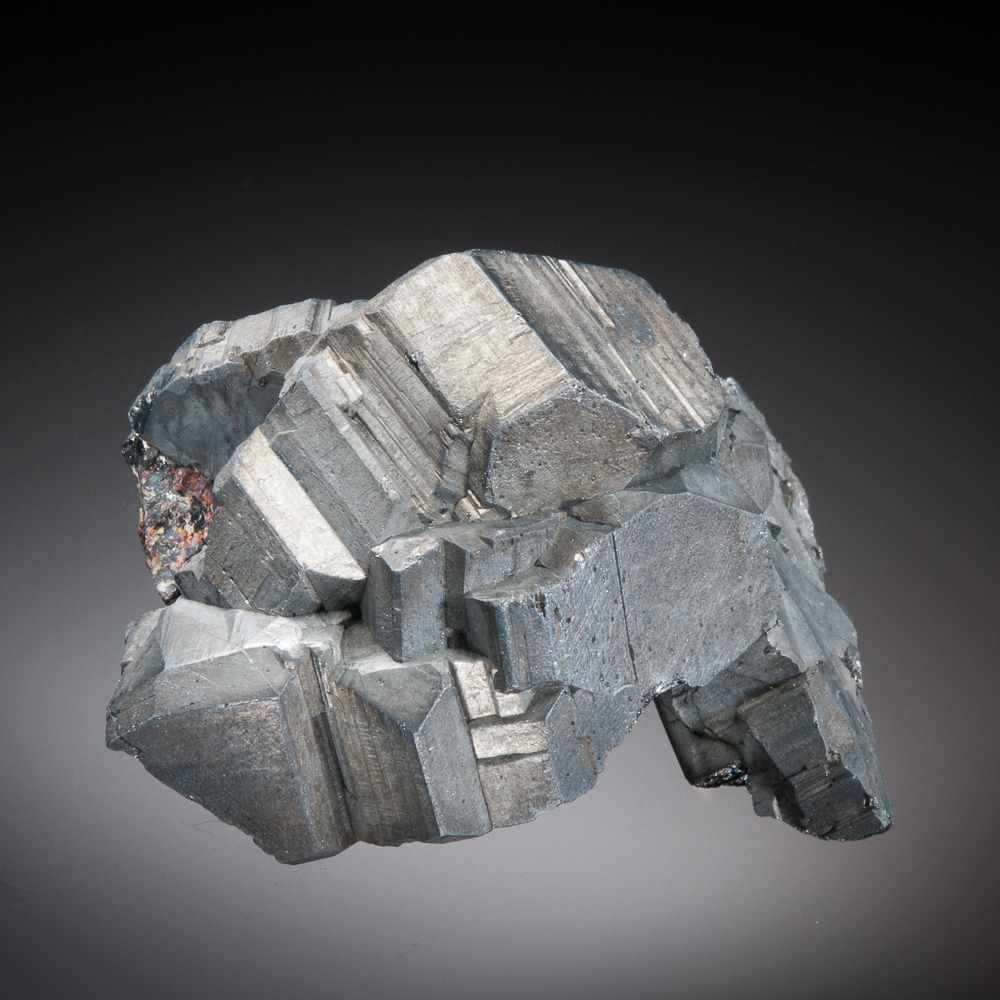 Bournonite, Les Malines District, Saint-Laurent-Le-Minier, Gard, Languedoc-Roussillon, France – 6.1 cm
From Buxières-les-Mines, there was one fluorite specimen that really caught my eye.  We are used to seeing fluorite from occurrences where the habit is one of stacked cubes, but how often do we get to see stacked dodecahedra?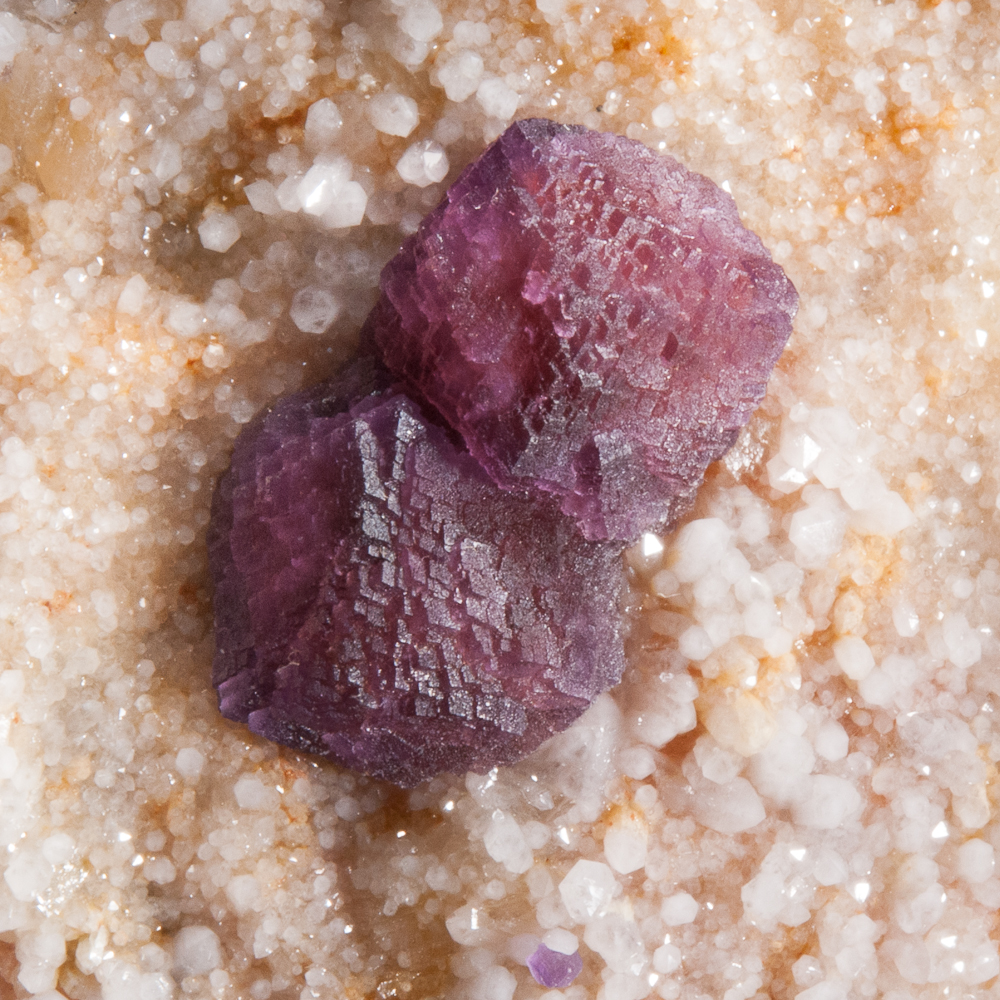 Fluorite, Buxières-les-Mines, Allier, Auvergne, France – field of view approximately 3.0 cm
One last item of interest from France – from an uncommon locality for fine mineral specimens, some brilliant, sharp alpine hematite.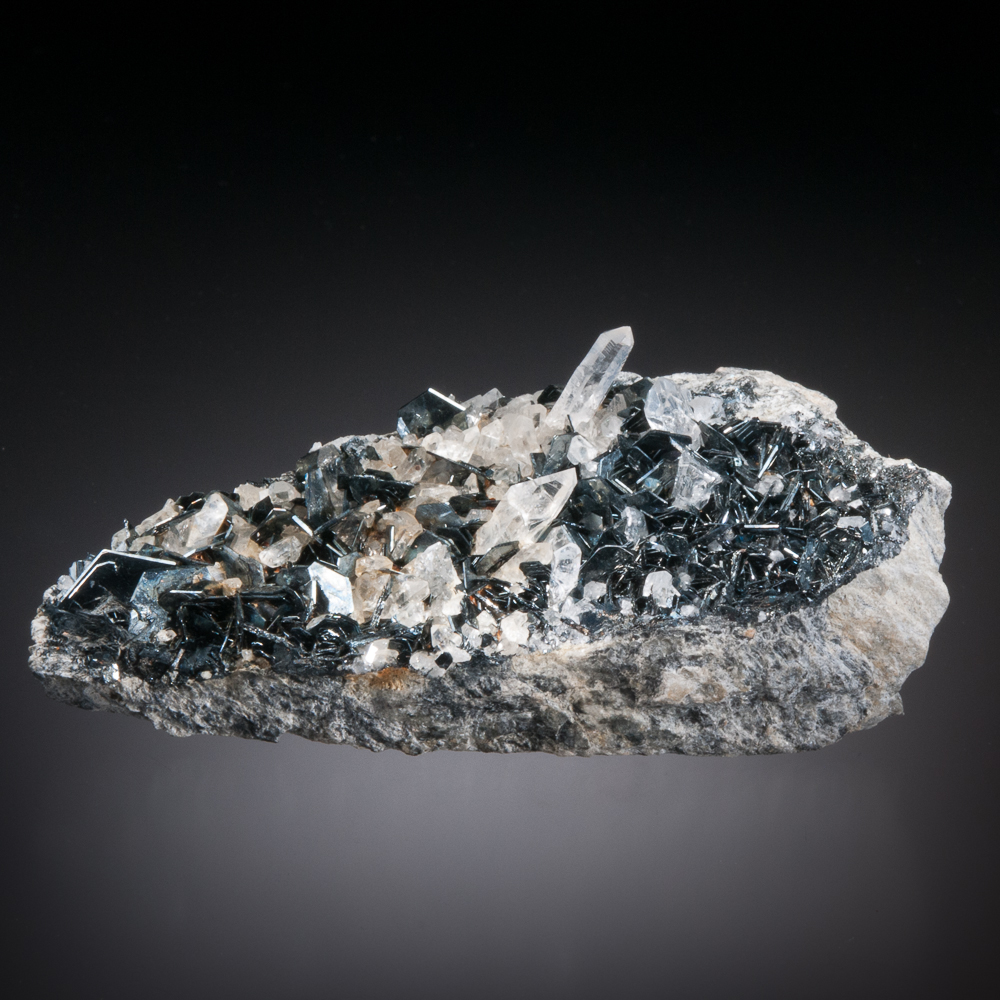 Hematite with quartz, L'Alpe d'Huez, Oisans, Isère, France – 10.1 cm
Ste Marie regularly includes a large number of sellers from Morocco. However, one really has to dig to find truly excellent specimens – they are few and far between!
Bou Azzer has for many years been known as the locality for the world's finest erythrite specimens, but specimens are sporadic, and the quality is usually poor (to be fair, this is a very soft mineral and hard to bring from mine to market without damage.) This year a seller had a small lot of erythrite specimens of exceptional quality.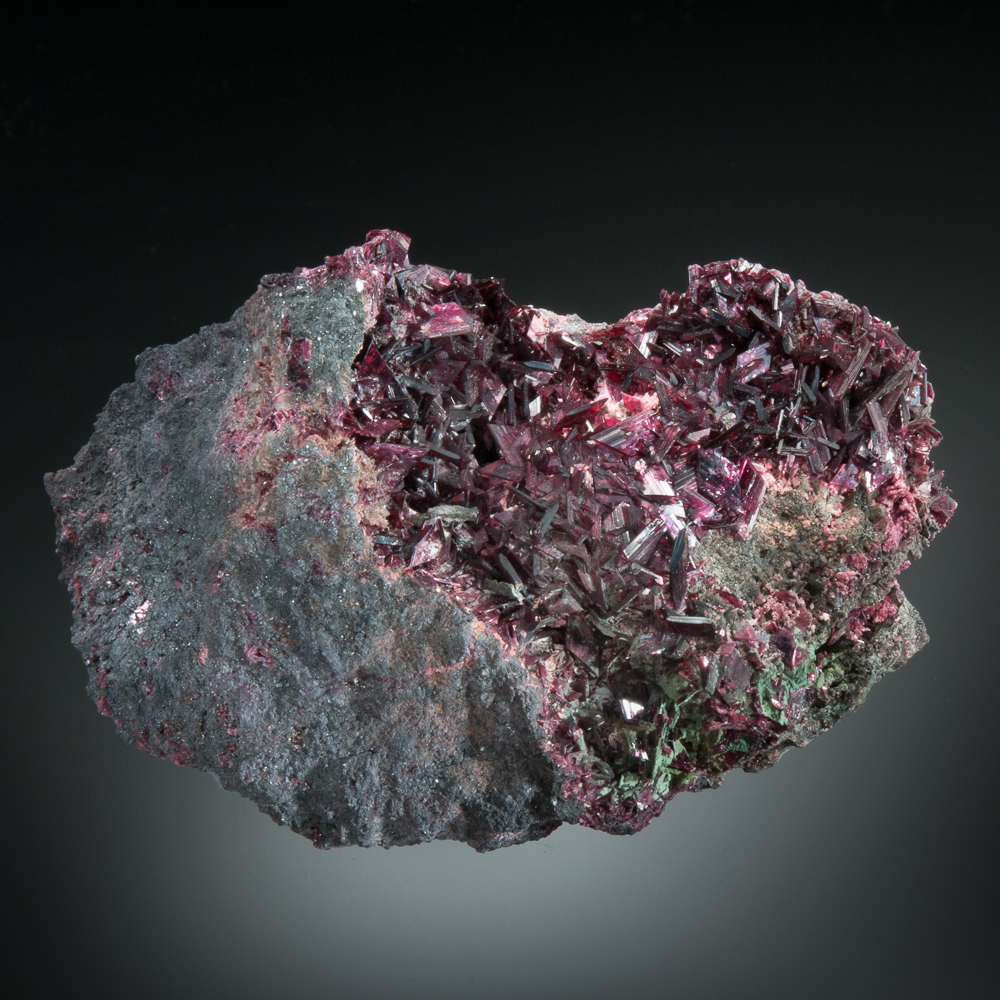 Erythrite, Bou Azzer District, Ouarzazate Province, Morocco – 8.8 cm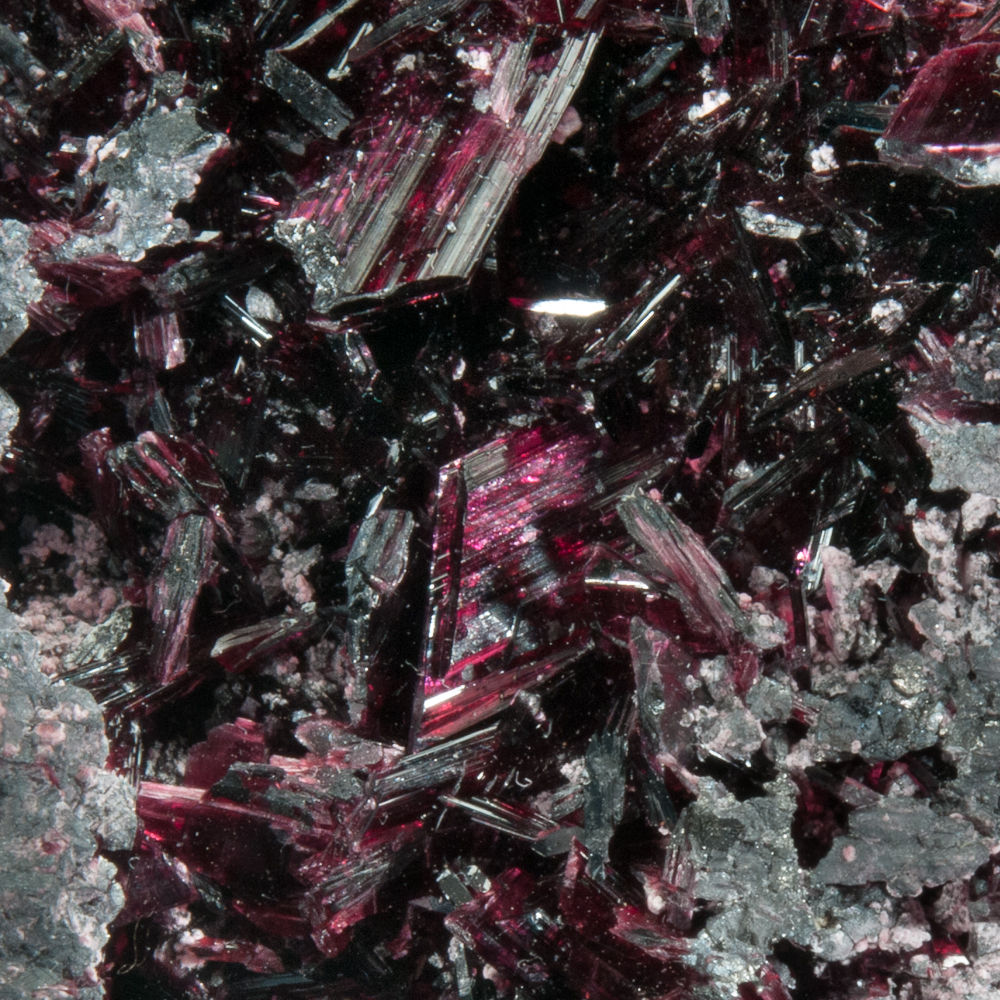 Erythrite, Bou Azzer District, Ouarzazate Province, Morocco – crystals to 1 cm
One other Morocco item – in my Tucson 2015 post, I mentioned some beautiful arite crystals from Bou Nahas. There has been a fair bit more material from this locality, but most of the barite groups and crystals are not particularly distinctive – and in fact I don;t find much of this material to be interesting. However, the isolated crystals and crystal pairs can be pretty special, and I found three more of those at the show – here's one of them.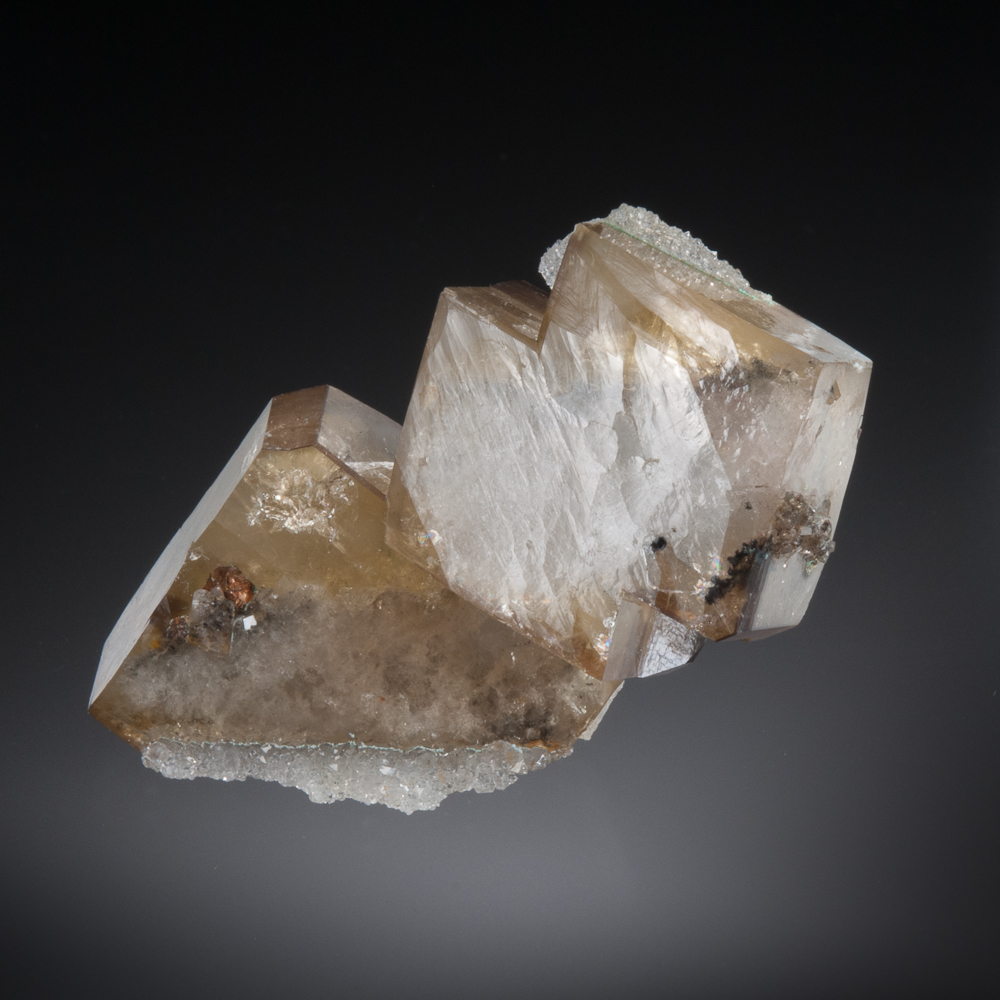 Barite, Bou Nahas, Oumjrane mining area, Alnif, Er Rachidia, Morocco – 5.0 cm
You may recall that the beautiful yellow stilbite balls from Mali made their debut at Ste Marie last year. There almost none of these in Denver 2014, and I saw no high quality ones in Tucson this year (maybe I missed them?), so I wondered what the story was. Early after my arrival in Ste. Marie, I caught up with the same sellers from last year and went through their specimens. It turns out that the one digging, known simply as Diamonkara, has produced a number of further specimens over the past year, and although most were damaged, I was able to acquire some excellent pieces.
If you read about Diamonkara on my site last year, or if you were in Ste Marie either last year or this year, you may have noted that there has been a push to sell these as specimens of stellerite. When I asked one of the sellers last year as to what had been done to confirm that identification, I was told that "they look like stellerite" (because they often occur in the habit of spherical aggregates). Clearly, that is not enough to label them stellerite – not to mention, there are wheat-sheaf aggregates and individual crystals of this material too.  So yet again this year in Ste Marie, the name stellerite was used. I am aware of one set of analyses that was unable to demonstrate that any of these are in fact stellerite – this is second-hand information, but it is certainly consistent with the prior identifications of stilbite from the deposits of the region.
As for the specimens themselves, the good Diamonkara pieces are absolutely some of the nicest and most distinctive stilbites I've ever seen from anywhere, with beautiful colour and form. They are perhaps not yet appreciated for what they are – these are striking display specimens of a mineral that is often pale and drab.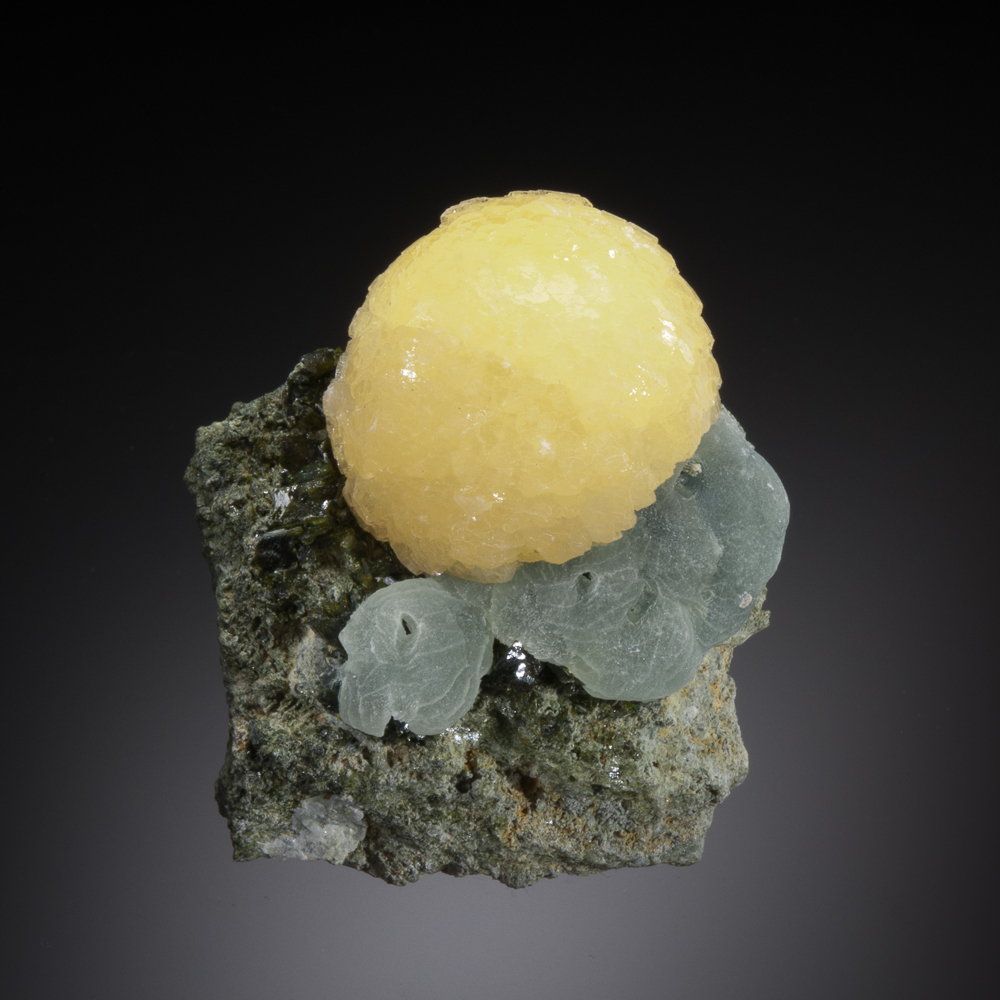 Stilbite, prehnite and epidote from Diamonkara, Bendougou, Kayes Region, Mali – 6 cm
Of all of the minerals that have been caught up in the rise of specimen prices, sadly, elbaite tourmaline stands out. It would be hard not to love a fine tourmaline, but these days it is hard to find excellent quality tourmaline specimens that can be purchased for prices that can be justified by that love. In Ste. Marie I was fortunate to be able to acquire a small number of wonderful-quality specimens from the classic Pakistan locality, Stak Nala. The seller's family had mined these very recently.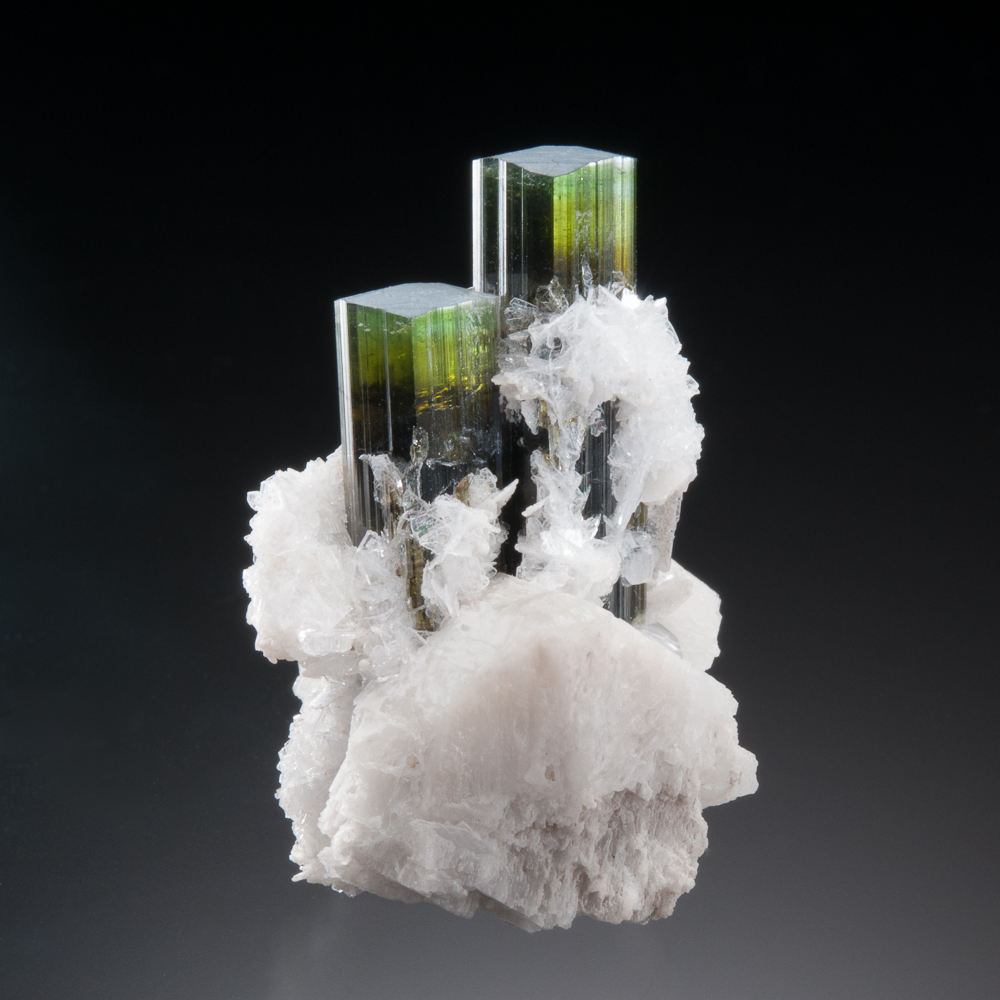 Stak Nala, Gilgit-Skardu Road, Northern Areas, Pakistan – 4.5 cm
Moving on from the dealers, the thematic displays this year were spectacular. The theme was minerals of the Alps, and many kinds of mineralogical environments were represented, including the classic alpine deposits and many others situated in the region. Just a couple of photos to give a glimpse: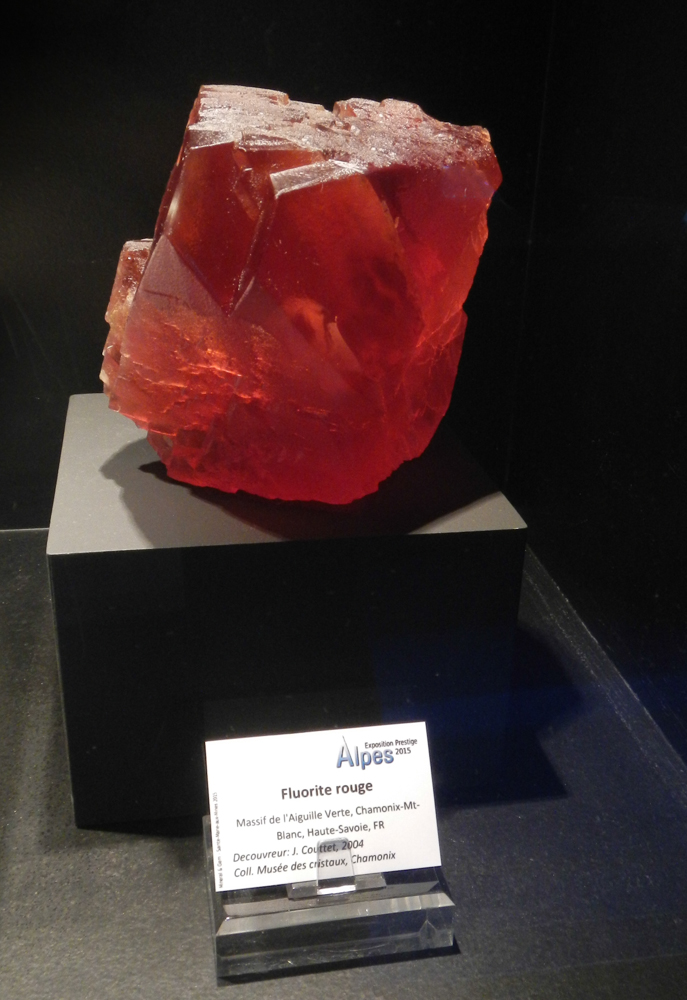 Fluorite, Massif de l'Aiguille Verte, Chamonix-Mont Blanc, Haute-Savoie, France – approximately 12 cm.
Collected by J. Couttet in 2004. Now in the Musée des Cristaux in Chamonix.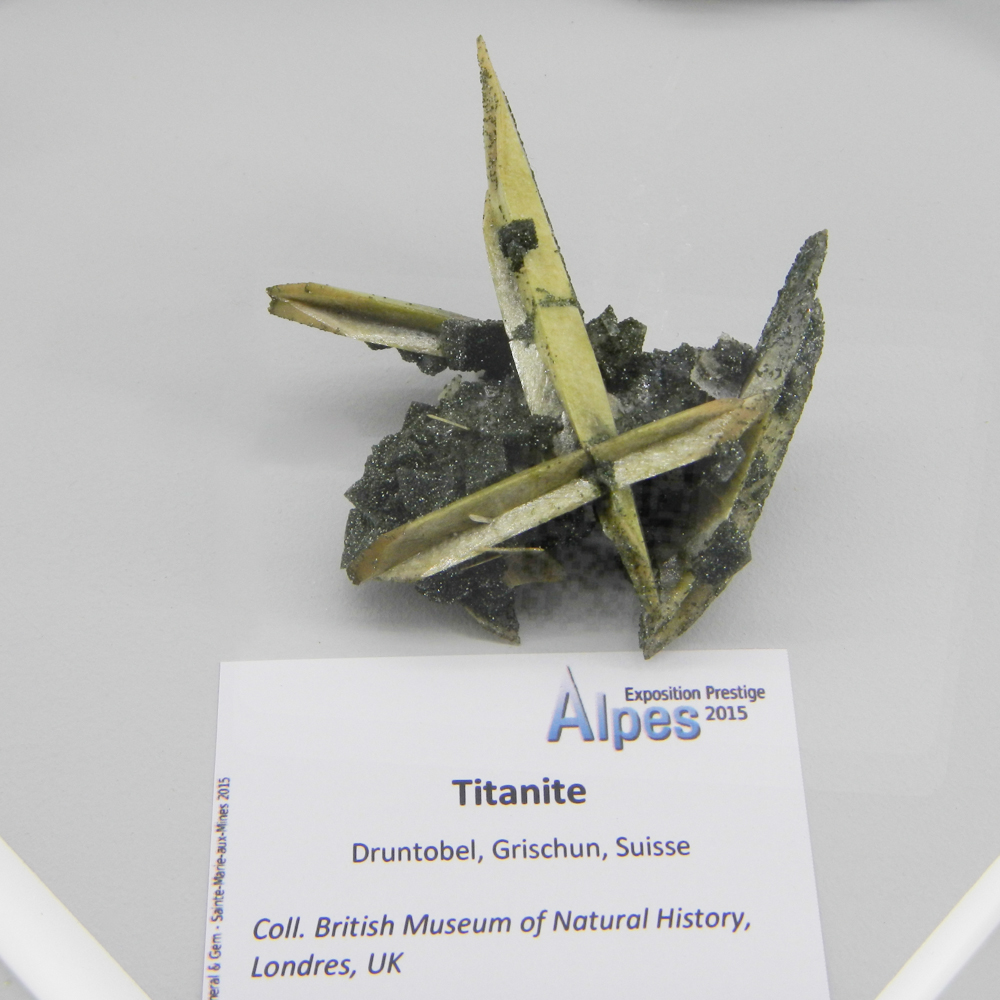 Group of twinned yellow titanite crystals – approximately 7 cm.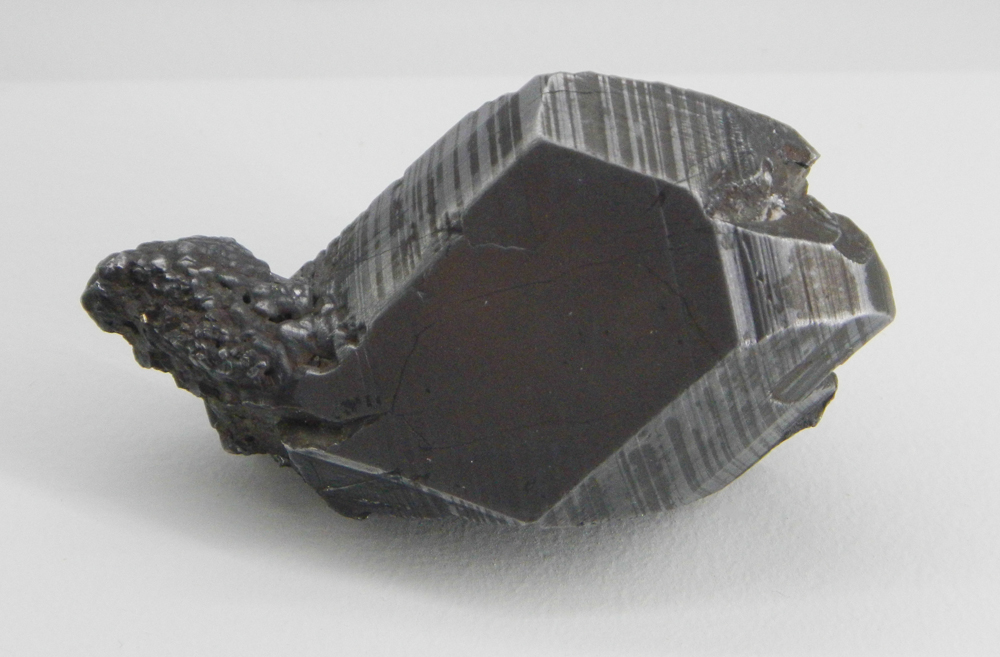 Famous (world's finest) jordanite crystal from Lengenbach Quarry, Fäld, Finn Valley, Wallis, Switzerland –
approximately 7 cm. British Museum of Natural History collection.
Needless to say, I revisited the display area a few times, just to soak it all in.  The organizers and contributors did an amazing job – thank you!
Until next time, goodbye to the Val d'Argent.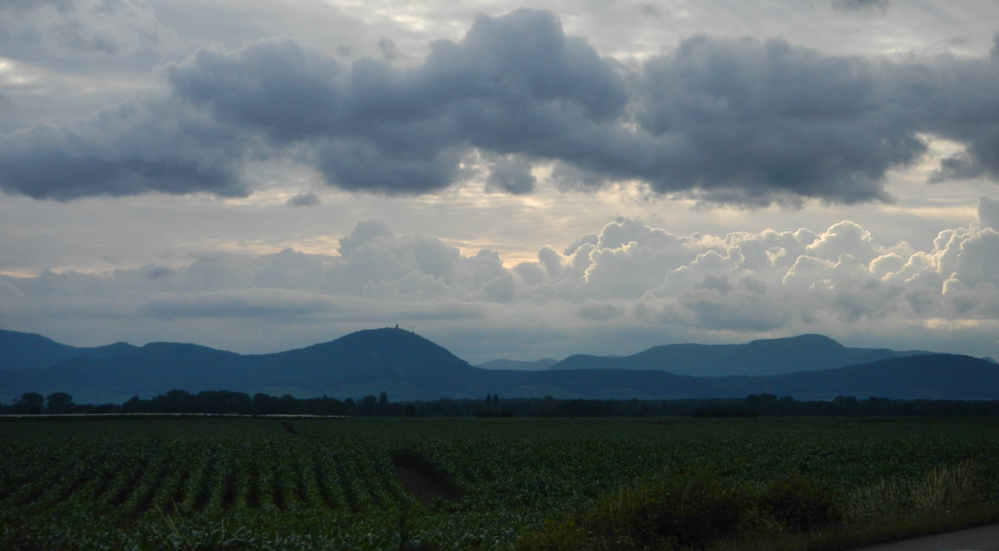 Val d'Argent, Alsace, France